Entertainment
Bruno Tonioli Stays Is A Man Committed To His Partner But Will They Get Married? Reveals Struggles Of Being Gay
Italian choreographer, dancer, and TV personality Bruno Tonioli is a household name when it comes to TV shows. He has famously judged reality shows like "Dancing With The Stars" and "Strictly Come Dancing."
Professionally, he is respected by many for what he has accomplished with his skills but how many of his fans know that he is indeed a gay and is in a relationship with his boyfriend who he is reported to have gotten engaged with? What are the plans for them to take their relationship forth and getting married?
Married His Boyfriend-Cum-Husband Or Committed To His Partner?
Millions of ladies' hearts around the globe broke when it was revealed that Toniolo is gay.
Many would have dreamt of being his wife, but sadly for those ladies, Tonioli is gay and is committed to his long-time partner, Jason Schanne. He and his gay partner Jason have been dating each other since the turn of the century.
After season 14 of Dancing With The Stars, he had a commitment ceremony with Jason and stars including Johnny Weir, Evan Lysacek, and Perez Hilton was in attendance.
See Also:- David Tennant Age 47 Enduring Married Life With Wife & Loving Family
Also, they are reported to have got engaged which is good news for the fans. But what next? Are they getting married soon? Will Tonioli make Jason his husband? This is something that has been striking the minds of many of the fans of Tonioli.
And Tonioli who loves to keep his relationships far from the eyes of the media is yet to open up about this very regard which he is entitled to. So let us wait and see if Tivoli reveals what plans are in his mind regarding his marriage with Jason.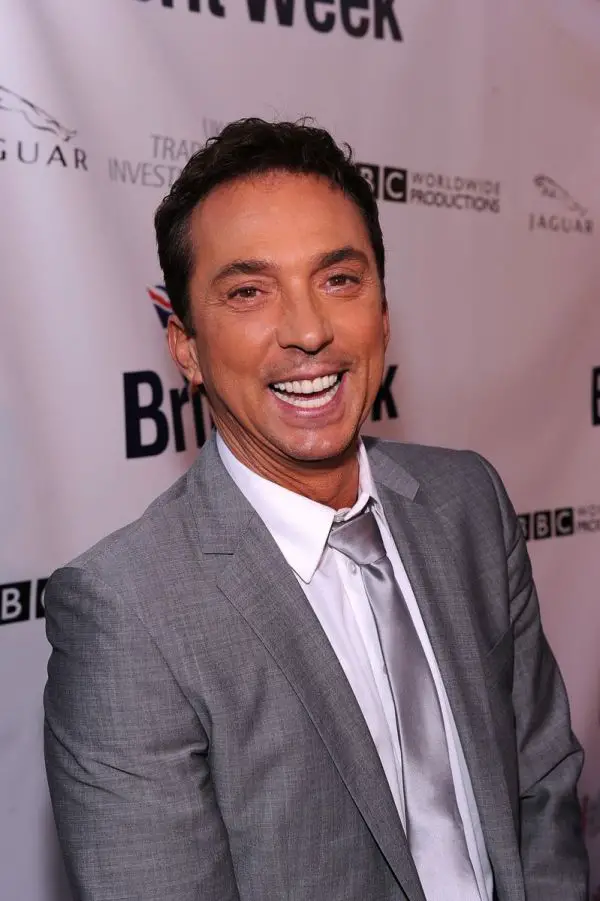 Tonioli is openly gay and proud and is committed to his long-time partner, Jason (Photo Credit: wetpaint.com)
Also, Tonioli was once with a man named Paul who reports saying, was with him for two decades. But still, they did not sleep in the same bed which Tonioli describes in such a way,
"I always sleep on my own. I can't sleep with somebody else. Always separate bedrooms, bathrooms, and closets. I'm very individual and I want my own space."
Maybe, it's his need for personal space that has stopped him and his partner from getting married.
Bruno Tonioli On Gay Struggle: "Whatever people do in bed, it shouldn't make a difference."
There exist many cases of people falling and being afraid of accepting who they are and what they believe in when it comes to their sexuality. The same can be said about Tonioli who has his fair share of struggles when it comes to him being able to accept what he loves and what he believes in.
Once he said,
"It was frightening. I really WAS the only gay in the village. I was labelled 'the queenie guy' and 'the queer', which was the worst thing you could be told in Italy in those days."
He added,
"I always danced very well, so the great-looking girls would dance around me. One night a bunch of lads got jealous about this. They shouted, 'You poofter!' and chased me from the club with a broken bottle, then pinned me up against a wall. I eventually chatted myself out of it with wit and imagination – but I was very lucky."
Bullying is something that has taken over the world and to beat this Tonioli made some changes which he explains in such words,
"I realised I had to reinvent myself. So I grew my hair, started smoking, always wore the latest gear and had the best-looking girls as my friends. I turned it to my advantage and became very popular, just by doing an act. So bullies no longer had any reason to attack me."
Furthermore, he said, if people admire you, you are less likely to be taken on by them.
"Instead of being an object of derision, I was able to become an object of admiration. If there's a gay, middle-aged man everybody will take the p*** out of him, yet if it's Elton John everybody adores him. I think that's cruel. Whatever people do in bed, it shouldn't make a difference."
"A staunch critic of homophobia. Bruno - even at age 63 - continues to raise awareness about the unfair treatment of gays and LGBTQ community as a whole.
Don't Miss:- Katie Cassidy Married Long-Time Boyfriend Cum Partner; Who Exactly Is He?
Bruno Tonioli's Mini-Bio Including Net Worth & Upbringing
Born on 25 November 1955 in Ferrera, Italy to a bus driver father Werther and mother Fulvia who stiched car-seat upholstery, Bruno had grown fascinated with the art of dancing since an early age.
Although his family members were equally supportive of his creative outlet, they had wanted him to pursue a career in finance. And as a result, he was at a crossroads. In a BBC interview with Desert Island Discs, he confessed:-
"I had a lot of angst..."
With the aim of pursuing his childhood dream, the Strictly judged move to London as a 20-year-old aspiring dancer in 1975. As a result of his globe-trotting career, Bruno has become a polyglot of some sort with fluency in English, Italian, Spanish, French and Portuguese languages.
Today, he is famous for his contribution as a choreographer, dancer, and a reality show judge. He also has worked with legendary musicians like Tina Turner, Sting, Elton John, the Rolling Stones, Freddie Mercury, Sinitta, Boy George, Dead or Alive, and Duran Duran which makes his career even bigger.
Discover:- Melanie Bromley Announces! Won't Get Married & Have Husband, What Happened?
Since making his Strictly Come Dancing debut in 2004 as a judge, Bruno has become a regular fixture on television. Also, he has appeared in all of 27 seasons of Dancing With The Stars, missing an episode twice: first in 2017 and then in 2018. In the latter episode, he was replaced by Alfonso Ribiero.
He is hardworking and is dedicated enough to prove his mettle in the industry and all the efforts he has put forth in his career has reaped him good rewards by helping him accumulate a staggering net worth of $10 million.