Entertainment
Katie Cassidy Married Long-Time Boyfriend Cum Partner; Who Exactly Is He?
Katie Cassidy is officially off the market!
The Arrow actress, age 32, has married her longtime boyfriend-cum-fiance in an intimate wedding ceremony.
The news of her tying the knot comes little over a year after the lovebirds announced to their engagement to the world. Before she began dating her current husband, Katie had dealt with a multitude of love interests, who sadly couldn't convince her to settle down.
So, what's so special about her "life partner?" Read along to learn more including Katie's husband, mother at the wedding, and her body measurements!
Married Boyfriend-Cum-Husband In An Intimate Wedding Ceremony; Know About Matthew Rodgers
At age 32, Katie became "a woman" for the very first time!
See Also:- Hunter McGrady Boyfriend Turned Husband Embraces Her Measurements To Inch
The Los Angeles native and her longtime partner Matthew Rodgers got married on 8 December 2018 in an intimate wedding ceremony held in Sunset Key, Florida. Following the service, she took to Instagram to share the news with the world as she wrote:-
"I can't help falling in love with you … YES! It's official! #MrsRodgers I love you, my husband."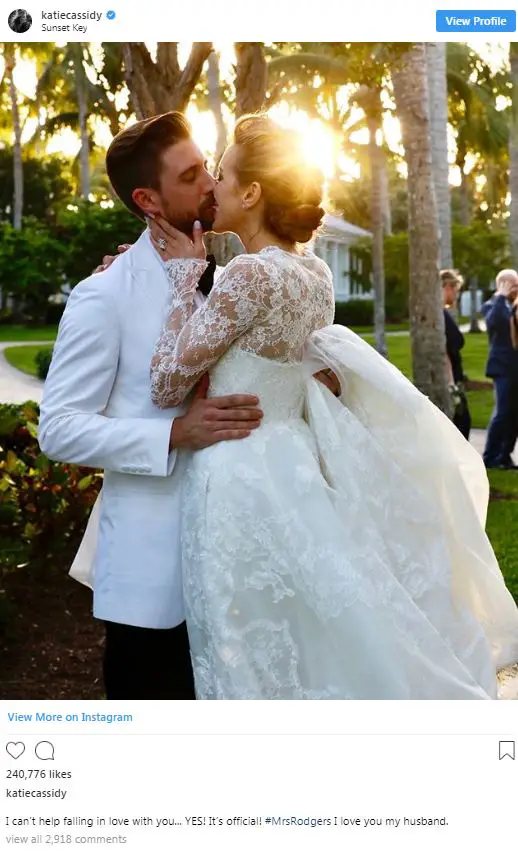 Katie & her husband Matthew on the day of their wedding (Photo:- Katie Cassidy's Instagram)
On the day of her marriage, Katie donned a long-sleeved wedding gown. Meanwhile, her husband Matthew opted for a light white blazer with black slacks.
As for Matthew's work of line, very little information has surfaced regarding his intimate life with the exception that he's an industry vet with special effects credits on movies such as District 9, The Adventures of Tintin and couple of The Hobbit movies.
Considering how common of a name Matthew Rodgers is, he may not be the stated special effects expert after all. Nevertheless, his association with Katie ought to sprout more details about him in the coming days.
Interesting:- Melanie Bromley Announces! Won't Get Married & Have Husband, What Happened?
Katie and Matthew had gotten engaged back in June of 2017 following a year of dating. Appearing visibly ecstatic the former Supernatural star showed off her sizable engagement ring by posting an image of her sharing a kiss with then-fiance Matthew on Instagram. The caption read:-
"I can't wait to spend forever with you my darling!! I'm the luckiest girl in the whole world."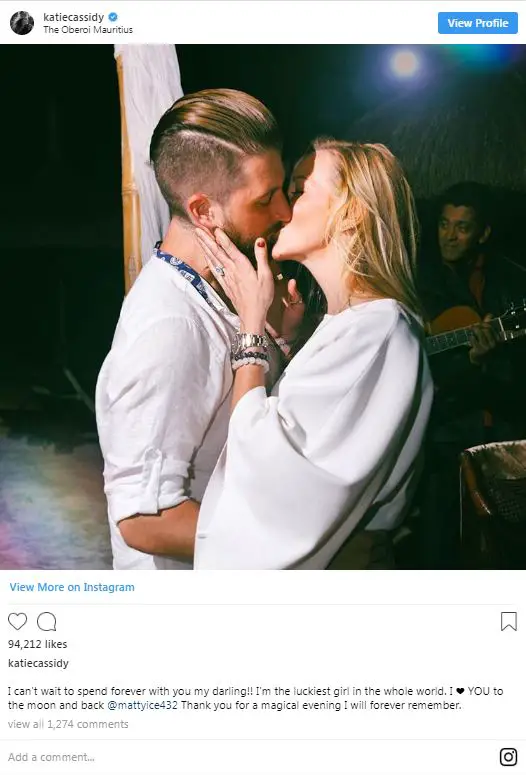 Katie announces her engagement to her longtime boyfriend (Photo:- Katie Cassidy's Instagram)
Before sparking a romance with Matthew, the Black Christmas actress had romantic ties with a plethora of celebrities. The likes of filmmaker Dana Brunetti, ice hockey player Jason Garrison, and actor Jerry Ferrera were all once spellbound her beauty -- one that relies on her goddess-like body measurements.
Other famous faces to have dated Katie include Greg Raposo, Jesse McCarthy, Sasha Vujacic, Topher Grace, and Jarrett Stroll.
Discover:- Maria Bamford & Husband Keeping Wedding Vows Strong, Baby At Age 48?
Was Katie's Mother Present At The Wedding Ceremony?
One would think so!
Knowing her mother Sherry Williams - a former model - is her only living biological parent; it is still out of the question that her mother would want to be anywhere else on the day of her wedding.
Katie's father David Cassidy passed away in November of 2017 at the age of 67. Despite her tumultuous relationship with the former Partridge Family star in the past, she seemed to have made amends at the end.