Entertainment
Bryshere Y. Gray On Bigger Things For Parents, Has No Visible Girlfriend – Yet!
Family shapes people into what they become, be it a positive experience or a negative one. Justifying the statement is the actor Bryshere Y. Gray, who rose to fame carrying his troubled past like armor in front of him.
Raised amid trouble, the pain itself is the factor that made Bryshere what he is today. Rising to fame in his career, the actor has much to reveal among his fans.
Bryshere Y. Gray's Secrets On Parents
Bryshere Y. Gray was born on 28 November 1993, in Philadelphia, Pennsylvania. His mother, Andira Mayberry, became pregnant with Bryshere when she was just a teenager and raised him single-handedly.
Bryshere's childhood was not a normal one due to the deprivation of one of his parents around him; Bryshere was raised only by his mom around him, and his abusive father out of the picture when it came to raising Bryshere.
His mother raised him along with his sister Brianna. Besides his sister, Bryshere was even rumored to have a twin brother.
Bryshere was five when he was diagnosed with Attention deficit hyperactivity disorder (ADHD). Despite the illness, he received his high-school degree from Overbrook High School in Philadelphia.
He never had his dad to support him when he needed, but he always had his mother's support since day one. Moreover, he confessed that although his father did not care to raise him, but tried to contact Bryshere after he rose to fame.
People don't know about his father, but Bryshere divulged in an interview that he wanted his mom to have a beautiful million dollar house from his newfound fame. He stated,
"I'm saving up for my mom to get this million-dollar house,"
Besides that, Bryshere frequently credits his mother for all his achievements on-screen and off the screen.
Bryshere's Dating Status?
Bryshere, with such fame at an early age of 24, can raise interests among his fans regarding his love life and aspire to know if he is romantically involved with anyone.
Talking about his link-up, Bryshere had his name tagged along with former Love & Hip Hop star Jhonni Blaze. The duo was reported dating back in March of 2017 after being spotted together many times.
In March 2017, the pair were spotted getting cozy at an amusement park; they were saddled side by side on a racing car while racing with other carnival-goers. They were enjoying the rocket ride together, where Bryshere was positioned between Jhonni's leg.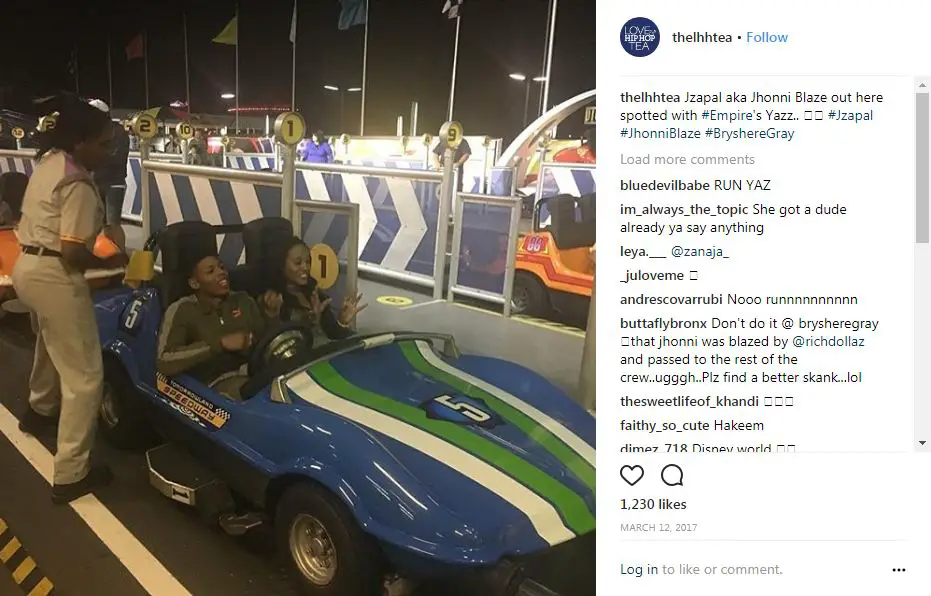 Bryshere and Jhonni Blaze in an amusement park in March 2017 (Photo: Love & Hip Hop Tea's Instagram)
Well, she could be his girlfriend, but no confirmation has surfaced the media regarding the matter. So it remains unclear if they're actually dating or are just spending quality time together.
Besides the hype, Bryshere fell victim to gay rumors as well; but judging by the interest he shows in women, the stories prove themselves to be just a hoax.
What Is Happening Now?
First of all, the TV series Bryshere acts in called Empire has officially announced its last season, which will end with its 2019-2020 season. The fans of the show must be pretty excited to see what the TV series' final season will bring to their entertained audience. In the show, Bryshere plays Hakeem Lyon, the brother of Jamal Lyon, who is portrayed by Jussie Smollett
But the news that hits the fans of Bryshere is about him getting arrested. But it was not due to a huge reason. He was pulled over due to a registration issue. He was then found driving an uninsured vehicle without a license, which got him arrested. When he was pulled over, Bryshere allegedly told the police that he did have a valid license but not on him but did not have the insurance for the car.
Another Actor Who Was Arrested:- 'The Mighty Ducks' Actor Shaun Weiss Arrested; What Made Him Shoplift?
The arrest happened on 13 June 2019, but the media started mentioning the arrest on 1 June 2019.
However, he was later released on a personal recognizance bond. Hopefully, he learned from his mistake and won't repeat the error in the future.