Entertainment
Gabourey Sidibe and Her Husband Are Made For Each Other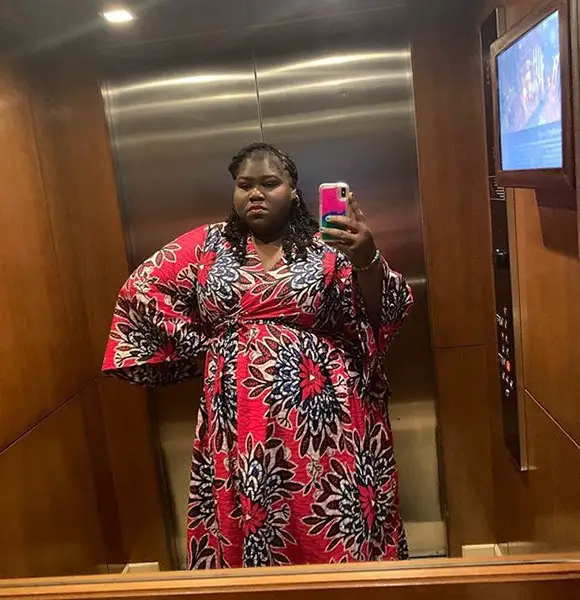 American actress Gabourey Sidibe who never had an interest in acting was nominated for an Oscar for her first screen appearance in the movie Precious. Her outstanding performance paved the way for her future success.
With her success in her career, she has also been successful in finding the perfect husband she always hoped for. Let's find out how she found the love of her life.
Who Is Gabourey Sidibe's Husband?
If you had asked Gabourey about her partner in the past, she would have completely sidestepped the topic. When it comes to her dating life, she has always been a quiet person. However, this does not appear to be the case now. 
Gabourey, who is also knowns as Gabby,  has been flaunting her love on social media. However, the way she is showing off her love seems like she wanted to be sure of her life partner before making it public. 
Another Star From Harlem:- Kathrine Narducci Married, Family, Net Worth
Yes, your guess is correct. In 2020 the 39-years-old actress announced her engagement to her soon-to-be husband, Brandon Frankel, the head of partnership at NoCap.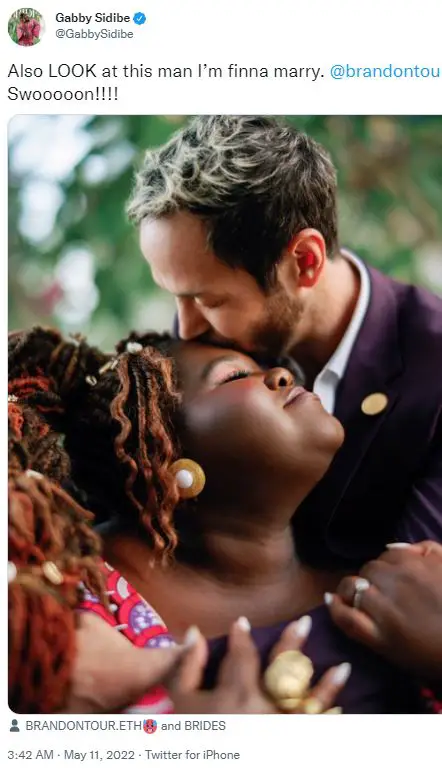 Gabourey with her fiance. (Source: Twitter) 
Gabby met her future husband in 2019 through a members-only dating app, Raya. It is an app that is used by the majority of celebs.
Gabby's husband was initially skeptical about her id, but after meeting in person and spending approximately seven hours on their first date, both discovered they had a spark that they didn't have with others. On the other hand, Gabby struggled to decide whether or not to date Brandon. They had never felt that connection with someone before, so they decided to give their relationship a shot.
Even though they were both afraid of being disappointed, they slowly realized they were meant to be together. Gabby's husband was the first to learn that she was the one for him and decided to propose to her. 
Brandon had a big surprise prepared for the proposal, but Gabby found out about it due to a tiny oversight. Though it was not a successful surprise, Gabby said yes to Brandon, and they began preparing for their marriage.
Regarding the marriage, Gabby is very much sure about what she wants and what she doesn't want on her big day. So it seems like we will witness a unique wedding of the century.
Gabourey and her soon-to-be husband have been preparing and finalizing details for their marriage, which is set to take place in the spring of 2023.
Most couples prefer a lavish or destination wedding, but Gabby and her husband want their big day to be private and intimate. 
There are a lot of details they have talked about in an interview with Brides, but one of the most attention-grabbing details Gabby mentioned was that her marriage would be non-traditional.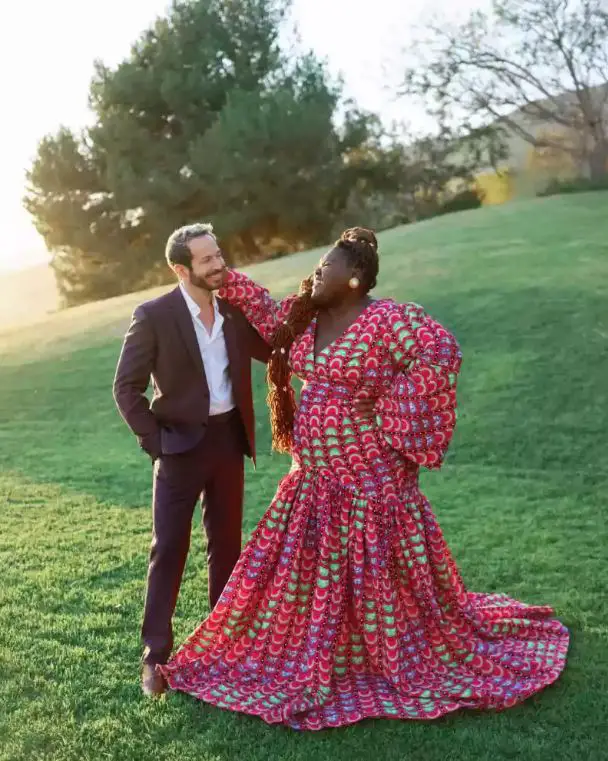 Gabourey pre-wedding photoshoot. (Source: Brides)
She is a daughter of a wedding singer and has been to multiple weddings. However, her experience of witnessing the same thing frequently led her to conclude that she did not want a traditional wedding. 
She is looking for a more colorful wedding gown than a plain white gown for her big day. Her wedding look is not going to be simple but very bold. When it comes to vows, she and her husband are considering writing their own instead of repeating the traditional one. She said, 
When Brandon is out of town he does cute things like leave me little love notes and leave messages on our Ring [security system]. We are super communicative with each other—I never wonder about what he's thinking or how he's feeling about me. So, we will definitely write our own vows or just freestyle at the altar,
Before meeting her husband, she was also seen with a partner at the Nets vs. Bucks game in New Jersey. She said he was a regular man with a steady job when asked about his name. But that was the only time fans saw her with the mystery boyfriend.
However, in 2018, She shocked her fans by wishing her boyfriend a happy birthday. But she did not give further information regarding her partner. 
As of now, her wedding preparation is still ongoing, but besides that, she has been focusing on her profession too.
Gabourey Sidibe's Career
Gabourey Sidibe was born on 6 May 1983 in Bedford-Stuyvesant, New York City. Her father, Ibnou Sidibe, was a cab driver, while her mother, Alice Tan Ridley, worked as a street singer. Her parents divorced when she aged 12, after which she lived with her mother, brother, and aunt in Harlem.
Gabourey is not the only child in her family. She has two brothers & twin sisters and remains close to her family.
As a child, the actress was often bullied for being overweight. At the same time, the Tower Heist star, height 5 feet and 5 inches (1.65m), also faced harassment at home from her parents. Nevertheless, she kept going on without letting anything stop her.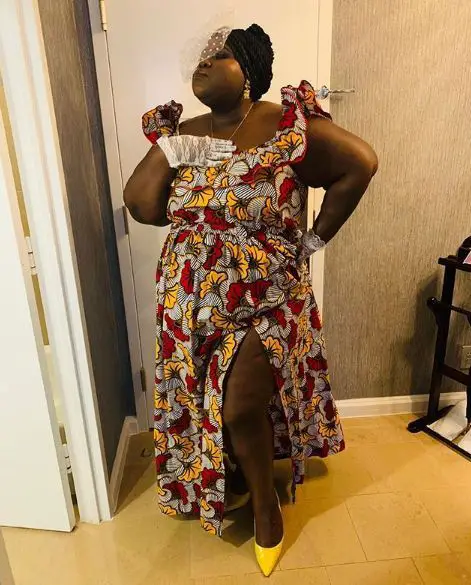 Gabourey Sidibe glamorously poses for a snap in 2019 (Photo: Instagram)
However, she had laparoscopic bariatric surgery, which made her lose some weight. After her surgery, her fans noticed a steady weight loss through Gabby's social media handles.
Never having any interest in acting, she joined Mercy College to pursue psychology. Seeing her mother struggle as an artist, she wanted to make her living secure through proper education and a desk job. But, she dropped out after getting a role in the movie.
Gabourey was in the middle of preparing for an exam when a friend called her and told her about the audition for a Lee Daniels movie called Precious. She was cast as the lead actress for the film. The plot was of a 16-year-old girl who became pregnant for the second time after getting raped by her father and facing abuse from her mother.
Although it portrayed a grim subject of society, the movie became a critical success. It opened countless doors for Gabourey and was nominated for Academy Award, Golden Globe, BAFTA, BET, and many more awards.
Apart from acting, Gabourey also released a memoir called This Is Just My Face: Try Not To Stare, a sophisticated but humorous account of her struggles before she made it to the world of entertainment.
Her major works include Difficult People, Come As You Are, Empire, White Bird In A Blizzard, and Yelling To The Sky. She will also be seen in American Horror Stories soon. 
She has accumulated a net worth of $6 million with her hard work and dedication. 
Celeb With A Similar Net Worth:- How Much Salary Does Rick Santelli Earn to Have a Whooping Net Worth of $6 million?
Recently, Gabby has been making headlines with her wedding preparation. She still has a lot to prepare for her big day. Nevertheless, she has wonderfully balanced her professional and personal lives.
We wish Gabby and her husband all the luck on their new journey.
We will surely update you more on Gabourey Sidibe's married life. Till then, stay tuned.