Entertainment
Calum Best Who At The Moment Has A Girlfriend Once Called The Mother Of His Daughter A Parasite
In a relationship where there are two heads at one place, it is common that when one agrees over something, the other disagrees. Calum Best also had to undergo this experience with his ex-girlfriend when he disagreed with her partner's decision over something leaving her with a label of the parasite. Let's find out what was that disagreement about.
Calum's Recent Relationship With Jasmine Waltz:
Calum Best who is famous for his  Casanova image in real life has an endless list of girlfriends whom he had dated. The list includes names like Lindsay Lohan, Patsy Kensit, Elizabeth Jagger, Donna Air and much more.
Currently, he is on the reality television show "Celebrity Big Brother" where he was seen flirting with another member Jasmine Waltz. We could see both of them stealing away kisses, hugs, and massages daily.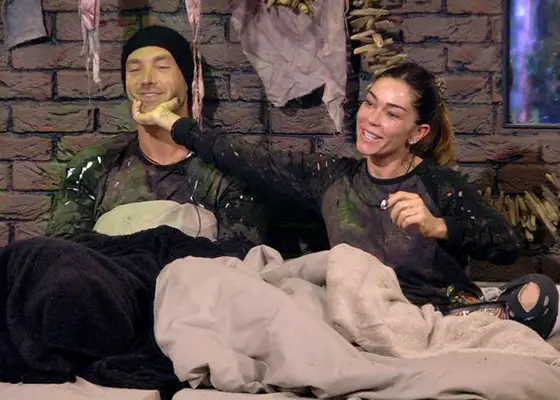 Caption: Jasmine and Calum share memorable moments in "Celebrity Big Brother" house (2017). 
Photo Credit:static.ok.co.uk
Were they only coupling before the camera for the show is one speculation that had developed but since they already knew before the show and partied and hung out together, it must have been easy for them to bond and built a relationship in the show. They even shared a bed on Wednesday as Jasmine claimed she "did not want to sleep by the bathroom." So, when asked to Calum's  mother, Angie Best about them having sex in the house, she told, to the mirror,
"They've already been there done that… Not in the house, but they've known each other in LA. They were dating in LA.
"Oh, Calum would never do that. [Have sex in the house]. Never. With or without his mother he would never do it, he's a respectful boy." 
While Calum's mother took a stand that they were dating before the show, his representative denies it as he told,
"It's true that Calum has met Jasmine before. But they were not dating. Calum didn't know she was going into the house until launch night. It's wrong to suggest they spoke about making up a romance for the show."
Jasmine got evicted from the show on Monday, and when asked if they dated last year, she said, to the Sun,
"I've known Calum for a long time," 
 "No I don't think it was last year… I don't – we've been really good friends fort a long time, we've had a lot of experiences and things.
So even though Calum's mother claimed the intimate relationship between her son and Jasmine, Jasmine's statement makes it clear that they are only friends.
Calum Once Called His Girlfriend A Parasite:
Calum had a brief relationship with Lorna in 2005 which resulted from her to be pregnant with a baby girl named, Amelia. She was single-handedly bringing up her baby because Calum was opposed to the idea of keeping the baby. Lorna claimed to the mirror,
"At first he told me not to worry but when I made it clear I wanted the baby, he called me a parasite,"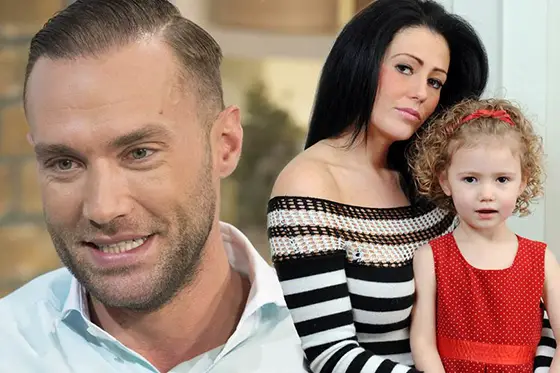 Caption: Calum was alleged to be the father of Amelia by his ex-girlfriend Lorna.
Photo Credit:mirror.co.uk
However, Back in September 2011, Calum's ex-girlfriend, Lorna Hogan turned up at the official launch of his new scent in Co Donegal with her tearful daughter, then four-and-a-half-year-old Amelia Hogan, so she could hand the star a letter asking him to take responsibility.
"To Daddy, Please take a DNA test so you don't have to deny me anymore. I am your daughter, please have a heart and don't put me through this anymore."
"I see you on TV and in the papers. I say, 'That's my daddy, when can I see him mummy?' Mummy tells me what a great person my grandad was too. It's not my fault. I'm only four-and-a-half. I want to meet you so much... Please. Until we meet. Your daughter, Amelia".
At first, Calum made a quick exit from the program leaving Lorna and Amelia alone but again he returned to talk with his ex-lover.
Lorna says, to the Independent,
"He changed his mind and came back afterwards and we did talk. He said he would meet me again to discuss taking the paternity test."
But if Calum couldn't stick to his words, Lorna stated that she was determined to make him accept his daughter by appearing in his every public event, making him feel embarrassed. Her thoughts are reflected in her following statements.
"I will turn up at every launch, every public appearance. I will make it my mission until he faces up  to his responsibilities," 
"I will not rest, I will be there every time. I think I'm raising an important issue and giving single moms everywhere who are in my position the courage to do what I am doing."
Calum's mother had also arranged for Lorna to travel for tests to confirm that the Playboy was Amelia's dad but Calum didn't show up for it even though it was he who had booked the appointment.
Calum is a British-American model and reality television participant. He has taken part in various television shows like "Fool Around With "and "The Match." He is doing good in his career due to which his net worth values $8 million.