Entertainment
Calvin Johnson Wife, Rumors, Family, Baby, Net Worth
When former Detroit Lions' wide receiver Calvin Johnson announced his retirement following the end of 2015 NFL season, the world including his family and the fellow teammates took the news by surprise.
A booster of one of the most significant contracts with an equally high paying salary in the whole league at the time, the Atlanta native cited fatigue as the reason for hanging up his boots. Not surprisingly though, he has professed zero regrets about his decision.
For Calvin - nicknamed Megatron - his post-NFL career has nothing but short of blissful. From marrying his girlfriend-turned-wife to starring in Dancing With The Stars, to establishing a foundation which serves the underprivileged kids, the former NFL star is just as relevant as his playing days; if not more!
Married Girlfriend-Cum-Wife After Retirement; Family Grows To Four
Although Calvin, age 33, might have cited fatigue for cutting short with a terrific career, that's not the entire truth. He did so because he couldn't imagine himself settling down with his then-girlfriend Brittany Mcnorton while still being active in the league.
Retired Early:- Ryan Nassib, NFL Quarterback Stats, Salary & New Contract
In many ways, he chose his love over career. As for any rumors that suggest that he might be regretting his action, there are none. Writing for The Players Tribune in January 2018, the former NFL wide receiver claimed:-
"Of all the things I've done since I retired, the best was getting married."
Besides taking up the role of a husband, Calvin is also striving as a perfect father figure to Caleb, his wife's 5-year-old son from an earlier relationship, and his first child with Brittany.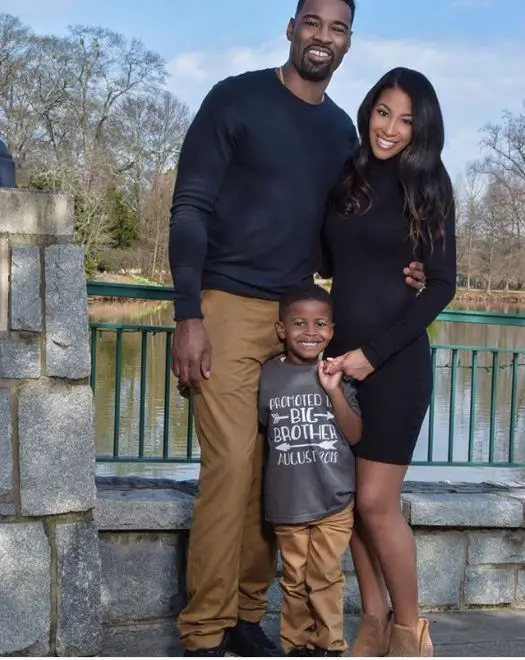 Calvin Johnson announces he and his wife, Brittany are expecting an "incoming" family addition on 26 March 2018 (Photo:- Calvin Johnson's Instagram)
Born in August 2018, the pair's first child together will live a life of luxury because Calvin's net worth is a figure believed to around $45 million.
Tackling Rumors; Contract & Salary Revisited
His net worth, however, took a minor subtraction of $320 thousand after paying compensation to Detroit Lions as a part of his retirement deal.
To recap: In 2012, Calvin signed a long-term contract worth $132 million, only to retire three years later. Upon his retirement, he owed the NFL outfit $3.2 million of the initial signing bonus. Detroit Lions, however, asked for mere 10%.
In his nine-year-old NFL career with the NFL team, the father of two made an estimated sum of $113 million in salary and bonuses.
Mouth-Watering Deal:- Dante Fowler Stats & New Contract | Shipped To The Rams For Draft Picks
Nevertheless, Calvin will go down in history as a one-person team. On the back of impressive college career at Georgia Tech, he got selected by Detroit Lions as its first-round pick at the 2007 NFL Draft.
At the NFL outfit, he was a fan favorite & as consistent as anyone in the roster. Such is the reverence he boasts in the league that even after officially hanging up his boots, he got - as the rumors suggest - approached by rival teams to play for them.
In high school days, using his sheer physicality - weight and height of six foot & five inches (196 cm) and 107 kgs (273lb) - he ran havoc on the opponents' defense.
Though highly athletic, Calvin's primary focus remained his education because of his over-achieving parents: Dr. Arica Johnson and Calvin Johnson Sr. Perfectly explains why he went back to school even after retiring.