A 6 feet and 7 inches (2.006 m) wing who can play four positions, Cam Reddish is already the Basketball star with name and fame, which many other players could only dream of, at the age of 20.
Cam helped the US team earn a bronze medal at the 2017 FIBA under 19 Men's Basketball World Cup. He was rated five-star recruit and the no.3 in the ESPN class of 2018 rank.
The star helped his college team the Blue Devils to no.1 position in the 2019 NCAA Tournament. After only a year in Duke, his longtime dream of playing in the NBA became a reality. The 10th overall pick in the 2019 NBA Draft signed with Atlanta Hawks on 1st July 2019.
Who Is Cam Dating?
Cam has been spending some time with Virginia Tech Basketball Team Hokies's point guard, Kendyl Brooks. Even though Kendyl refers to Cam as best friend followed by 'a baby' in her social postings, the duo could be probably more than just friends. They might be dating right under the radar of prying eyes of media.
VT junior wished Cam a happy birthday in her cute posting on Instagram on 2nd September 2019:
HBD to my best friend ? welcome to the dub club, baby ?? 20 looks so good on you ?
Cam has been appearing in lots of Hokies star player's social media, which arouse lots of speculation in the otherwise clean slate dating list of Cam. He was described as just focusing on his game and career before the duo surfaced on social media.
Six-Time NCAA All-American:- Heather Van Norman: Bio That Reflects Her Family As Whole
As of 2019, Kendyl has also been retweeting Cam's practices and other videos with sweet words about the skills and talent of the Rookie.
Similarly, in June 2019, Kendyl posted a photograph in Cam's arm with an NBA Draft 2019 on the back with the mention of us in the post, suggesting the duo are possibly a couple.
ain't nobody gonna take us out. it's always us, never them ? so proud of you, baby ?
Whether this leads to something prominent or they will focus on their career is a million-dollar question, which would be answered in the near future. Before the duo denies or admits of being together, it certainly looks 20-year Basketball star is off the market for 2019.
Family: Parents And Background
The 5-star recruit was born on 1st September 1999 to Zanthia and Robert Reddish in Pennsylvania. He grew up in Norristown, a junior city of Pennsylvania with his younger brother, Aaron Reddish.
Cam always dreamt of playing in the NBA. However, even before Cam, his father, Robert, realized it when he saw the skills when Cam was only four. Robert had a unique eye as he himself played Basketball for A & M and Virginia Commonwealth University.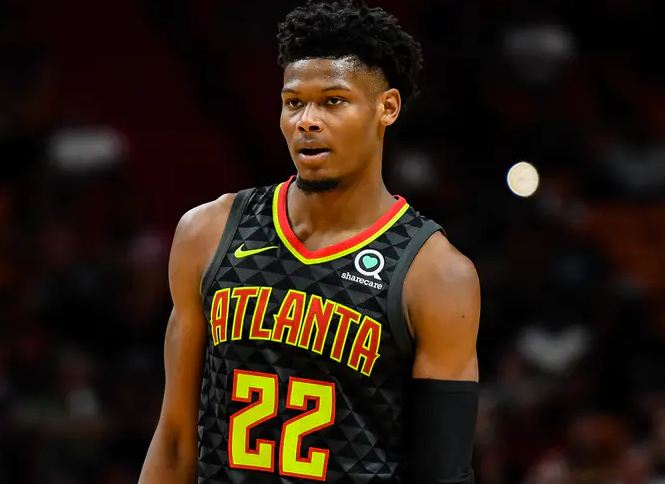 Cam Reddish In Hawks Jersey in 2019 (Photo: si.com)
His father coached Cam until high school, and he was a very proud father when he started showing his skills in larger arenas.
Cam's mother explained that it was a family decision as well as Cam's own decision to join Duke; thus, he had full support from his family. The decision was later proved to be the right one as the star helped the Blue Devils to an ACC tournament title.
High School And College
Cam attended Westtown School in his home state. He helped Westtown Moose to a league and state championship in 2016-17. The talented high school athlete has a long list of High School Honors, including 2017 Naismith Trophy All-American honorable and 2017 USA Today All-USA Pennsylvania second team.
NCAA Final Four Most Outstanding Player:- Donte DiVincenzo Salary, Height, Girlfriend, Parents
Cam received a hero's welcome at Duke University even before he joined Duke. Inevitably, as one of the best hair hero, he led the Blue Devils to the #1 overall seed in the 2019 NCAA Tournament.