Entertainment
Heather Van Norman: Bio That Reflects Her Family As Whole
Heather Van Norman: Bio That Reflects Her Family As Whole. Heather Van Norman is a name with which almost every sports lover is well acquainted. She has made a career out of defying the odds and has reached a significant height in it. This six-time NCAA All-American does not need much introduction regarding her professional life, but if you are willing to know about her personal life, we have got you covered.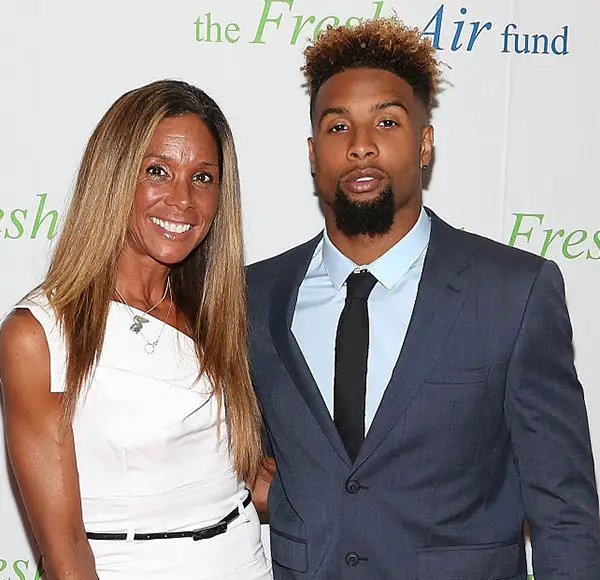 Quick Information
Date of Birth N/A
Nationality

American

Birth Place

Windom, Minesota, USA

Profession

Track and Field Coach

Ethnicity/Race

Afro-American

Father

Don Van Norman

Mother

Millie Van Norman

Son/s

Odell Beckham Jr.

Daughter/s

Jasmine Beckham

Relationship Status

Married

Husband/Spouse

Derek Mills

Divorce/Split

Yes (Once)

Ex-Boyfriend

Odell Beckham, Sr.

Net Worth

N/A

High School

Minnesota

College

Louisiana State University
Heather Van Norman is a name with which almost every American sports lover is well acquainted. She has made a career out of defying the odds and has reached a significant height in it.
This six-time NCAA All-American does not need much introduction regarding her professional life, but if you are willing to know about her personal life that consists of her family, husband, and children; this article covers it all.
Scroll down and dig into her bio!
Odell Beckham Jr.'s Mother - Husband, Children & Net Worth 
By now, fans have figured that Heather Van Norman is a force to be reckoned with when it comes to athletics. And like mother like son, even her child, Odell Beckham Jr., who she gave birth to back in 1992, is a revered name on the NFL.
The wide receiver was born from Heather's previous relationship with Odel Beckham Sr., who was a Tigers' football player back in the 90s. 
Don't Miss:- Sydel Curry Wiki: The 23 Years Old Is Engaged-to-Get Married to Athlete Boyfriend
The news of Odell Sr. and Heather expecting Odell Jr. came when she was in college and was coming off a national championship for the Lady Tigers, while also training for the Olympic trials.
But still, the news did not stop her from doing what she loved. Therefore, she carried on the training with her son in her womb. She explained,
"I thought 'What am I going to do? But it was life changing – a blessing from God. It turned my life around. I stopped just getting by. Suddenly my baby lit a fire of determination under me."
It is only natural because children are a parent's strength and when she happily expected her baby, she got even more motivated. Adding more to this, she said,
"He was there in my stomach. I was training all the way up until the day of delivery, with him right there."
Her then-boyfriend and the father of Odell Jr expressed his gratitude,
"She ran up until she was about 6-months pregnant. That probably gave him that strength, ability, speed that serves him so well now... He was born on November 5. He weighed 6.5 pounds and was 23 inches long, It was an amazing day when I cut the cord."
When Heather held her son for the first time, the sense of ambition and determination she'd felt during pregnancy blossomed even more.
"I realized at the end of the day, I am responsible for my son. I am the mom, and I'm not going anywhere... I have to educate myself and be the best that I can be for him."
It's apparent why Odell Jr. is a successful sportsperson and enjoys an impressive net worth of $8 million.
Heather's relationship with Odell Jr.'s father did not make the final cut, for Heather went on to marry an Olympic gold medalist named Derek Miller, who badged the honor running as a part of the United States 4X400 relay in 1996. 
Heather's husband, Derek has been a part of Odell Jr.'s life since he was five and he has been giving ample love and support to his step-son like his own.
And there is a sense of mutual harmony between all of them as Odell Jr. has been crediting his entire family for the success he has earned in his career thus far.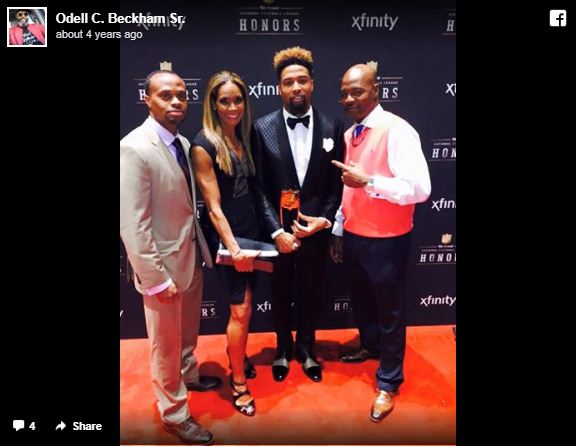 Odell Jr. credits his family and their support for the success he has earned. (Photo: Odell Beckham Jr's Facebook)
Heather describes her child as a helpful man, who has been supportive of the needy from his childhood days. Odell Jr., who trains with Tyke Tolbert, have been the receiver of multiple awards in the past years.
Heather took to Instagram on 28th August 2018 to congratulate her child on account of all his achievements. She wrote,
"Congratulations son! You deserved nothing but the best. All glory to God❤️ I'm speechless as you never cease to amaze me❤️#apes**t #proudmomma"
Heather is one lucky woman to have a son like Odell. After she resigned from the position of the head coach of Nicholls State track, the former athlete cleared her schedule to spend time with her child but this time professionally.
See Also:- Adam Cohen With Son To Craze For, Who Is His Wife? Is He Even Married?
Post Heather's resignation in late May 2017, the mother-son duo got hired by Welch to promote their product, a Super Bowl party recipe. In the video advertisement, Heather teaches Odell to make one of his favorite treats: Welch's Grape Jelly Meatballs.
Bio With Career Stats Of Former Athlete
Heather Van Norman is a name synonymous to the field of professional sports, and there is a reason why everyone agrees to it. After finishing her career as an athlete, she chose to embrace a new role of a track coach at the College Level.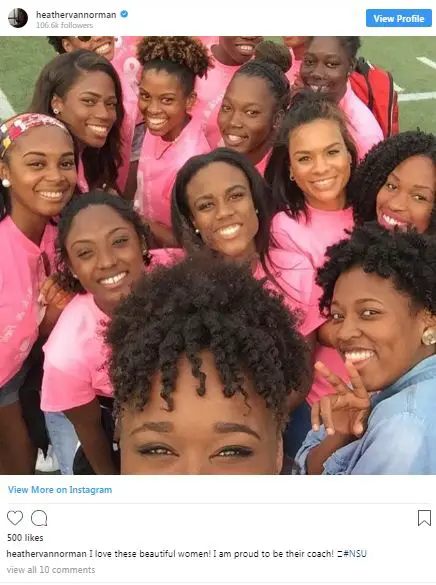 Heather expresses pride in assuming the role as the coach of the young ladies (Photo: Heather Van Norman's Instagram)
After graduating from LSU, her tenure as a coach and her participation in some of the elite programs across the country helped her remain close to the sports.
Heather's 30 years long career began at Rice University before moving on to a stint at Georgia Tech and then seven years as the head coach at Tulane University. 
While working with the Green Wave, she led the team to a staggering 44 Mideast Regional appearances.
Recommended For You;- Jane Slater Biography Has Loads To Reveal: Age, Husband, Height, Salary
Heather has been a dedicated person since a very young age, and that is why her father too was a great admirer of her skills and passion. Her father, Don once said,
"The high school kids here like to hang their medals on their letter jackets. If Heather pinned her medals on her jacket, she would be bulletproof."
That is the support she received from her father whom she lost not that long ago.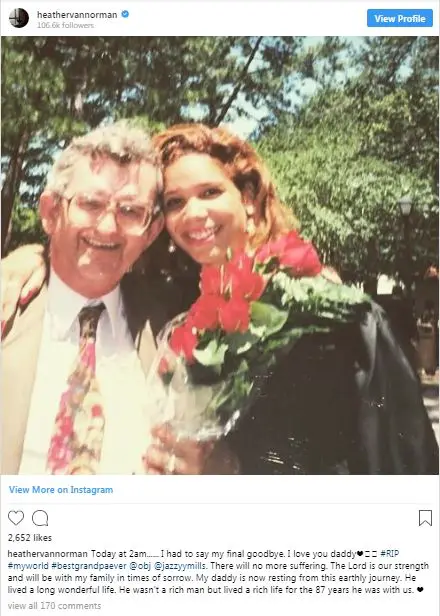 Heather along with her deceased father (Photo: Heather Van Norman's Instagram)
Rest in peace, sir. The Thy Kingdom Come. Amen!
Son Traded To Clevland Browns
In March 2019, The New York Giants - then Odell Jr's team - announced that it would be trading him and his teammate Olivier Vernon to rivals Clevland Browns. As per the deal, Browns - in turn - recieved Jabrill Peppers and a 2019 third-round pick.
Another Hight Profile Trade:- Dallas Cowboys Tavon Austin Contract Detail, Stats & Trade News All Here
At age 26, Odell is the NFL's most marketable player. Back in August 2018, Giants reportedly offered him a whopping $95 million contract extension offer.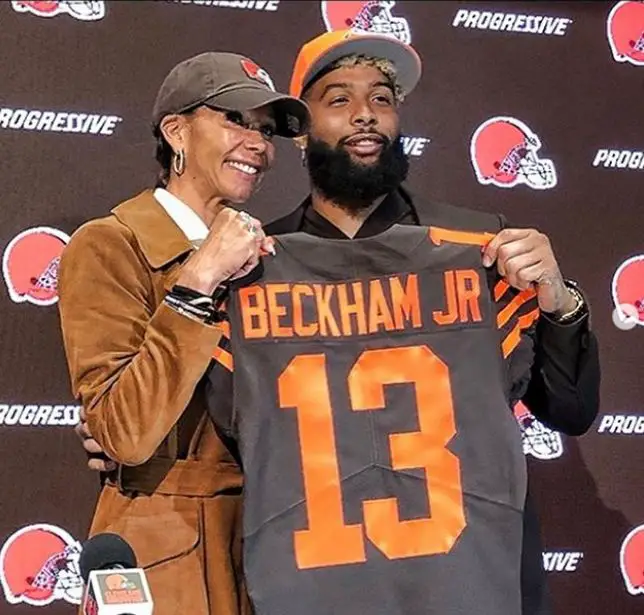 Heather Van Norman accompanies her son Odell Beckham Jr.'s unveiling as Brown's player in May 2019 (Photo:- Heather Van Norman's Instagram) 
Weeks after announcing the trade, Browns finally unveiled Odell to the press. A happy Heather was present at the event to support her prodigal son.
Earlier that year - at the 2019 Super Bowl held in Atlanta - the star NFL player surprised his mother by a purchasing her brand new car. A video of her reacting pricelessly to gift melted many hearts.