Camila Alves is a model, entrepreneur, and accessories designer molded in one. She has modeled for Harley-Davidson, Billabong, Chopard, Christian Dior, and Target. Camila also appeared in Neyo's music video of Because of You and Pulling Me Back by Chingy.
Also, she hosted season three of Bravo TV show, Shear Genius. As an entrepreneur, Camila has dabbled into the baby food industry with Yummy Spoonfuls. Also, she designs the handbag line Muxo with her mother. Further, she owns a sucessful online platform for women called Women of Today. 
Wedding & Children Info 
Camila met her husband, Matthew, through a chance encounter at a bar called Hyde in Los Angeles in 2006. It was the Dallas Buyers Club star who was rather keen on the Brazillian beauty as he had to ask multiple times before scoring a date with Camila. 
The date turned into a solid bond as the couple welcomed their first child, Levi Alves McConaughey in 2007. The famous duo enjoyed being parents so much that they decided to bring another kid into the world. In 2010, their second child, a daughter Vida Alves McConaughey, was born. 
Finally, after two children and six years of relationship, the couple got married on 9 June 2012 in an intimate ceremony at Texas. 
Interestingly, Camila was pregnant with the couple's third child during the wedding ceremony. Thus, she gave birth to a son named Livingston Alves McConaughey on 28 December 2012.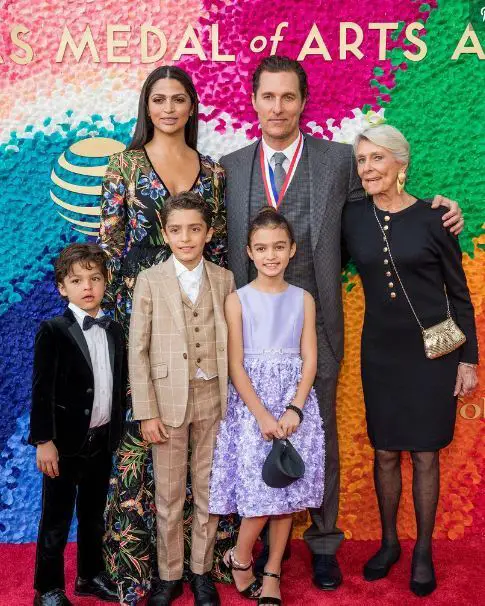 Camila Alves poses with family; husband Matthew McConaughey, children and mother-in-law in February 2019 (Photo: people.com)
Despite being Hollywood's "it" couple, Camila and her movie star husband choose to keep their children out of the limelight. The couple rarely brings their children in the glitz and glamour of Hollywood. 
However, in a rare sighting, the famous couple brought their three children made a red carpet appearance in February 2019. The occasion was; Camila's husband's Texas Medal of Arts Awards receiving ceremony.
Net Worth, Nationality 
The model of multiracial ethnicity started from the bottom in terms of her career. She was a mere teenager when she left her home country, Brazil, to come to America.
While she was well-off in her native country, the case was precisely different in a foreign land. Armed with a solid work ethic, Camila initially worked as a cleaner to make her ends meet. 
Well, she also worked as a waitress before moving to New York for a modeling career. As her modeling career was flourishing, Camila dabbled into bag designing and baby food. 
Celeb With Same Name:- Camila Nakagawa Bio: Father & Ethnicity Detailed - Personal Life Facts
With a sucessful career, Camila - age 37 - boasts a net worth of $6 million. In addition to her growing net worth, her Oscar-winner husband Matthew McConaughey's value of $95 million - aided by huge movie salary cheque - further helps the Brazillian star in living a luxurious lifestyle. 
Regarding her nationality, she became an American citizen in 2015. Now, the model of height 5 feet 9 inches (1.75 m) shares the same nationality as her husband.