Political commentator YouTuber Candace Owens has been a controversial figure due to her support for Conservatists and equally placed hatred for the Democrats.
A Trump supporter, Candace has often been criticized for expressing her views that the black community can never thrive under Democrats' rule. Here's her biography that leads her fan into her personal and professional life!
Engaged To Fiance; Married Plans
While Candace is a black rights activist at heart, she doesn't discriminate, based on race when it comes to her dating life.
In fact, she has been engaged to a white man named George Farmer. George, a UK citizen, is the chairman of Turning Point UK (TPUK) - an organization concerned with promoting capitalism.
The couple's romance came to light earlier in January 2019 when they exchanged a series of flirty posts on Instagram. In one of such feeds, Candace even expressed her unconditional love towards George and also declared her intention to get married to him by the end of 2019.
Reality Star's Wedding Plans:- Brittany Cartwright Weight Loss & Wedding Plans, See Before & After Pic
The YouTuber mentioned via another update on 3 February 2019 that she and her partner were planning for a wedding. By 21 February 2019, Candace was already engaged to George which she notified via an engagement photo on Instagram.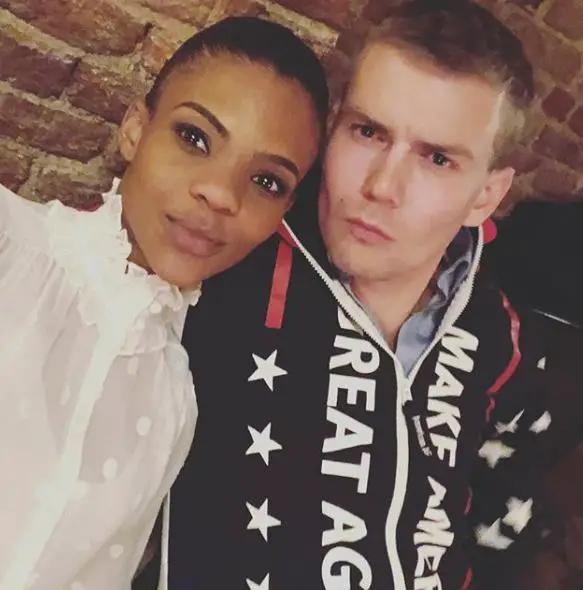 Candace Owens and fiance George Farmer got engaged in 2019 (Photo: Candace Owens' Instagram)
Despite their intentions to get married in 2019, the conservative activist and her fiance/soon-to-be husband have not disclosed any plans for their soon-to-be wedding.
At the moment, the fiances are happily leading their lives as an engaged couple.
Biography: Age, Net Worth, Education
Born in Stamford, Connecticut, Candace proclaims her birthday on 29 April. Now at the age of 29, Candace belongs to the African-American community. 
Raised in a minority group, Candace, along with her family members were often the subject of racial discrimination. The infamous Ku Klux Klan once attacked her father; whereas, she was also bullied during her school days.
Post finishing her education with a Bachelor of Arts degree from the University of Rhode Island, Candace embarked on a journey to professional success.
The famous YouTuber with the channel Red Pill Black is also a Political commentator, who is often criticized for her conservative views.
When the New Zealand mosque shooter Brenton Tarrant mentioned Candace as his inspiration, she posted a retractive tweet but started with a "lol," which brought heavy criticisms to the internet personality. However, her family, especially her grandfather, came to her defense, claiming that Candace would never hurt the sentiments of the victims.
Sexual Assault Suspect Comes As Gay:- Kevin Spacey Comes Out as Gay After Anthony Rapp Accused Him of Making Sexual Advance Towards Him
During her career, she has also worked for the fashion magazine, Vogue. Currently, she serves as the Communications Director at TP USA. Her YouTube channel earns Candace a salary of nearly $18,000 while she also makes $56,102 per year as a political analyst. Her net worth is still under review.
Height & Weight
As for her about her measurements, Candace's height stretches 5 feet 6½ inches (1.69m). Further, she maintains a healthy body figure losing weights now and then.