Entertainment
Carl Radke Dating At Age 32! Slaps Gay Accusation, In A Real Relationship
Carl Radke Dating At Age 32! Slaps Gay Accusation, In A Real Relationship Carl Radke was also subjected to a similar judgment when his friend talked about his sexual orientation on television. And as Carl defended himself from the gay accusations on the show, his on-again-off-again girlfriend Lauren Wirkus, a Summer House co-star, remained by his side he news about Carl and Lauren dating each other was shared by the BravoTv's Twitter website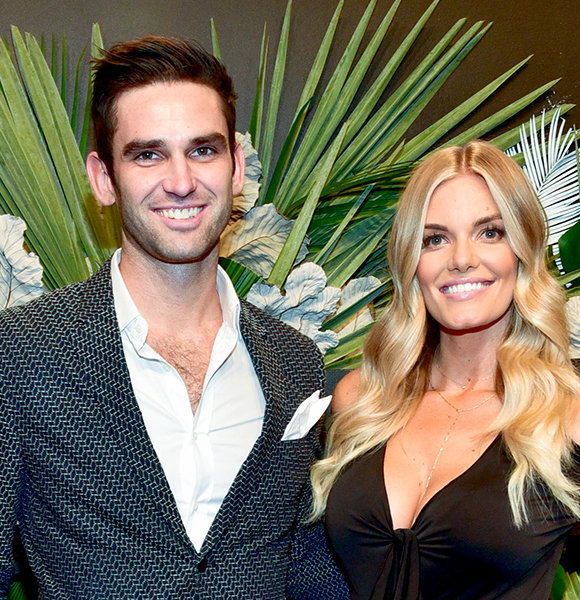 It's hard for people when they get judged for their sexual preferences, and it's even harder when the accusations are only partly right.
American entrepreneur Carl Radke was also subjected to a similar judgment when his friend talked about his sexual orientation on television.
But, Carl was not a man to quietly sit by, especially when his manhood was in question given the two of his connections, Lauren Wirkus and Danielle Olivera, lived in the same house.
What he did next was enough to leave the accuser red-faced and humiliated. Let's find out the truth!
Shutting Down Gay Rumors, Dating Ex
The infamous incident first started on the 5th episode of season 2 of Summer House when former American quarterback Stephen Mcgee, the so-called friend of Carl, decided to reveal a secret that was told by Carl in confidence.
On the show, Stephen said,
"You said to me, sitting on a couch right next to me, that the best head you ever got was from a guy"
Carl did not immediately comment on the matter but later appeared on Watch What Happens Live with Andy Cohen to justify himself.
The reality tv star didn't reject his sexual encounter with the same-sex person but explained that he wasn't gay.
Talking to Andy Cohen, Carl said,
I can tell you this, Andy: I'm a straight man — very confident in my sexuality. Stephen is actually one of my first gay friends. I told him something — yeah, I didn't really know how to communicate it to him, and I made more of a joke than I should have — but I told him very private information about something happening to me when I was 22. It took me 10 years to actually come to grips [with it] and share it with someone. I shared it with one of my gay friends, and somehow that got permeated to other people finding out, and here I am, having a conversation about it. Honestly, I felt like he betrayed my trust. You guys will have to tune in next week and see how it all unfolds — but I'm a straight guy, very confident in myself, and unfortunately crazy s— happens to guys sometimes." 
And as Carl defended himself from the gay accusations on the show, his on-again-off-again girlfriend Lauren Wirkus, a Summer House co-star, remained by his side.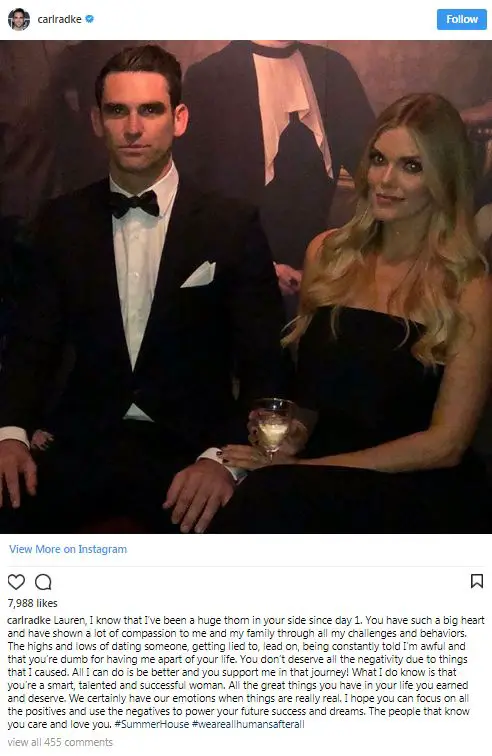 Carl Radke's Gets Back With Girlfriend Lauren in 2018 (Photo: Carl Radke's Instagram)
The couple, whose love blossomed on the first season of the show Summer House, had broken up twice in the past. They reunited back for the second season of the show.
The news about Carl and Lauren dating each other was shared by the BravoTv's Twitter website via a tweet in April 2018.
And in other #SummerHouse relationship news, here's where @carlradke and @laurenwirkus stand today. https://bravo.ly/2q46Zex 
In 2018, Carl also admitted to hooking up with Vanderpump Rules star Scheana Marie on two occasions.
American producer Carl may have got an innocent verdict in his gay case for now, but it may take some time to know whether his sexual encounter was a once in a lifetime incident or one of many experiences he's had in the past.
Come on Carl, if you're gay, just admit it. There's no need to be ashamed.
Carl Radke's Career
Carl Radke, born on January 27, 1986 (age 32), attended Upper St. Clair High School and received his college education from the SI Newhouse School of Public Communications at Syracuse University.  
The Bravo TV star is also involved in various jobs; he is a producer famous for movies including Grace Note (2016) and Silo: Edge of the Real World.
He is also an Account Executive at Yotpo, and an active partner in two New York City-based lounges namely The Lately and Kind Regards.