Among all the famous drag queens to have participated in RuPaul's Drag Race, only a few can claim to be as successful as Carmen Carrera.
One of the competitors of the series' third season, Carmen has gone far ahead than most to achieve her dreams and goals.
Amid her rising popularity and fame over the years, she grabbed headlines when news about her transition from a gay male to a heterosexual female came into focus.
Before & After Surgery
Born on 13 April 1985, Carmen Carrera (birthname: Christopher Roman) is a native of New Jersey. Initially, of male sexuality, Carmen considered herself to be a gay man at first.
However, since her appearance on the RuPaul's Drag Race, she changed her life completely around.
Gaining widespread attention for recurring on the show in the same season, she quickly grew into a fan favorite. After the show ended, the newfound fans and follower recieved a big surprise when she revealed she was no longer a man but a woman in all entirety.
Quite Open About Her Sexuality :- Sasha Lane Parents Struggle & Discusses About Sexuality - Lesbian?
The topic of transitioning is usually quite well hidden. Most would not even dare to reveal such a sensitive issue, but according to Carmen,
"When I decided to transition, I knew I wanted to make my experience public… I think that often, those of us who work in entertainment or live in a place like New York are in such a bubble that we forget how hard it is for trans people in middle America, or in other countries where different forms of beauty aren't as accepted. I wanted to use my transition as an opportunity to show people that I acknowledge their struggle. But I also wanted to show them what can be possible… that you can be your true self and experience genuine joy."
Not many would have thought about revealing their sexuality and transgender as she did. Having had been a drag queen for many years, no one would have ever noticed that she was a biological male.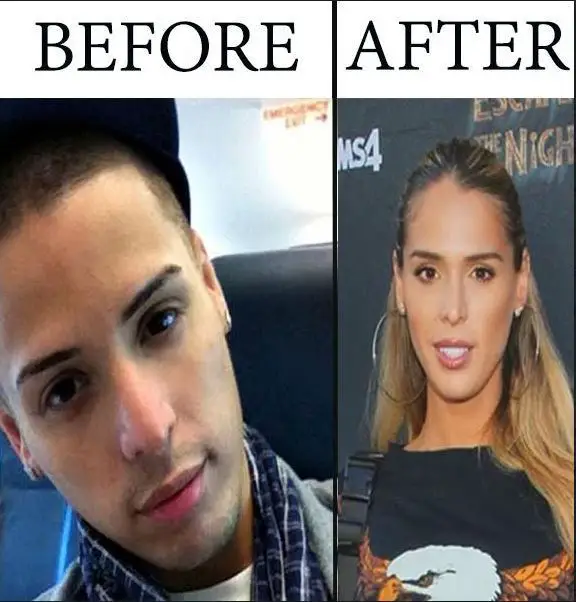 Carmen Carerra before and after her transgender surgery (Photo: Liverampup.com)
Nevertheless standing up to her beliefs, Carmen made the announcement. Though she has recieved some backlash from her revelation, the reality star doesn't regret the life choices she has made.
Married To Husband?
Carmen and her husband, Adrian Torres, have had a complicated romantic history.
The pair first met each other in 2009. After frequently getting spotted at many events, the duo decided to get married to each other only after a few months of dating. During an interview, Carmen told the interviewer that the relationship was strong, and so was their married life.
However, the romance wasn't as intact as she thought it to be, and the pair soon drifted away. The couple silently split with no resentment or anger regarding their seperation.
While the two kept in contact even after being divided, it was in the show Couples Therapy where their love truly blossomed. Deciding to give their relationship a second chance, both entered the 6th season of the show.
At the season finale, the lovers tied the wedding knot again and became the first transgender couple to wed in reality TV.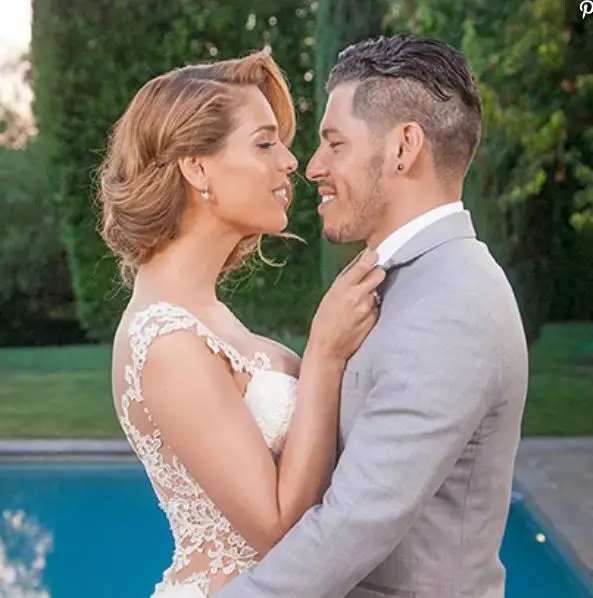 Carmen Carrera with husband Adrian Torres getting married in 2015 (Photo:- People.com)
Happily married to date, Carmen and husband Adrian share a beautiful family.
Carmen is now a mother to Adrian's two daughters: 16-year-old Ahsia and Leeah - age 11 - from her husband's past relations.
Net worth In 2019
With her rise in stardom, the transgender model's income has also been a topic of curiosity.
Rising Transgender Model:- Hari Nef Transgender, Dating, Parents, Net Worth
As an American model, actress, and reality television personality, Carmen - height 5 feet 10 inch (1.78 m) - has reportedly amassed a net worth of $600 thousand. As of 2019, she is an active contributor to the LGBTQ community with her support to many charities and causes.