Entertainment
Sasha Lane Parents Struggle & Discusses About Sexuality - Lesbian?
As Sasha Lane's acting career continues to see unprecedented heights, the Dallas native - best recognized for the portrayal of the character Star in 2016 critically acclaimed indie flick American Honey - hasn't found her newfound wealth (net worth) forget her humble beginnings.
Raised by estranged parents in a somewhat conservative environment, Sasha's life story gives the word "struggle" a whole new meaning and continues to do so even today. With the recent admission of her struggle regarding coming to grips with being lesbian, a question begs: has she taken in a girlfriend?
Read along to learn more including her age, ethnicity, movies & TV shows!
Sasha Lane's Parents' Varied Background Shapes Her Mixed Ethnicity
Contrary to popular belief, broken households do make the most empathetic children! Sasha, who's of mixed ethnicity, is no different.
See Also:- Gymnast Angel Rice Age 19 Bio: Olympic Desires To Height & Parents Details
Born as a result of her parents' interracial relationship - her father Kenneth Lane is of an African American ethnicity whereas her mother Judith Tuck is of European Maori descent - the American Honey actress had a far from a beautiful childhood.
In her profoundly personal 2018 essay for the Weathsimple.com, Sasha, age 23, sheds some light on her family's struggle by writing:-
"It was always a constant struggle to make ends meet. We never had money. You learn, as a kid whose family is broke, not to ask for things. You even learn not to want things. Just be happy with the basics you need to survive: food, clothes, and a place to live, which my mom always found a way to provide."
From her parents' divorce to her mother's to make ends meet to being employed by the age of 7, Sasha knows all too well about living within limited means.
A chance meeting with Andrea Arnold, who gave her first ever acting break in American Honey, was all she needed. Despite the fame and burgeoning net worth, the Texas State University attendee has stayed true to her humble upbringing. In the stated essay, she claims:-
"I'm a simple person and I don't need a lot. As a kid, I built the idea in my mind that I would never waste money on unnecessary things; and now that I have money, I don't."
Of all the pros that come with being financially secure, Sasha has found her capacity to send her mother to her native home of New Zealand to be the most fulfilling. So, other than her mom who makes her priority list?
Interesting:- Sam Boik Age 34 Wiki Unfolds: Married Status, Height, Parents & More Facts
Is Sasha Lane Lesbian Or Bisexual? Is She Dating On-Screen Girlfriend?
The Hearts Beat Loud actress, for the most part, has been secretive about her dating life; so much so that it wasn't until January - when promoting her then-upcoming project The Miseducation Of Cameron Post - that the fans became aware of her being lesbian.
By drawing parallels between the stated flick's lead Jane (played by Chloe Grace Moretz) and her, Sasha opened up about her sexuality by saying:-
"The story really hit home for me, coming from a household where my brother's gay and I'm gay. I liked Jane, who has a free spirit and her own way of thinking. She grew up in a community where everyone was free and lived life in a certain way. Then her mother brought her into a community that was very conservative and unaccepting of her... "
Nevertheless, she hasn't had the best of times in her search of her girlfriend, who always end up trying to include her in threesomes with their boyfriends.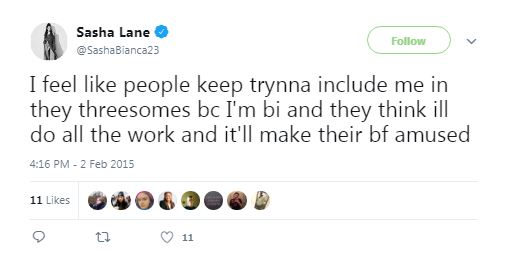 Sasha shares her experience with girlfriends (Photo:- Sasha Lane's Twitter)
Discover:- Kelsey Plum & Boyfriend Talks Amid Lesbian Rumor! What Is Her Ethnicity?
As evidenced by her above tweets, she hasn't always identified strictly as a "lesbian." Case in point: her brief but intense fling with her American Honey co-star Shia LaBeouf in 2015.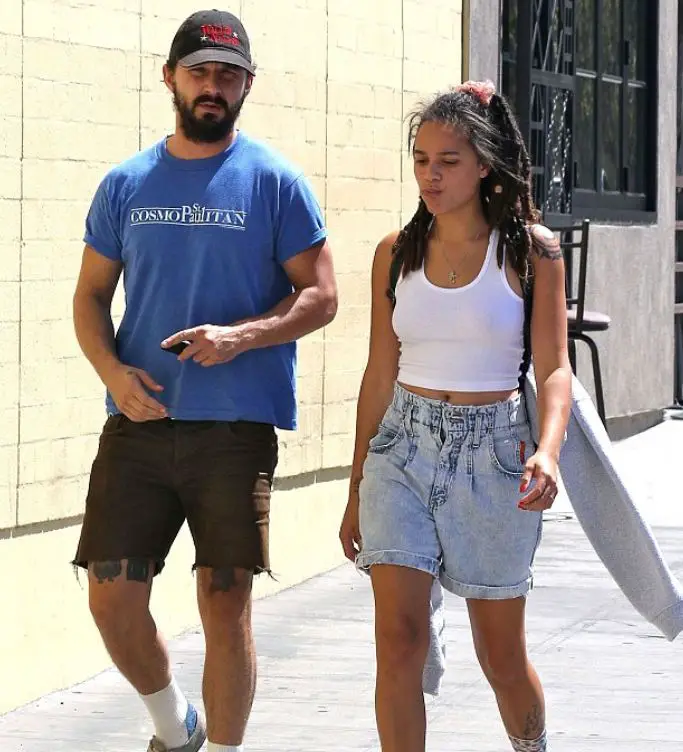 Openly lesbian Sasha with her rumored boyfriend Shia LaBeouf (Photo:- dailymail.co.uk)
Since making her debut, Sasha has gone on to star in numerous movies and TV shows including Born In Malestorm, Last Call With Carson Daly, and After Everything. Additionally, Hellboy, Daniel Isn't Real, and Weetzie Bat is in their either pre or post-production phase.