Caster Semenya is an Olympic athlete. She discovered her passion for running while in soccer practice. The runner has since then won several tournaments and made herself a globally recognized personality in the sport.
She is famously known for her domination in middle-distance running track and field events. Caster also holds the gold medals in the 800m event of the 2012 and 2016 Summer Olympics.
Bio: Age, Height & Weight
Caster hails from the country of Botswana, in Southern Africa. She grew up with her family including three sisters and a brother in a remote village of Seshego; not far from the border of the country. She was born on the 7th of January 1991.
Successful South African Actress:- Pearl Thusi On Engagement Rift To Married Rumors & New Relationship Struggle
As for her physique, the 28-year-old is not an average woman by any means. She suffers from a disorder named hyperandrogenism. It causes high testosterone levels. Also, she has testes in place of her ovaries. The disorder may be the reason for her astonishing height of 5 feet 10 inches (1.78 M) and weight: 73 Kg.
Caster's Relationship: Homosexual Amidst Gender Confusion
Already on question for gender identification, Caster startled everyone when she married a woman. She tied the knot with her longtime girlfriend, Violet Raseboya.
Violet met the runner back in 2007 at a restroom as doping officials were escorting her. She thought Caster was a boy and asked what a male was doing in a female's bathroom. Despite the rocky start, one thing led to another and the couple started dating shortly after.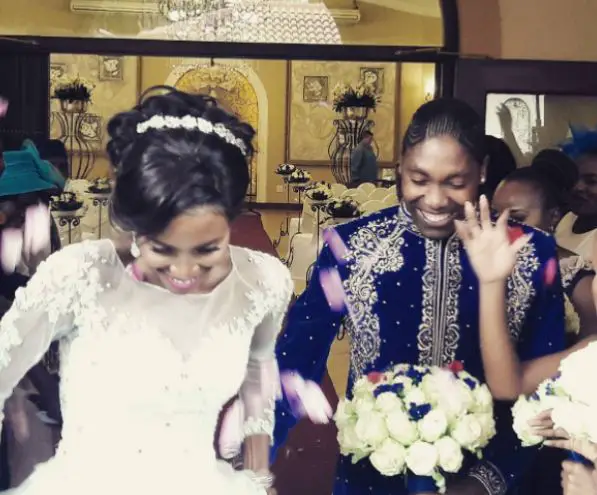 Caster Semenya (Right) with wife Violet Raseboya on their wedding in 2005 (Photo: timeslive.co.za)
Meanwhile, Violet was confused about the relationship and also her sexual inclination. However, love won over the confusion, and the couple even officiated their union in December of 2015.
Just after a year of getting married, Violet was reportedly pregnant. And, with this, the rumors whether Caster was a man masquerading as a woman were afresh. However, there were no developments in the matter as the rumors of the couple being parents to a baby turned out to fake.
Caster's Career; Unfair Advantage Or Gift?
One could say that Caster was gifted with what she has. Her disorder provides her with pros like stronger muscles, endurance, and stamina than other women. Taking this as an advantage, she was into physical activities from a young age.
Runner Caught In Drama:- An Eye For an Eye! Field Athlete Greg Rutherford's Girlfriend Susie Counters Critics About Their Bad Parenting!
Pursuing her passion for running, she carved her career.
Caster is a world-famous athlete. Being specific, she is a professional runner. With her superior physique, she is the title holder of multiple events. She is the first person to win the 400m, 800m, and 1500m titles in the same year at the South African National Championships.
Being a star athlete, by no means does Caster work a conventional job title. Therefore she doesn't have a specified salary. However, with the level of achievement, the runner reached, she certainly enjoys the better things in life.