Entertainment
Pearl Thusi On Engagement Rift To Married Rumors & New Relationship Struggle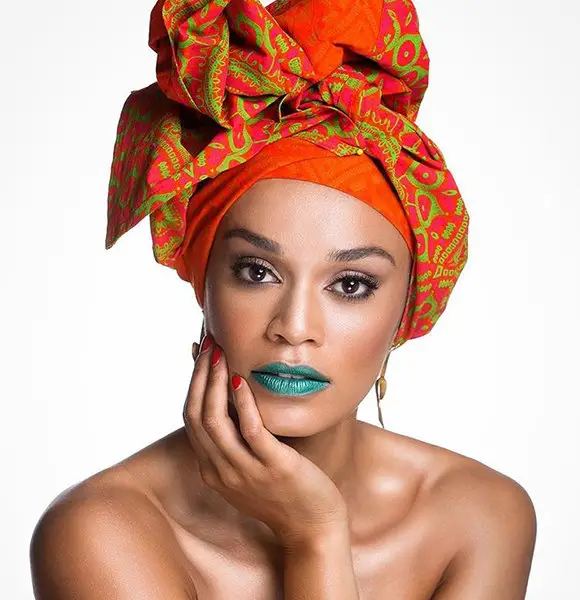 Pearl Thusi On Engagement Rift To Married Rumors & New Relationship Struggle
Entertainment
South African Actress/ model Pearl Thusi is better known for her roles in series The No 1 Ladies Detective Agency and Western Hit series, Quantico. 
The actress was in the news for the rift in her engagement with her fiance. Moreover, She also created a buzz in the media when she flaunted her engagement ring even after the split. 
Moreover, the actress, who also has a daughter with her previous partner, spoke about her struggles to find a long-lasting relationship. But did she overcome her efforts in the end? Let's find out.
Dating And Engaged To Get Married: Only To Rift
The host of Lip Sync battle Africa, Pearl, first met with TV personality Robert Marwa at a polo event at the Inanda Club in Johannesburg in 2013 and struck a friendship with him. The bond gradually strengthened, and the couple began dating in the middle of 2015.
Despite the model denying the relationship with Robert, it did not remain hidden for a long time as their Twitter accounts gave away the signs of the budding love between them. 
Twitter Goes Hardcore :- Alex Jones & Infowars Associate Accounts Banned
And according to various South African news portals, the pair were rumored to be engaged when the radio host was pictured flaunting a diamond ring in various social media posts.
The engagement rumors were finally confirmed when Robert opened up to Anele Mdoda on Real Talk in August 2016, about getting engaged to a 'lady having her first bite of Big Apple,' in reference to Pearl shooting for Quantico in NewYork.
Furthermore, in a talk with Times Live, Pearl even called Robert her 'Man Crush Every day' in September 2016.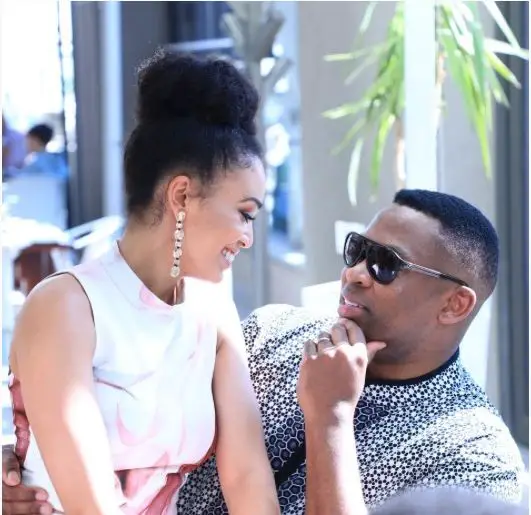 Pearl Thusi with her fiance Robert Marawa (Photo: timeslive.co.za)
Two months after Robert's acceptance about their relationship, the 31-year-old actress confirmed to Anele Mdoda in October 2016 how her fiance had popped up the question romantically during the couple's date night.
Pearl explained that Robert had the ring delivered in a chocolate box after the couple had finished their dinner and desserts. Pearl quipped:
"There was a box and I thought it was chocolate… and then I opened it and in the end, I realized what was going on and then there he was, like sweating and then finally it happened. He did kneel but I didn't see that.   
There were rumors that the sweethearts had secretly tied the knot in January 2017, pronouncing husband and wife. However, the couple's engagement did not progress naturally to marriage as they ended up parting. 
Robert announced on 6th August 2017 via Twitter that he and Pearl had officially separated a few months ago. However, they continued to remain friends.
A month after Robert's announcement, Pearl also confirmed that their relationship had ended and had gone their separate ways. Speaking to Sowetan Magazine, she said:
"Yes, it's a private issue, but it was an incredible relationship. It was an absolutely incredible relationship. I wouldn't trade it. I learned a lot from it. I think we've all taken the lessons we needed to take from that journey and hopefully we can all move forward from that."
However, the actress was reportedly still sporting her engagement ring even after calling off her union with Robert. And that led to rumors about the couple getting back together.
The news proved to be rumors after the actress announced in March 2018 that she had been single for the last eight months. 
Pregnancy Turmoils and Daughter 
The TV star was previously in a romantic relationship with sports personality Walter Makoena. However, the details of their relationship remain confined.
But it is known that the couple has a 10-year-old child. Pearl spoke of her difficulties during her pregnancy because of the lack of emotional support.
She told to Real Talk's Anele Mdoda in October 2018 that because of her on and off relationship with Walter, she was rendered psychologically and emotionally weak. 
However, the actress gave birth to her child, a daughter Thando, and is a proud mom to her daughter. For instance, on 14th September 2017, she shared on Twitter about how her daughter made her tea after an argument on her daughter's birthday.
Moreover, the loving mom also posted a picture with her daughter on her Instagram on 25th January 2018 and called her the best gift she did not think she deserved.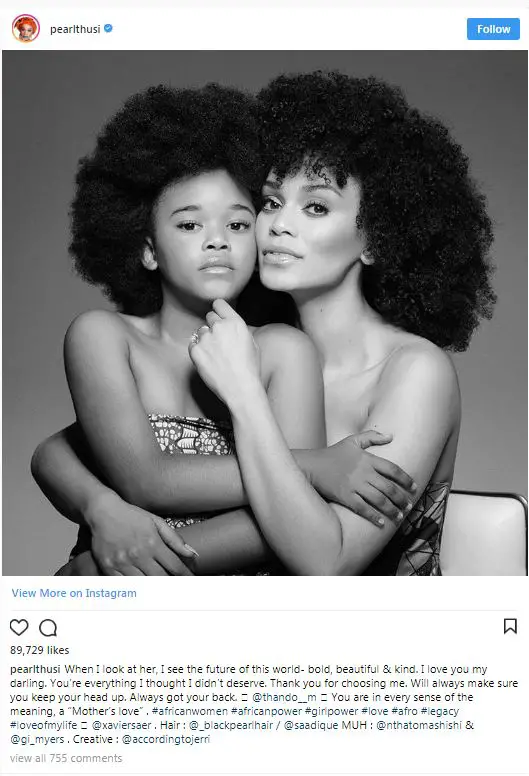 Pearl Thusi with daughter Thando during a photo-shoot (Photo: Pearl Thusi's Instagram)
The actress never fails to mention her daughter in her Instagram posts and is together with her in every event and festivities. 
Struggle to Find A Perfect Match
Despite excelling her role in movies and as a loving mom, the only role she has to fail is of a Valentine.
The actress previously shared in September 2017, that she had always wanted to get married to a white Rugby player. She felt that black and black did not make a great match, in reference to her father and mother's troubled relationship. 
And in a series of tweets on 6th March 2018, she spoke of the qualities that a man she wanted should possess, which included great arms, tall height, funny, robust, secure, and good teeth.
And a week after sharing the qualities, she talked about the difficulties she faced in having a relationship in South Africa because of her fame. She also spoke of her fear of being discussed as a trophy wife or girlfriend. 
She was heard saying to Touch HD as:
"I've been single for eight months, I've been single for a while..the truth is, I struggle to get into a relationship in South Africa because I'm afraid of why somebody will be getting in a relationship with me or why I'm getting into a relationship with them. I can't even play with someone because, for me, it's like, who are they gonna tell, am I a trophy, and there are all these other things I need to think of."
She, however, did not entirely shut the doors on a relationship and opened up prospects about getting hooked up with someone outside South Africa.
New Boyfriend
By the end of 2018, Pearl managed to find a man she had always wanted in her life. But as they say, you don't get to choose who you love, and the same happened in her life as well. She started dating a man with her same ethnicity, which was very contrary to her statement before on wanting date a white man.
The actress started dating NBA player Serge Ibaka years after meeting him for the first time in August 2017. The two first confirmed they were dating each other in the summer of 2018 after she was spotted with her athlete beau on various occasions, including their respective social media handles.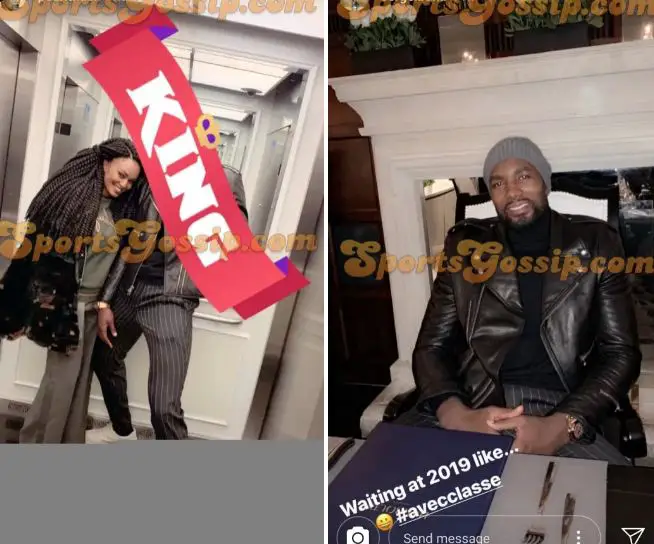 Pearl Thusi and boyfriend Serge Ibaka announced their romance in 2018 (Photo: sportsgossip.com)
Likewise, the couple celebrated the New Year 2019 alongside each other. Although there haven't.been any major developments between her and the NBA player, another big news created a buzz in the public.
NBA Professional Player:- Mikal Bridges Girlfriend, Dating, Parents, College
Turned out that she had adopted another daughter named Okuhlekonke. Talking about her experience with adoption, she quoted,
"It's been really incredible. I've tried not to make a big deal of it in terms of talking about it. Women do this every day, our grandmothers did this for our parents. There are aunties, women have to travel and then someone has to take care of their children. It's a village and I'm an African and I live by everything that an African means as much as I possibly can."
However, she had expressed her willingness to adopt a baby long ago on 4th January 2010. So, her recent act doesn't really come as a surprise as she's finally living her dream.