Entertainment
Caterina Scorsone & Husband Celebrate New Year With New Baby In Family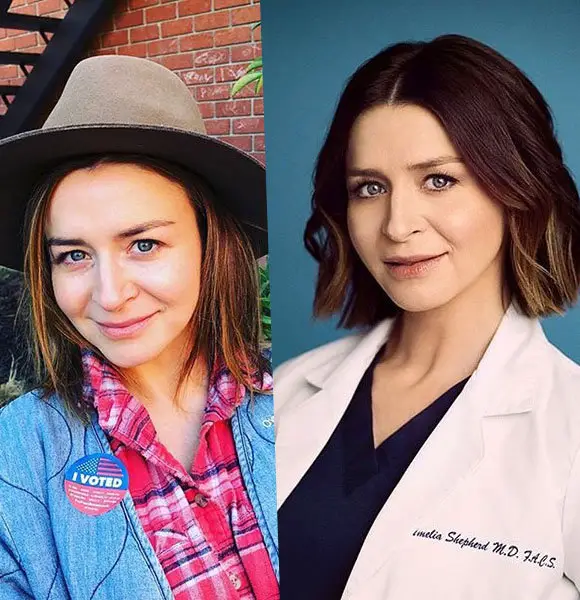 Caterina Scorsone is a Canadian actress best known for her performance on Grey's Anatomy as Amelia Shepherd.
While everyone celebrated the start of the new year and decade in their way, the popular TV personality did so with her third kid, born on December 31, 2019.
Please continue reading to learn more about the actress and her family, including her husband, Rob Giles, and their children.
Caterina Scorsone's Age & Bio 
Caterina was born on 16th October 1981 in Toronto, Ontario, Canada.
Born to social worker Antonio Bruno Scorsone and social anthropologist Suzanne Rozell Scorsone, Caterina was the middle child among five siblings.
She has two elder twin sisters and a younger brother and sister. 
She studied at the Cardinal Carter Academy for the Arts. Cardinal Carter Academy for the Arts. 
Caterina Scorsone Welcomes New Baby!
Caterina's third daughter, Arwen Giles, was born on 31 December 2019.
She had published news about her pregnancy on 2nd November 2019 on her Instagram. She showed off her baby bump alongside her family, dressed up as the Addams Family for Halloween.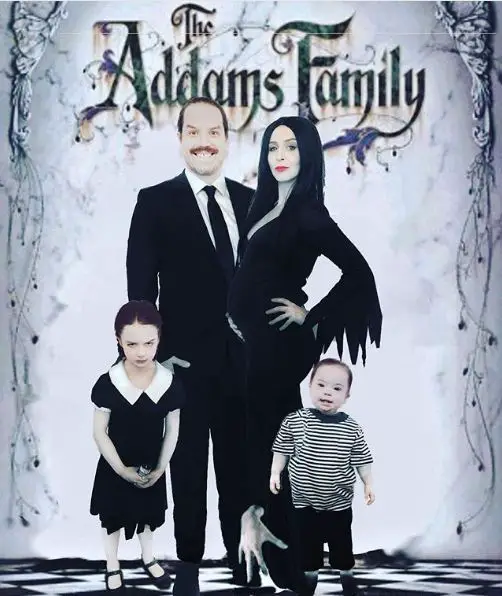 Caterina Scorsone with her husband and two daughters during Halloween of 2019 (Photo: Caterina Scorsone's Instagram)
The photo was captioned with "Our Family's about to get even kookier. #pumpkinintheoven."
Caterina Scorsone's Married Life with Husband, Kids
Caterina is married to singer and songwriter Rob Giles. The two tied the knot on 27th June 2009 and are still happily married after ten years. Together, they have three daughters.
The couple welcomed their first daughter, Eliza Giles, on 6th July 2012. Four years later, on 8th November 2016, they had their second daughter, Paloma Michela Giles. Paloma lovingly called "Pippy," was born with down syndrome. 
Another Celebrity With A Child With Down Syndrome:- Sally Phillips Talks About Happiness And Struggles With Husband And Children Including Their Son With Down Syndrome!
The Grey's Anatomy actress had to change and learn much after learning about her second daughter's condition. She opened up about it during an episode of the "Motherly" podcast in March 2019. In her own words:
My whole concept of what motherhood was had to shift. When Pippa was born, and I realized that she had Down syndrome and she was going to have some physical differences and some cognitive differences… I didn't know what her capacity would be. It really did send me int a tailspin.
Fortunately, she pulled through, and Pippa is living a very happy life with her family, who had a new addition.
Caterina Scorsone's Awards & Nominations
Caterina was nominated for the Best Performance by an Actress in a Featured Supporting Role in a Dramatic Series for Power Play (1998) in the 1999 Gemini Awards.
Actress Who Won Gemini Awards:- Helene Joy Husband, Boyfriend, Net Worth
She was nominated for Best Performance by an Actress in a Leading Role in a Dramatic Program or Mini-Series for Alice (2009) in the 2010 Gemini Awards. Unfortunately, she didn't win the two awards, but she did win the 2012 Prism Awards for Private Practice.
More on Caterina Scorsone
Caterina Scorsone began acting professionally at the age of eight. Her older sister, Francesca Scorsone, is also an actress. She often posts about Down syndrome and how parents can ensure a good environment for children with such differences. She has over 2.2 million followers on Instagram.
Since the birth of her second daughter, Pippa, who was born with Down syndrome and other cognitive challenges, she has been an ardent advocate for children born with Down syndrome and other cognitive disabilities.
On November 14, 2020, she earned the Quincy Jones Exceptional Efforts Award from the Global Down Syndrome Foundation for her advocacy.
In March 2020, Scorsone and Giles divorced. After ten years of marriage, they filed for divorce in May 2020.
Stay tuned to get more updates on Caterina Scorsone.