Catherine Giudici is married to her co-star from the 17th season of...and their wedding was even the highlight of the show as it was broadcasted LIVE among...and husband on the night of their wedding on...after the birth of her baby boy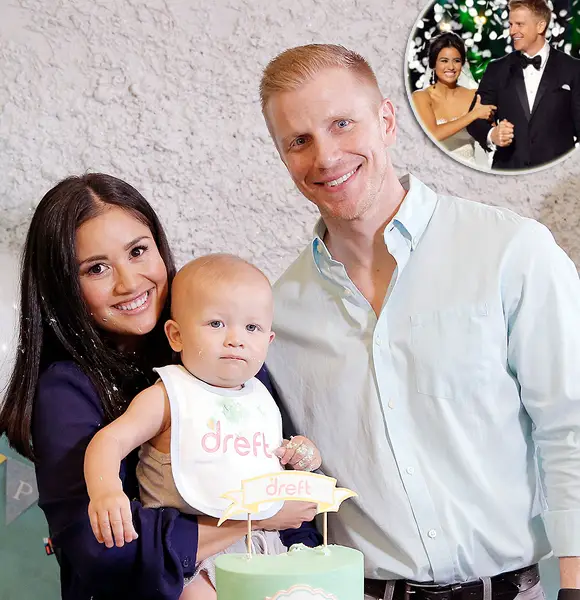 Catherine Giudici's big win in the ABC's hit reality show The Bachelor significantly contributed to her success. Interestingly, prior to achieving fame from the show, the reality star had a well-running career with an impressive resume.
Previously, she was a graphic designer for the corporate giant Amazon after she completed her studies from Washington State University majoring in advertising in 2008. However, in the end, she was destined for fame in the arena of showbiz.
Catherine's Husband, Wedding
Catherine Giudici is married to Sean Lowe, her co-star from the 17th season of The Bachelor. As evident, the couple's love for one another evolved from the show. Even their wedding on 26th January 2014 was the highlight of the franchise as it was broadcasted LIVE among millions of audiences.
The wedding ceremony was held at Four Seasons Resort The Biltmore Santa Barbara, with a traditional theme. Catherine's dress of choice for the ceremony was a Monique Lhuillier gown as she wanted a form-fitting and sexy outfit.
Ben Feldman's Wedding :- Wife,Height, Net Worth
So on, she initiated the ceremony with her beautiful vows as quoted,
"The first time that I saw you, you were like a light to my bug. I had to find you. You mesmerize me with how brightly you shine. Sometimes I feel like I'm going to explode by how much I love you … I'm completely consumed by you … I promise to love you after my heart bursts … You are my dream and my reality."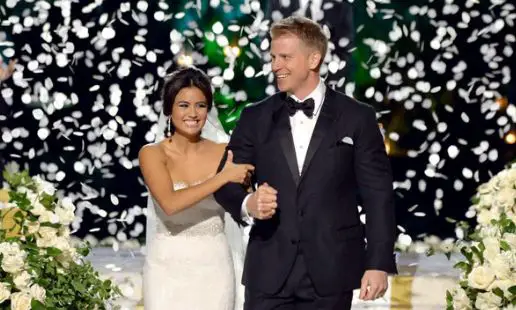 Catherine Giudici and husband Sean Lowe on the night of their wedding on 26th January 2014 (Photo: etonline.com)
Likewise, the newlyweds left the aisle together after her partner presented her with a beautiful 3.15-carat platinum-and-diamond engagement ring. The pair's family and friends joined them after their first dance together to Randy Roger's One Woman.
Children, Challenges, Expecting Third Baby
The reality actress stepped towards parenthood on 2nd July 2016 after the birth of her baby boy Samuel Thomas. Unfortunately, the pair came across many unfortunate situations that could have turned their life upside down following the birth of their second child Isaiah Giudici on 18th May 2018.
A week after the birth of Isaiah, Samuel almost lost his life from drowning at his grandfather's swimming pool. He was close to dying but saved by his parents on time.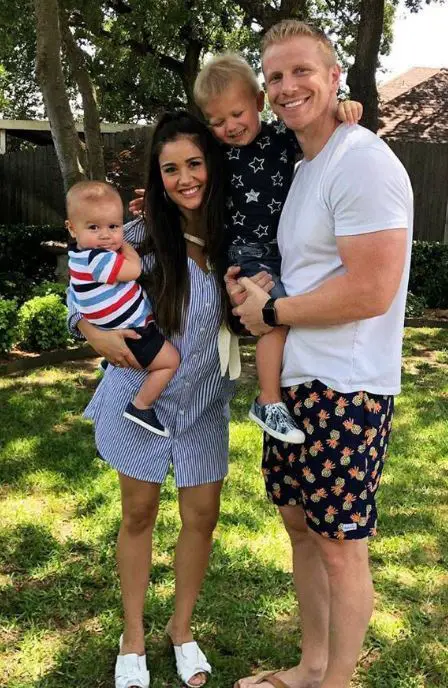 Catherine Giudici with husband Sean Lowe and sons: Isaiah Giudici & Samuel Thomas (Photo: eonline.com)
Again, in November that year, their newly born son started developing a bad cough. He ended up in ICU after being diagnosed with Bronchiolitis. However, things didn't take a turn for the worst, and he gradually recovered.
Diagnosed With Heart Ailment :- Shareef O'Neal Girlfriend, Surgery, Mom, College
Interestingly, on 19th June 2019, Catherine and her husband made an auspicious announcement about her pregnancy. The pair were eagerly awaiting to become parents to their third child, who was expected to be delivered on 23rd December 2019.
Welcomes Baby Girl
Finally, Catherine's third baby made her presence into the world in the date they had previously announced. On 23rd December 2019, she shared an adorable selfie of her newborn and revealed her name. Turns out that the couple had their baby girls name planned from the start and will be calling her Mia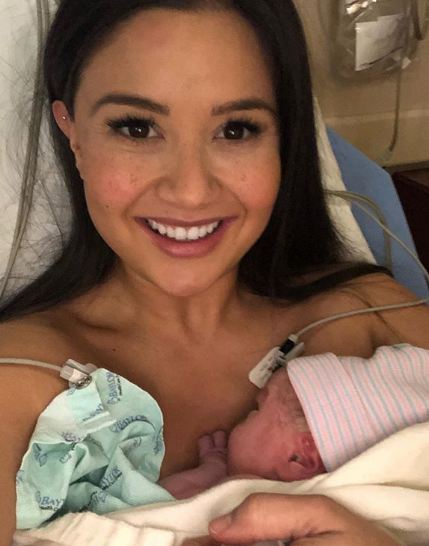 Catherine Giudici holds her newly born daughter Mia right after her birth on 23rd December 2019 (Photo: Catherine Giudici's Instagram)
Also, she couldn't help but express his joy and shared her daughter's health status through Insta writing,
"I've always wanted a daddy's girl and now I've got her. Mia is healthy, mama is doing great, and God is so good!"
Interestingly, prior to the birth, she had expressed her desire to have a baby girl. The couple was also in suspense about their baby's gender since they were unable to find their baby's sex before delivery. Talking to People, the actress had also shared,
"I definitely am praying very hard for a girl. I'm trying to think girl thoughts. That's why we don't want to find out. I'm going to love this baby no matter what.I'm going to find out when I meet it and love that baby."
So, now that her little bundles of joy finally have a sister to shower their love upon, it's undeniable that their Christmas has become one of a kind.