Chad Prather is everything but a "one trick pony."
Besides being an observational humorist and a revered comedian, he dabbles in motivational speaking.
Often, he refers to himself as an "armchair philosopher." Notably, FOX News' Tucker Carlson labeled Chad, a "supernaturally articulate" individual. Meanwhile, CNN famously called him the "Pick-up pundit."
In 2015, the Augusta, Georgia-native got thrust into the national spotlight after his YouTube video called Unapologetically Southern went viral. FOX News and Country Living Magazine even featured the clip on their content.
Wedding & Wife
With nation-wide fame, fans and media's interest in Chad's personal life grew exponentially.
Content You Sould Read:- The Kid Mero First Wife, Kids, Net Worth, Family
Instead of cashing in on his new found-popularity and further his career, the comedian/motivational speaker did the opposite. He limited his wife Jade Prather's public persona to mere references during his bits while occasionally sharing the photos of the two on Facebook.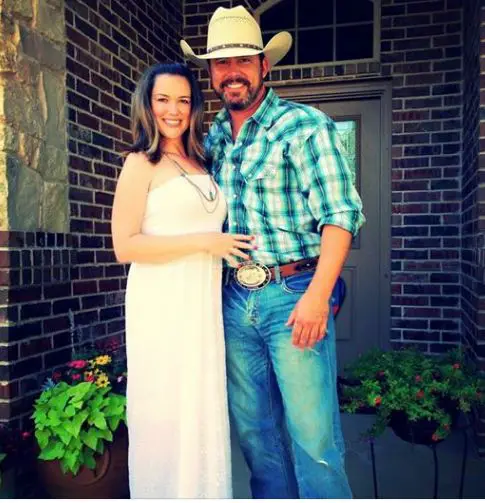 Chad Prather and wife Jade Prather pose for wedding anniversary snap circa 2015 (Photo:- Chad Prather's Facebook)
Accounts of Chad and Jade's romance - or wedding, for that matter - continues to evade the public eye. Given what the fans know about the internet sensation's love for everything Southern, the wedding was likely a grand affair.
Nevertheless, after marrying Jade, he welcomed a step-son into his life. At the time, he was already fathering four kids from his first marriage.
Daughters With First Wife
Like Jade, Chad's first wife is also an elusive figure. Perhaps, even more so. Pertinent details - including the former married duo's wedding and divorce - remain confined to family and close friends.
Though unsuccessful, the union between motivational speaker/comedian and his mystery first wife bore three daughters & a son. On his stand-up bits, he regularly references his kids.
Bio - Family, Age & Height
Born in the year 1972, Chad is a Southerner at heart. In part because both of his biological parents' family were natives of Georgia.
A member of Augusta Players Theater Group during his Westside high school, he owns degrees from the University of Georgia and Columbia International University.
From Same State As Chad:- Ken Corsini Bio, Family, Wife, Net Worth
Boasting an impressive built, Chad stands past the six feet (1.82 m) height mark by ease.
Tour Money: Net Worth Now
At age 2, Chad recieved his first taste of show-biz by starring on TV commercials. He made his acting debut four years later. And by the time he reached the 20s, he had begun traveling the world as a motivational speaker.
As his practical communication skills tinged with humor began winning over many hearts, TV execs took notice. Chad eventually began working as a host, presenting shows including Ride TV's It's My Backyard and Chad Prather's Comedy Shootout.
Out on the road, the Southern comic leads a sizable following now. And, as a year-around touring act, Chad pockets impressive haul of money. In turn, it further solidifies his ever-so growing seven-figure net worth.