Chandler Parsons is an NBA star...has dated many women...went out with Kendall Jenner and Bella Thorne...is now with Haylee Harrison...is 30 years of age...is not gay...raised in a family with three brothers...his salary and net worth figures are...has a hieght of 6 feet 9 inches...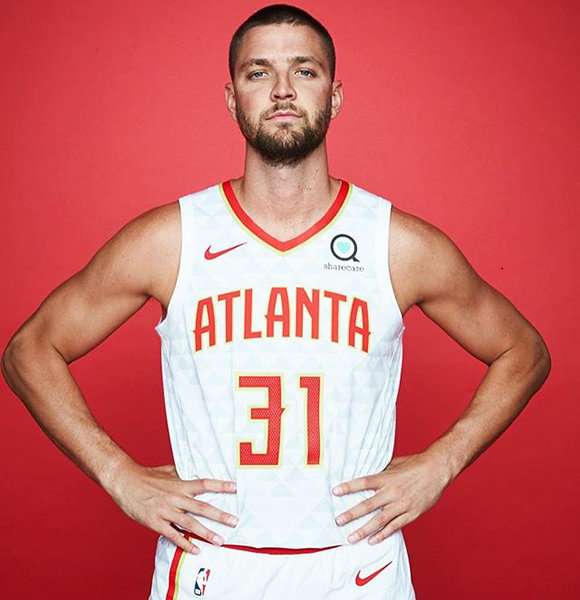 One of the definitions of the word Stud found in Urban Dictionary is "A ladies man, someone who is easily attached to girls and very noticeable." And, Chandler Parsons is a legitimate stud!
Having dated many high-profile celebrities such as Kendall Jenner and Bella Thorne, Chandler is very active in the dating game. Know about all his girlfriends, and more, in the article below.
Women Chandler Has Dated
Summarizing all the info about the women Chandler has dated till now is going to be one hell of a task. But let's know about all of them, one by one.
So, starting off the list with one of his first known girlfriends, Chandler dated Robyn Crowley from 2011 to 2013. Nothing much is known about their time together as they happened to date each other before the social media frenzy was upon everyone.
But Chandler moved on pretty fast from the relationship and went on a date another beauty. Chandler was spotted on a date with Filipina actress KC Concepcion in October 2013. However, the meet-up didn't quite turn into companionship, and they remained just friends after.
Moving up the celebrity status a notch, Chandler went out with musician Christina Perri. The A Thousand Years singer dated Chandler for about a year from 2014 to 2015. There is no information about why the ex-couple broke up, but they did, and both of them moved on with their lives.
And for Chandler, the only way of moving on seems to be dating another woman. And that's what he did, as Chandler was spotted going out with Calvin Klein model Toni Garrn. The NBA star dated this german beauty for approximately a year, having got together in 2015 and separating at some time in October 2016.
For Chandler, one goes out; another comes in. And the next woman who sketched their name on Chandler's glorious list of women he's dated is none other than Kendall Jenner.
Kendall is the only woman to have appeared twice on Chandler's dating timeline. But, in neither of those two times was the relationship officially confirmed. Chandler was rumored to have hooked up with Kendall in 2014 and were again spotted together multiple times from early 2016 to January of 2017.
But, the speculations were shot down Kendall's girlfriend Hailey Baldwin saying that the rumored couple were just pals and nothing more.
You Might be Interested In:- Alisan Porter Husband, Dating, Children, Net Worth
Are you getting tired? Well, too bad, because Chandler's list is still just halfway done.
Next comes Savannah Chrisley on Chandler's extensive dating resume. The 22-year-old reality TV star dated Chandler in February 2017. But that turned out to be a rumor as Savannah denied having gone out with him in an Instagram post.
But wait! It gets better.
Just when Savannah hinted that she could have been going out with Chandler, things took an unexpected turn. The pro basketball player was spotted making out with Bella Thorne, just five days before Savannah hinted her potential relationship with him. Ouch!
After Bella Thorne managed to kill Chandler and Savannah's relationship even before it got any chance to bloom, the player then officially dated Bella. But, things wasn't smooth between the two, and they parted ways.
Ending Bella's chapter, Chandler was also spotted going out with S.H.I.E.L.D star Chloe Bennet in 2017, but those rumors simmered down after a while.
Chandler moved on from the rumors about Chloe to date Instagram star Cassie Amato. The couple got together at some time around early 2018.
The relationship seemed to be going well as they had lasted for a whole year. But due to distance and work problems, Chandler and Cassie grew apart and decided to end their relationship in May of 2019.
Chandler's Girlfriend Now
The last and current name on the NBA star's list of women he's dated is Haylee Harrison. Chandler started his relationship with Haylee in late-2019. Haylee is the twin sister of Hannah Harrison and is a Senior Pharmacy Recruiter ay CompHealth.
Haylee made their relationship official through a post on Instagram on 26th October 2019 (Chandler's birthday), where the couple can be seen kissing and hanging out with their friends.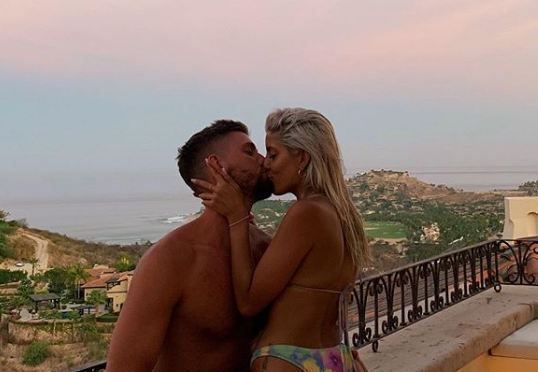 Chandler Parsons with girlfriend Haylee Harrison on 26th October 2019 (Photo: Haylee Harrison's Instagram)
As for now, the duo seems to be doing quite well. However, Haylee is not his wife yet. But looking at Chandler's history with women, it won't be a surprise if they split up any time soon.
And the gay rumors about Chandler don't need any addressing once you look at what he's been up to for the majority of the past ten years. 
Chandler's Bio And Family
Chandler Parsons, a basketball player of height 6 feet 9 inches (2.06 meters), is a Florida-native born on 25th October 1988. He was raised alongside three older brothers in Casselberry, Florida, by parents Gary and Terri Parsons.
Talking about his education, he attended the Lake Howell Silverhawks High School and went to the University of Florida to start his college basketball career.
Also Read:- Graham Phillips Girlfriend, Gay, Family, Net Worth
Getting out of college after four seasons of college basketball and a degree in telecommunications under his belt, he declared for the 2011 NBA Draft. Houston Rockets selected him as their 38th overall pick.
Chandler has since played for teams such as Dallas Mavericks (2014-2016), and Memphis Grizzlies (2016-2019). He now plays for the Atlanta Hawks from 2019 onward.
Salary And Net Worth
Having played in the NBA since 2011, Chandler is one of the highest-earning players in the division.
Chandler - age 30 - earns a huge $25,102,511 annually for the 2019-20 season. He also was signed by the Memphis Grizzlies on a four-year, $94 million contract in 2016.
In addition to his salary, he also sold a farmhouse-inspired mansion in the Bel Air area of Los Angeles. The house went for a massive $12.35 million. 
All these financial information points towards Chandler's net worth to be around $30 million as of November 2019.