Entertainment
Charles Payne: Experience on Wife's Heart Transplant and Mother's three Cardiac Arrests: Family life difficulties
They say that behind every great man, there is a great woman; some also say that behind every great son, there is a mother. The relationships we have between our mother and life partner are perhaps the most special bonds in our life. It is every man's worst nightmare that these bonds are threatened. But for Charles V Payne these last five years have been extremely difficult as he has faced these threats more than once.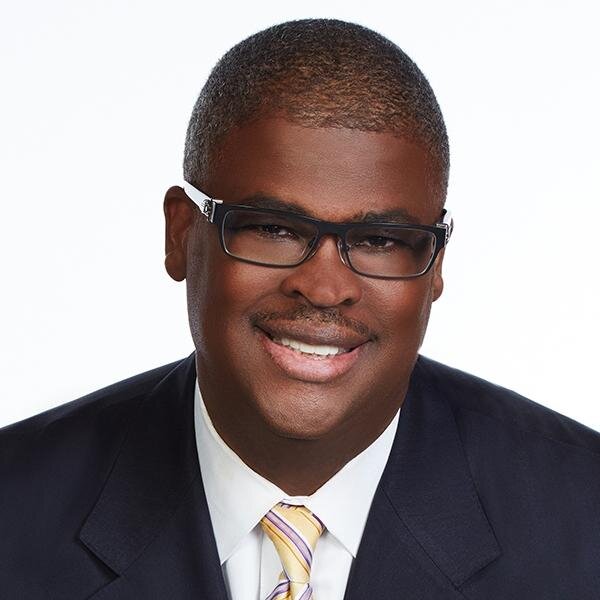 Quick Information
Wedding Date

March 2004

Eye Color

Black

Hair Color

Black

Hair

Short

Weight

N/A

Height/ How Tall? 6 feet 0 inches (1.83m)
College

Central Texas College

Career

1977-present

Net Worth

$10 Million (Estimated)

Salary

$5 Million Per Year

Dating/Affair

No

Gay

No

Date of Birth Nov 15, 1960
Divorce/Split

Not Yet

Wife/Spouse

Yvonne Payne

Relationship Status

Married

Daughter/s

1

Son/s

Charles Payne

Brother/s

2

Ethnicity/Race

African-American

Zodiac Sign

Scorpio

Birth Name

Charles V. Payne

Profession

Television Personality

Nationality

American
The host of Fox's 'Making Money with Charles Payne,' Charles Payne, who is also a financial analyst and Business Network Contributor, is a married man with a wife, children and as well as grandchildren.
Even though Charles may be known as a rich stock market genius but back in his day, he came from a very poor family. So, it is needless to say that he had gone through many obstacles to reach where he is now. But these obstacles are nothing in comparison to some of the recent shocks he has received.
As the relationships we have between our mother and life partner are perhaps the most special bonds in our life and it is every man's worst nightmare that these bonds are threatened. But for Charles V Payne these last five years have been extremely difficult as he has faced these threats more than once.
Marital Bond In Peace
Charles Payne, the Fox Bussiness Network Contributor, is a family man. He is married to Yvonne Payne and shares children with her. 
It turns out, Charles admires his wife more than anything in this world and even regards her as his Miss America. They are also blessed with children and grandchildren, but Charles hardly opens up about them.
But he has made a few tweets which relate to his grandchildren.  

Charles Payne with his wife Yvonne Payne (Photo: twimg.com)
However, the twist came when Payne admitted having extra-marital affairs with a married woman on July 2017. As per the article published in National Enquirer, Payne admitted on indulging in a three-year "romantic relationship" with a married female political analyst,  who was a regular guest on Fox Business. He later apologized to his wife, children, and friends for the affair. His statement reads,
"I would like to extend an apology to my family and friends for having been involved in a romantic affair that ended two years ago."
The host was also accused of raping the female Fox News ex-panelist, Hughes in 2013. 
As of most recent, it has been reported that Charles spends most of his time with his family. After knowing their importance in his life, he was recently seen on vacation with his wife, promoting her project and talking about his grandkids.
Dealing With Family Tragedies
Payne was finally recovering especially after becoming a grandfather on October 2012, but disaster struck again. On September 16, he was just leaving work to visit his mother who was undergoing an open-heart surgery that day when his cell phone rang.
He answered it to get the worst shock of his life telling him that complications had arisen in his mother's surgery when she had three cardiac arrests. They told him that her heart was failing and she had only 30 minutes to live.
Payne rushed over to the hospital with his brother and wife and was grateful to find his mother still alive. Her conditions changed rapidly from good to bad and bad to good so he took care of her for a long time.
The doctors at one point reported to him that his mother kept reaching for her ventilator, which could mean she wanted to die. Payne agitated answered that maybe the ventilator was making it difficult for her so one day he removed it with the help of a medical accomplice he had as a friend there. She went on breathing fine for at least 12 hours.  Finally, they reduced using the ventilator less and less.
Payne went on an interview for 'Fox and Friends' where he shared this amazing courageous story of his mother's recovery and what a struggling experience it was for his family and his children. He was thankful for the hundreds who had prayed for him and his family as well as everybody from the nurses to doctors who comforted his family at a very vulnerable time.
She had finally started to do well but unfortunately, on 1 June 2016, Payne tweeted that his mother had passed; 8 months after her surgery when the doctors had declared she wouldn't survive for long. Payne was happy in all this sadness that she Passed away in peace and with closure.
Adding to his family tragedy, back in 2012, Charles revealed that his wife needed a machine to survive as she required a heart transplant. From a donor, child actress Sammi Kane Kraft, who died in a car accident in California. Yvonne has a successful heart transplant and is still breathing to date.
Success Story: From Rags To Riches
Charles Payne's story is truly an inspirational one. He started from the bottom, 36 years ago he signed up for this first military assignment at Minot Air Force Base as part of the United States Air Force. While in the army he continued his education and graduated from Minot State University and Central Texas College.
After his graduation, he founded Wall Street Strategies, an independent stock market research firm in 1991. Later on, he started getting involved in Financial Journalism and joined Fox Business Network in its inception in 2007. 
Since then he has been an indispensable part of Fox News itself and recently signed a multi-year deal with Fox Business as the host for his TV-show 'Making Money.' FBN president Brian Jones released the information about the deal in a statement. 
With this deal, Charles solidifies his position as Fox Business' finest alongside Neil Cavuto, Harris Faulkner, Maria Bartiromo and Eric Bolling.