It is not absurd if an uber gorgeous and close to perfection girl seeks the same in her boyfriend.
The beautiful model, Charlie Rinna shares a similar notion as she strives for perfection in a guy. Wondering what else does Charlie Rinna looks for in her boyfriend? Stay till the end to find out!
Bio Unveils Age, Nationality
Famously known as Charlie Riina, the polish model's real name is Ania Krosinska. Born in Gliwice, Poland, she moved to Canada to pursue her career in modeling. 
Charlie celebrates her birthday on 4 January 1984, making her a very gorgeous 35 years old.
See Also:- Hottest Single Canadian Actor, Jared Keeso
Since a young age, Charlie delved into various fields. As a child, she won many awards in chess. Later, she enrolled under the University of Toronto to pursued Criminology and Forensic Sciences.
And, then in 2016, Charlie got involved in politics. She ran for the political office as a candidate representing the Trillium Party in Ontario's provincial by-election.
What Charlie Rinna Looks For In Her Boyfriend?
If one is entitled to be a model, it is apparent that they are blessed with a fantastic look, and the model Charlie Rinna is no exception. The 35-year-old model has been able to woo everyone with her exceptional face and alluring body and does not hesitate to flaunt her assets to the world.
Charlie Rinna is very reserved when it comes to her dating matter, and her private life makes her fans more curious and looks for every opportunity to peek in her love-life.
However, the model-turned-actress has expressed the qualities that she looked for in her boyfriend in an interview with Maxim in February 2016.
According to Charlie, she is drawn to the man who carries themselves and prefers dark and mysterious demeanor. She further added:
I like forearms in a man and dark eyes, but I don't discriminate.
When asked about what turns her off in a man, she replied,
By lying or being a showoff. I don't care what you have or who you know. I care about who you are as a person and if we vibe together.
The questionnaire did not end there. She was again asked to describe her ideal date, to which she replied,
I like to lay low, meaning I like to go for a walk, hang out in some hoodies and sweats, go to the beach, watch movies, maybe smoke a joint, and talk about the most absurd things.
While most of the woman of Charlie's age are already married, she has been living her life by her rules. She has not been linked to anyone so far, and it seems she is very much occupied with her work. 
Behind Charlie Riina's Career
In the course of her career, the former Miss Toronto was able to bag the title of the International Playmate of the year in 2016. Even before she won the title of Miss Toronto, she was already approached by some of the renowned labels like Ford and Elite.
The model made it to the headline for being bold in a photoshoot for the water label '138 Water,' which includes some A-list celebrities like Paris Hilton and Ron Stewart on their official website.
Read More On:- Another Playboy Model, Bryana Holly
The advertisement for '138 Water' got criticism for being irrelevant to the soul of the product. And we can see why!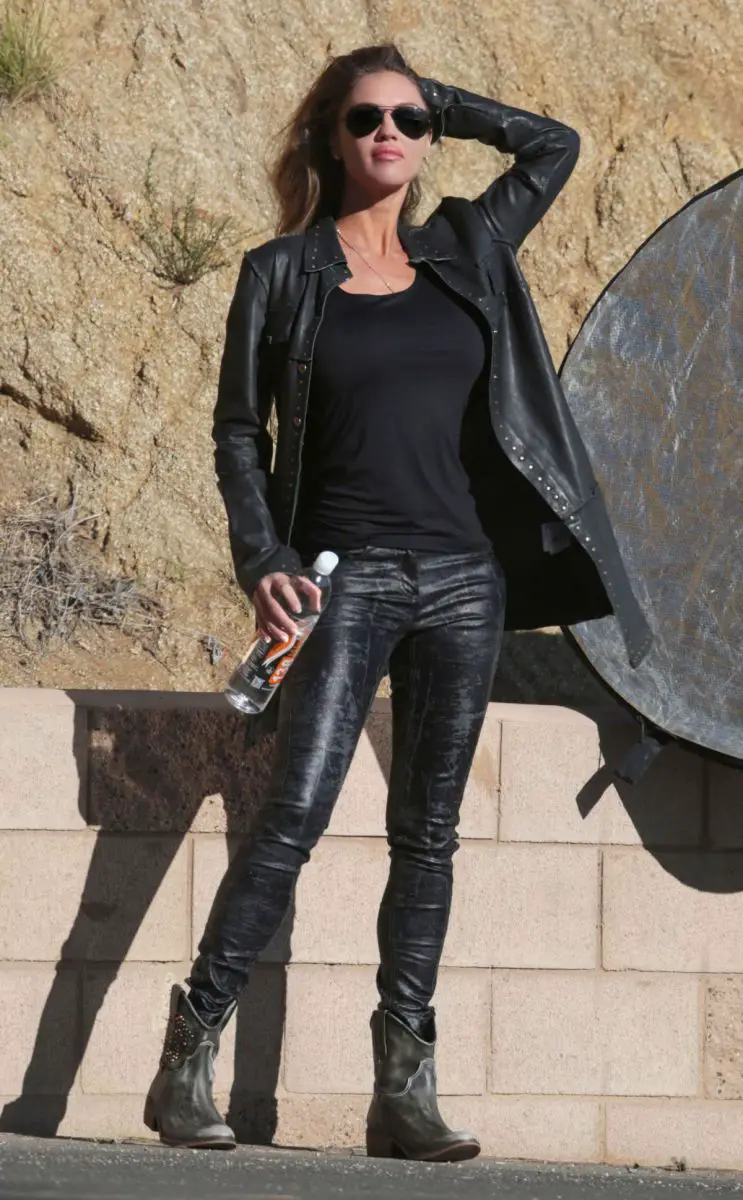 Charlie Riina at a 138 Water Photoshoot in West Hollywood on 1st April 2016 (Photo: hawtcelebs.com)
The model bagged movies like The Handmaid's Tale and All-in. 
She also received the title of Social Activist of the Year in 2016 for the Canada-Poland Chamber of Commerce. Well, Charlie has a book named after her and has been able to gain around 260k followers on her Instagram.