Entertainment
Charlotte Ritchie's Affair: Dating With Economist Boyfriend?
When two people stay in a relationship, they don't only share their time but every interest and responsibility. They become more tolerable learning to understand each other's profession and work.
Today, we are talking about such actress Charlotte Ritchie, who has now grown her interest in economics because of her boyfriend.
Dating Economist Boyfriend: Insight Into Charlotte's Mysterious Affair
An English actress, Charlotte Ritchie is dating with long-term economist boyfriend whose name remains a mystery. Though she has not confided the title, she shared about other details in an interview with Dailymail.com.
She revealed that she met her current boyfriend at the university but started dating after the university was over. She confessed that her interest in economics has increased due to his explanations. She said,
'We were at uni together, but didn't start dating until afterward; He explains economics to me. I want to understand it better. I sometimes read The Economist.'
Charlotte and her mystery boyfriend are exemplary to all other couples. They both have a very busy and hectic profession which requires a tight schedule, but they still manage to keep the relation healthy.
Celeb With Boyfriend's Background:- Evan Davis & Gay Partner, Long-Term Relationship - 'Too Old To Start Family'!
Moreover, the couple does not want their relationship to be a media issue. Charlotte could have chosen to make her love life a topic for tabloid's headlines, but she didn't. Perhaps due to this reason, Charlotte bought a house with a couple of old school friends rather than living in with her prince charming.
After staying in a relationship for so many years, it may not be difficult for the mature couple to share a conjugal life. Fans want to see this longtime affair turn into marriage and then, a family.
Even Charlotte, who portrayed the role of a mother on Call The Midwife, thinks that it is great to become a mother. She shared about her desire to be a mother in an interview with Dailymail.com. She said,
'I don't know if I want babies. Working on Call, the Midwife and seeing the process up close hasn't made me any more or less keen, but it has given me almighty respect for women who go through childbirth! I think it may be the biggest thing you do in your life."
Here's your cue, Charlotte's mystery boyfriend put a baby inside her & turned the dating affair into a family one!
Charlotte's Ritchie's Mini-Bio Unveils Age, Movies & TV Shows
Born in August 1989, Charlotte Ritchie is a well-known English actress and songwriter. She completed her graduation in English and Drama from The University of Bristol.
Charlotte, age 29, is a member of All Angels, the classical crossover band. She has also featured in the movies like The Open Doors, Harry Potter & the Goblet Fire, and Life of Riley.
She used to be a leading cast member in the Fresh Meat of Channel 4 and BBC's Siblings as well as Call The Midwife.
Star With Same First Name:- Charlotte Lawrence Dating, Boyfriend, Charlie Puth
After portraying the role of Nurse Barbara for three whole seasons as the lead in Call The Midwife, she quit the show claiming that she would become "too complacent" if she had stayed any longer.
Finds Herself In Awkward Love Triangle After Co-Stars Begin Dating
On the BBC drama's seventh episode of its 7th season, Charollet's character passes away after contracting meningitis in the company of her former on-screen husband, Tom Hereward (played by Jack Ashton).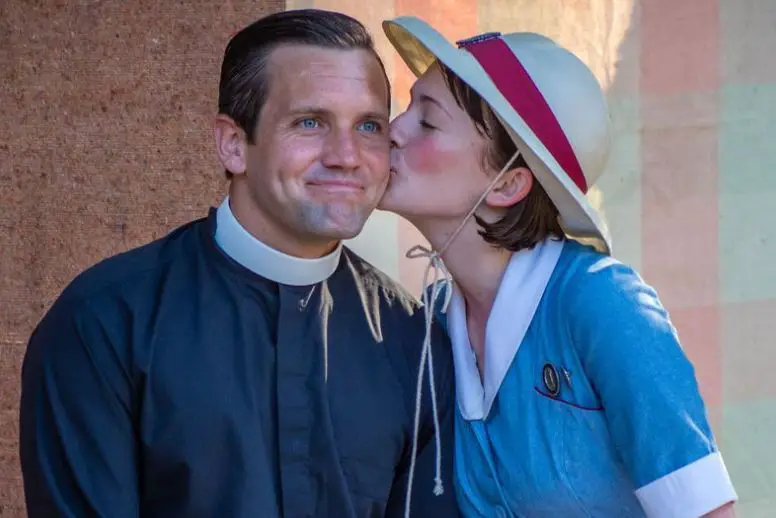 Charollte kisses her former on-screen husband, Jack while filming before 2018 (Photo:- mirror.co.uk)
Not just the fans, her former on-reel partner too found her character's death scene on the series all too depressing. In a February 2019 interview, Jack quipped:-
"Filming those scenes was emotional because we all love Charlotte [Ritchie, who plays Barbara]. We knew we were acting – but we also knew we were saying goodbye…"
To those unfamiliar, Jack is the real-life boyfriend of another star on the drama series Call The Median, Helen George, who happens to be great friends with Charlotte.
Other Love Triangle:- Once Nearly Married; Rapper Bow Wow Shares A Tumbling Relationship with Girlfriend
By her admission, she found the whole affair tad bit "awkward" as she and her friend's boyfriend shared romantic scenes. However, it didn't make her stop teasing her bud, Helen. In an interview, she shared:-
"I like to taunt her about it and make her feel as jealous as possible. We do joke about it and I like to tease her. It helps that we're actors, because kissing someone on screen that isn't your boyfriend would be weird... "
Glad to hear that the 29-year-old Siblings actress maintains excellent humor about it. Only if she had the same energy when speaking about her dating life.