Entertainment
Is Chloe Lattanzi Married? Also Know About Her Plastic Surgery
Pop singer Chloe Lattanzi became the center of attraction of news and media outlets in November 2019.
Leaving aside her return to the popular social media platform Instagram after a long time, Chloe's name made headlines again after she claimed that she had sighted a UFO.
Yes, a UFO. The bikini-clad pop singer, who just came into the limelight again after a year, made claims that she had been intrigued by paranormal activities since her first sighting of UFOs.
While she didn't reveal when or where she first saw the flying saucer, this is not her first encounter with paranormality. In August 2015, Chloe talked about how a movie set for the Dead 7 was haunted as well.
Now, with her allegations of UFO sightings, Chloe is grabbing mainstream attention once more. As for the verification of the claims, light is still left to be shed on the entire issue.
Is Chloe Married?
Chloe and James Driskill reportedly got married in the year 2017.
You May Like :- Alahna Ly Bio, Age, Real Name, Boyfriend
Since there was no news about them having had gotten married before, everyone was wonderstruck when they heard of their marriage. There was a lot of buzz in 2017 when Chloe Lattanzi started calling herself wife to licensed marijuana farmer James Driskill on Instagram. She and her hubby reportedly exchanged vow's in a private ceremony, so details of their wedding never surfaced.
Interestingly, the couple had gotten engaged in 2010 and remained engaged for more than seven years before tying the knot.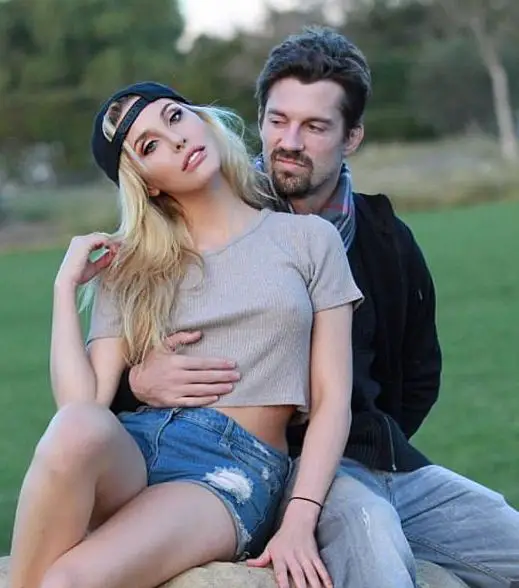 Chloe Lattanzi with husband James Driskill in 2018 (Photo:dailymail.co.uk)
Even though the two are yet to reveal details of their wedding, Chloe and James are the adorable husband and wife duo everyone else thinks them to be.
The lovebird even sparked baby rumors in 2019. Chloe revealed that she had wanted to become a mom for some time now. Her mother, Olivia Newton-John, also claimed Chloe and her hubby had discussed the possibility of raising a child together.
While the news of an upcoming pregnancy is yet to surface, the married duo is sure to surprise the world with the happy news of starting a family when the time comes.
Chloe's Plastic Surgery, Age
Chloe's looks have always been the center of attraction. While her beauty and figure had alway garnered her attention, reports of plastic surgery were what became a heated topic of discussion for some.
In 2017, she revealed the entire ordeal on Woman's Day. Chloe talked about not having one but two breast augmentation. Further, the 33-year- old singer also had multiple fillers on her face and lips before.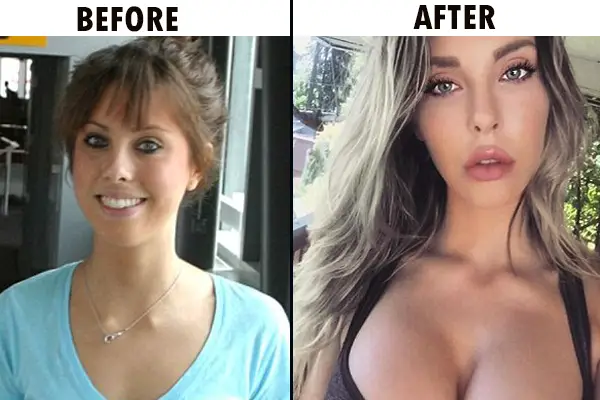 Chloe Lattanzi before and after the plastic surgery (Photo: liverampup.com)
It was all removed later, and she even claimed that she felt mutilated. Not only work done on her face and boobs but she also reportedly had a rib removed to get slimmer.
The rumors were, however, shut down by Chloe claiming that while the breast augmentation and lip fillers were all real, but the removal of a rib was just baseless lies. To date, all her plastic surgery is on her nose, cheeks, breast, and the touch of botox.