Rico Nasty ( real name Maria Kelly), is an American rapper and singer who gained a wide fan...grew up in Maryland mostly with her mother since her parents...longtime boyfriend and best friend...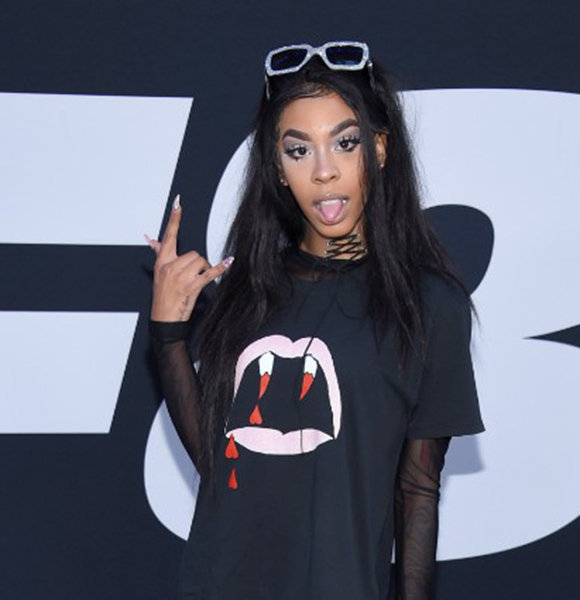 Rico Nasty is an American rapper and singer, who gained traction following the release of her viral song "Hey Arnold" in 2016.
Born and raised in Maryland, Rico grew up listening to songs of artist like Bob Marley, Slipknot and Jay-Z. As a result, she was influenced to make a new style of music; a combination of gothic rage and pop sensibility.
In 2017, her collab with Lil Yatchy, Mamacita was featured in the soundtrack of the hit film "The Fate Of The Furious."
Rico Nasty Bio, Parents, Siblings
Rico (real name Maria Kelly) was born on 7th May 1997 in New York.
She and her brother grew up in Maryland, mostly with their mother since the parents separated when she was 11 years old. Moreover, her dad went to jail when she turned 15 of age.
Interestingly, her stage name "Rico" was inspired by her Puerto Rican mother, who has white ethnicity.
Recommended:- Jay-zs mom Gloria Carter Identified As Lesbian/Gay In his New Album! How True Is That
Rico eventually joined a boarding school in Baltimore, but after getting expelled for smoking weed at a young age of 14, she was enrolled back to public school.
While she was still in high school, she released her mixtape "summers eve." But, back then, she was not interested in pursuing music-making as a career. However, all that changed after the death of her first love and birth of her son.
Death Of Boyfriend, Pregnancy
In 2015, Rico's longtime boyfriend and best friend, Brandon died of Asthma while she was still pregnant with his baby.
Loneliness and depression followed after the loss, but Rico coped up through her music and writing. She tattoed a picture of crescent moon and stars below her right earlobe in remembrance of her late boyfriend with whom she admittedly had spent happiest times in her life. She also paid homage to him through her song titled "Brandon."
Back then, she was working a day job as a receptionist in a hospital, but she quit the work after being pregnant with her child and shifted her focus on making music as her primary career choice.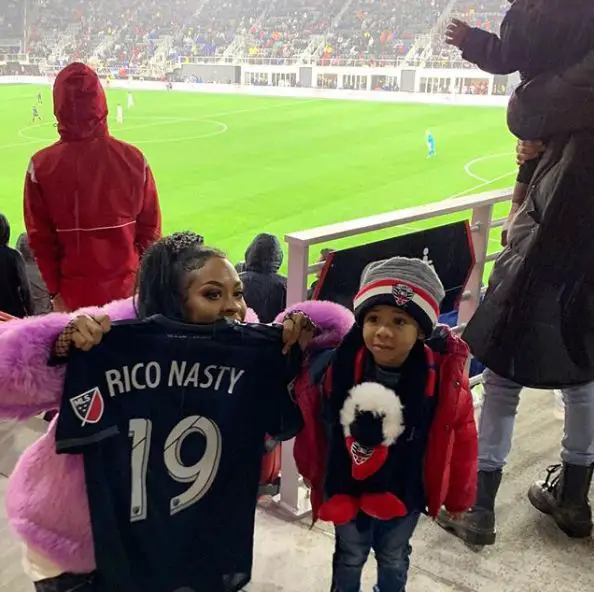 Rico Nasty attends a soccer game with her son Cameron in March 2019 at Audi Field (Photo: Ricos Nasty's Instagram)
In November of 2015, she gave birth to her son Cameron. Since then, she is raising him as a single mother.
Career, New Boyfriend
Her two mixtapes, The Rico Story and Sugar trap went onto receive notable attention from public and media upon their release. Rico, then, collaborated with significant artist Lil Yatchy and released the remixed version of her hit song "Hey Arnold."
She received substantial popularity after the release of her album "Tales of Tacobella" in 2017.
You May Also Like: -Lalah Hathaway Dropped New Album! Does This Leading Lady Have a Husband? 
Eventually, in 2018, Rico signed a major record label Atlantic Records to release her fourth album titled "Nasty." As of now, she is doing her music tour in various countries of Europe, including France, Ireland, Spain, and England with the help of her manager, Malik Foxx.
Interestingly, the singers' manager, Malik is not only active in Rico's professional life but, he is also a big part of her personal life. Rico has been dating Malik ever since they first met each other through twitter.
Net Worth, Height
Rico's current net worth is estimated to be around $150K.
Apart from her album sales, her sources of income include her popular self titled YouTube channel with more than eighty thousand subscribers. She also garners income by selling various merchandise through her website.
In terms of her body measurement, she has an average height of 5 feet and five inches(1.6meters). Her exact weight is unknown, though.