Chris Fleming is an American comedian known for his hit YouTube comedy series named Gayle(2012). The series, in which he famously portrayed the character of a suburban mom, was renewed for a third season through a successful Kickstarter campaign that raised more than $15,000.
He also guest appeared in the Comedy Centrals dark satire series Cooperate in 2018.
Bio, Family
Chris was born on 29th January 1987 in Massachusetts, Boston. He was raised by his dad Joe and mother Nancy Flemming alongside his sister Katie Fleming.
He had an interest in comedy ever since his kinder garden years. Luckily, his family supported his dreams. His dad would sign his papers as "Chris, the comedian," to encourage him. So, he started performing stand-up comedy during his schooling at Nashoba Regional High School.
Since New York has many venue and opportunities for budding comedians, Chris would usually take a bus to New York from his home city to perform there from time to time.
After graduating from Skidmore College in 2009 with a degree in Theatre, the comedian sought after his passion for comedy in a slightly different way; through the internet.
Chris Fleming's Career
Like many artists these days, who view several platforms on the internet as an essential tool in promoting their work, Chris also took a profitable way to garner stardom.
Chris didn't go out pitching his idea for a show to big studios or network, nor did he wait for an agent to offer him big standup gigs in New York. He instead created an online comedy show called Gayle and performed.
Ralph Breaks The Internet Star & Comedian:- Sarah Silverman Husband, Sisters, Brother
Interestingly, his show was made available for everyone since 2012, Chris started uploading the videos on his self-titled channel YouTube.
Since then, the show has gained a vast number of views with a massive audience and has helped to take Chris' career to a different height. Also, in 2017, he streamed his standup special Show LIVE on Facebook, where he featured many jokes on gay-related incidents and tech startups topics.
Dating Status
The Boston born comedian was in a relationship with his girlfriend, Mellisa Strype till 2017. Like Chris, she is also a comedic performer with her self titled YouTube channel.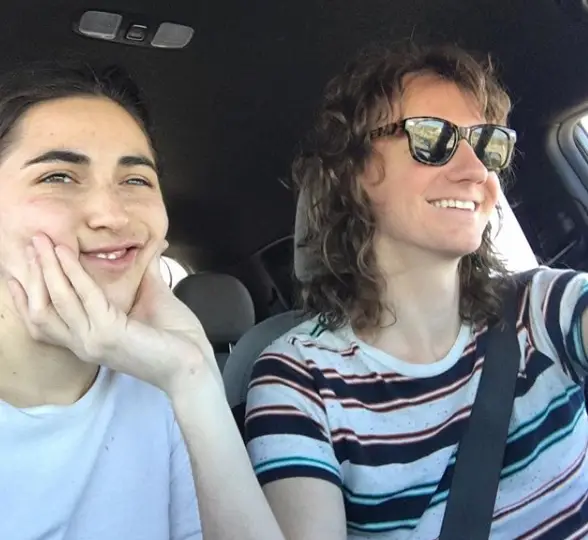 Chris Fleming drives with girlfriend Mellisa Strype in 2016 (Photo: Mellisa Strypes Instagram)
Mellisa had been by her boyfriend's side supporting him, ever since his struggling years in comedy. However, as of now, the two haven't collaborated in any recent comedy sketches and have kept their love life private.
Net Worth
Although an artist might not make much financially from letting their work for free on the internet, Chris has done well for himself economically through his live shows. The theatrical version of his show "Gayle" was a successful hit as tickets were sold out for more than two plays.
Comedian Dave Attell:- Not Married Yet! , With Net Worth of $14 Million, Jokes About Dating Experience, Wife?
He also has more than three hundred thousand subscribers on YouTube alone and generates income from standup gigs.