Entertainment
Not Married Yet! Dave Attell, With Net Worth of $14 Million, Jokes About Dating Experience, Wife?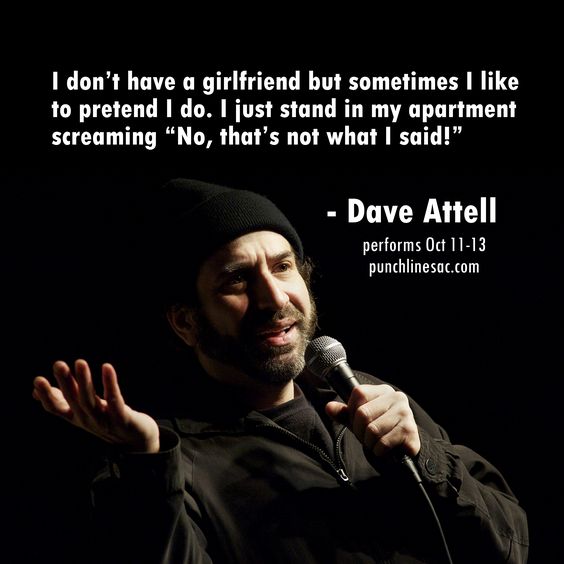 What conjures in your mind when you hear the term "huge net worth"? You may think the person is some serious work-addict.
But the story is not the same about the individual we are talking today. Yes, today we are talking about the comedian Dave Attell whose humor and hilarious comments made him wealthy and well-known
Were his humor and staggering net worth enough to keep his wife prospects around? Or Did Dave's success overshadowed - what could've been - his married life? Learn to find out! 
Behind Dave Attell's Staggering Net Worth
The comedian Dave Attell is one among the hundred comedians who have a huge net worth. Dave enjoys the thick net worth of $6 million.
The hardworking Dave Attell after completing his graduation in 1987 started doing the menial job at day and comedy shows at nights. He appeared on TV firstly in VH1's Stand-Up Spotlight in 1988 which featured early appearances by Lewis Black, Margaret Cho, Jeff Mohr, and Wanda Skyes. This show was anchored by Rosie O' Donnell.  
Don't Miss:- Amber Heard and Sean Penn Spotted Together! Dating Or Just Rumors?
But Dave got the big break after appearing on The Late Show with David Letterman in 1993. After this show, Lorne Michaels, creator of Saturday Night Live, recruited him as a writer and occasional performer on SNL. And then onwards, his professional career took a big ride.
Born on January 18, 1965, Dave completed his graduation in communication from New York University. Dave is familiar with doing comedy in subjects like American Culture, everyday life, sex, recreational drugs use, self-deprecation, current events, and religion.
He is influenced by comedians Richard Pryor, Bill Hicks, Sam Kinison, Redd Foxx, and Don Rickles. Dave currently tours different cities and organize programs. 
He appeared in two special of HBO alongside other comedians including Dave Chappelle, Louis C.k, Anthony Clark and Eric Tunney. He also appeared as a performer in 1995's young comedians special hosted by Garry Shandling. Moreover, in 2007, his first one- hour special was aired on HBO named Captain Miserable.
Then, he featured in various shows like The Daily Show, Ugly America, Tough Crowd with Colin Quinn. Dave Attell started his TV show Insomniac with Dave Attell in 2001.
After that, he began another comedy series named Comedy Underground with Dave Attell in 2014. Furthermore, Dave also featured in some movies like Los Enchiladas, The office party, Abby Singer, etc.
Read Also:- Jason Collins, Gay NBA Star & Boyfriend/ Partner Still In Love?
In many instances, Dave has floated the idea of retiring from his lucrative career. But by his admission, it might be a lot easier than said. In a true comedic fashion, he explained what life entails for him after retirement. He told Howard Stern:-
"I've been doing it for 30 years, so like, it's time for me to probably move on to the next chapter which would be dog grooming."
Despite his claims, the 53-year-old is yet to actually retire from the comedic scene. He may, in fact, never be able to give up his career as a stand-up comic; case in point: he'll headline the 2018 Hilarities and the Clevland Comedy festival.
Is Dave Attell Married With Wife? Or Is He Gay?
Dave was in a relationship with Sarah Silverman in late 1980s. When Howard Stern questioned them about the relationship on a show, both Dave and Sarah gave a positive response. But unfortunately, they later broke the relation and separated.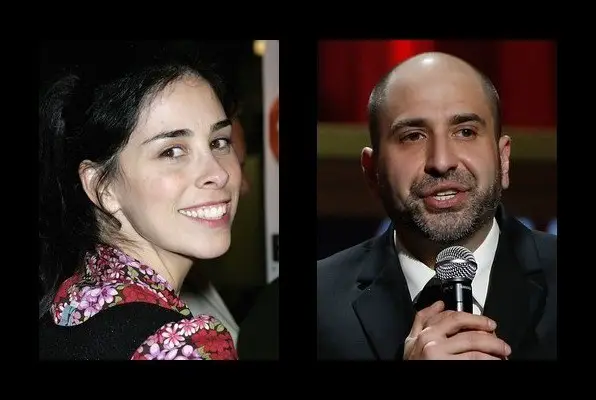 Dave Attell and ex-girlfriend Sarah Silverman (Source: zimbio.com)
Following their split, Dave's one-time wife prospect, Sarah dated a host of other celebrities. Late night talk show host Jimmy Kimmel(2007-2009) and British actor Micheal Sheen(2014-2018) are among the few other popular names to win over her affections.
Discover:- Corey Reynolds Wife & Son | How Is Interracial Married Life Serving Him?
Dave also made a funny comment about his dating experience in a show with host Conan O'Brien. Dave said that when single people browse through dating sites, they end up enrolling themselves in University.
Not only that, he has done other hilarious comment about his relationship status too.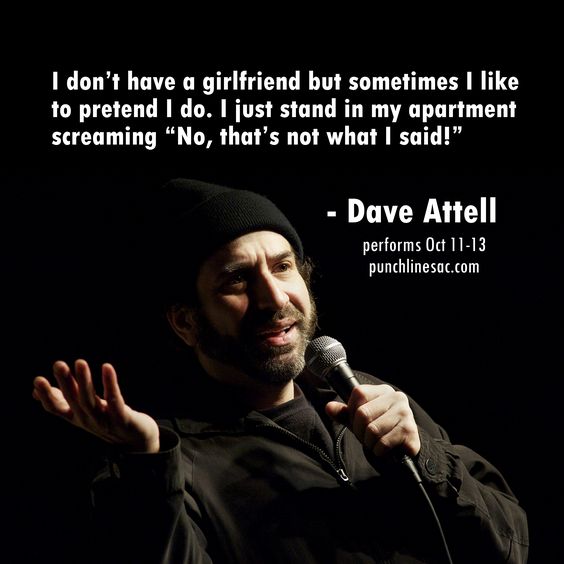 Dave confiding about his single status (Source: s-media-cache-ak0.pinimg.com)
Moreover, although Dave makes various comments about love and girls, people still suspect that he is gay. In a poll conducted by Vipfag.com, the majority of people voted that Dave was gay. The 75% of total votes regarded him gay while the rest 25% saw him straight.
Read Also:- Is Dawn Staley Married? Relationships & Sexuality - Finally Discussed
Well, it's hard to find out why the people suspect him to be gay. Perhaps it may be because of his open support for gay people. Yes, Dave heartily speaks for homosexual people. Once he even told that he would feel shame tell his son, he belongs to a country where the same-sex marriages aren't allowed.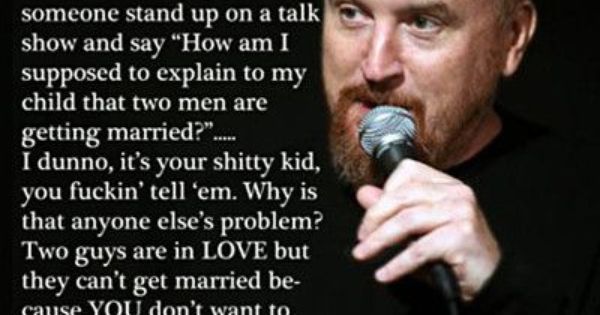 Dave Attell's view about two men getting married (Source: s-media-cache-ak0.pinimg.com)
Those things aside, we hope that Dave will soon get married. His fans are desperately waiting for him to get married and meet his wife.