Entertainment
Chris Hadfield Education, Book, Wife & Married Life
Chris Hadfield is a Canadian astronaut and science personality who is known for his space expeditions... He teaches a class about space exploration in Masterclass website...received education from White Oaks Secondary School, Royal Roads Military College, and Royal Military College...has released three books to date...is married to wife Helene and has three kids...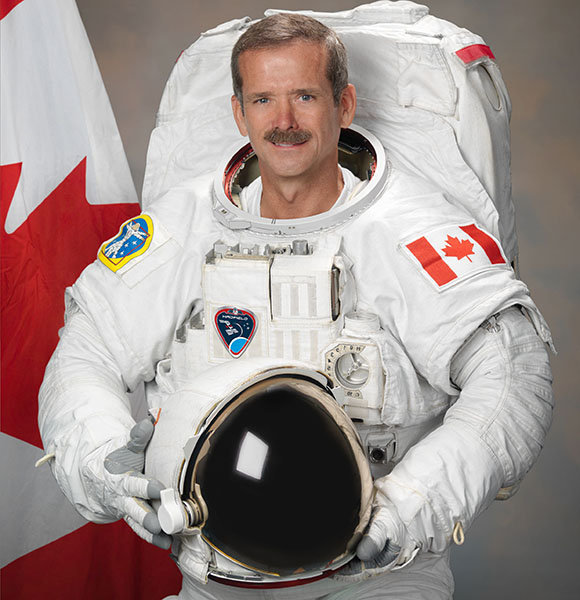 Chris Hadfield is a renowned name when it comes to space travel and astronomy in general. He is an astronaut and a space program expert for both the Canadian and American space programs.
Throughout the 1980s, Chris trained and worked as a fighter pilot for both Canadian and American forces. He trained at the United States Air Force Test Pilot School, and also performed research work with NASA. He worked at NASA's Johnson Space Agency in Houston, Texas, and then went up to the International Space Station for five months in December 2012.
Chris Hadfield's Personal Life: Wife & Children
Chris met his wife, Helene Hadfield, while there were in a play together at White Oaks Secondary School in Oakville, Ontario. Helene was 15 at the time, and Chris was 17.
Another Science Personality:- Bill Nye Wife, Children, Gay, Net Worth
Both of them knew that they were "special together," and following some years of dating, the couple got married on the 23rd of December 1981; Chris was 22, and Helene was 20 at that time.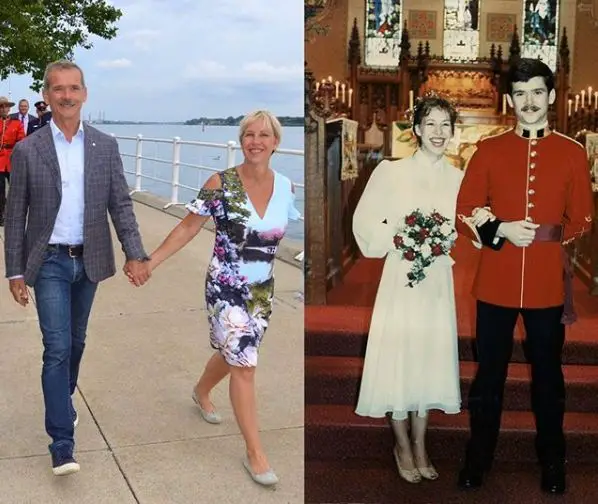 Chris Hadfield with wife Helene on their wedding day (right) and now (left) (Photo: Chris Hadfield's Instagram)
Following their marriage, the couple had three children in quick succession: son Kyle (born in 1983), son Evan (born in 1985), and daughter Kristin (born in 1987). The family is scattered as the couple, and their children live in different parts of the world for study and work.
Chris and Helene also have a granddaughter named Eleanor.
Books
Chris is also a writer. He has written three books to date, with one being a memoir, one a storybook, and the last one is an illustrative ook with pictures and commentary.
Chris's first book is An Astronaut's Guide To Life On Earth (2013). It is his most famous book. It is the number one national bestseller and a New York Times bestseller.
The second book that Chris wrote is You Are Here (2014). It is a book containing elegant pictures of the earth from the International Space Station and informative commentary, which showcases how humans have made the earth their home.
Another Author:- Marianne Williamson Husband, Daughter, Net Worth
His third and latest book is The Darkest Dark (2016). It is an uplifting tale about facing one's fears and finding comfort and strength in one's dreams, which is based on his experiences as an astronaut and military person. The book contains beautiful paintings by The Fan Brothers.
All his books are available on Amazon.
Wiki / Facts About Chris Hadfield: Age, Education & More
Chris was born on the 29th of August 1959 in Sarnia, Ontario, Canada. 
His full name is Chris Austin Hadfield. 
Chris attended two years each at the Royal Roads Military College and Royal Military College, earning a Bachelor's Degree in Mechanical Engineering in 1982. 
He is a former RCAF fighter pilot. He retired in July of 2013. 
He is also a commander, CSA, and NASA Colonel. 
Chris spent 16 days in space, during which he did two EVAs (Extra-Vehicular Activity), spending 14 hours 23 minutes and 38 minutes doing so. He was a part of four space missions.
The former astronaut has also released an album named 'Space Sessions: Songs From A Tin Can.' It was released on the 31st of October 2015 under the Warner Music label. 
Now, Chris teaches a course about Astronomy and space exploration in Masterclass.