Entertainment
Who Is Chris Lowell's Girlfriend? Welcomed a Baby-Girl Secretly?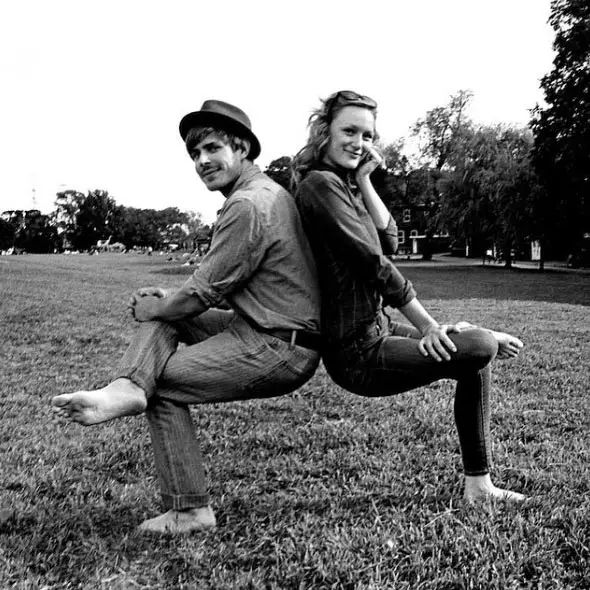 Chris Lowell secretly welcomed a baby girl with his long-time girlfriend, Kerry Bishe, which he announced through his Instagram post.
Follow through to find all the details on the recent update of the actor. So, is the actor still together with his partner?
Chris Lowell and His Partner
Television actor Chriss Lowell and movie actress Kerry Bishe were reportedly said to be dating for a long time.
While their relationship details were under wraps, the announcement of their daughter's birth concretized the rumor.
You May Also Like: Corey Reynolds Wife & Son | How Is Interracial Married Life Serving Him?
However, the couple certainly has a busy life. They have to travel to different places and stay committed to their schedule. But their respective hectic professional lives have not stopped them from sharing some sweet moments.
Moreover, the couple hasn't kept their sweet and hilarious moments limited to themselves; they share photos on Instagram and other social media sites.
And the images they share highlight the impeccable chemistry they share, both on and off the screen.
Chris alongside his partner, Kerry. (Photo: Kerry Bishe's Instagram)
Apart from their socials, the couple has also been seen together on several occasions, be it at a formal public event or just taking a casual walk down the streets.
The real-life couple got the opportunity to strengthen their relationship further when they starred together in a play titled 'Barefoot in the Park' in 2018. 
Don't Miss: Alicia Cargile, Young Age Live-in Girlfriend of Kristen Stewart, Seen Dating Publicly
Talking about the play, the actor mentioned his excitement about working on the new script alongside his partner in an interview with NBC in July 2018.
"When I read the script, I felt the words coming out of my mouth very naturally, which is always a good sign, I think."
Chris, who was previously rumored to be in a relationship with Kristen Bell in 2007 when they were filming 'Veronica Mars,' has not had any further rumors regarding his dating life.
Thus, with the incoming of Kerry, Chris seems to have found the love of his life and looks all set for happily ever after.
Chris Lowell sold his Manhattan apartment in December 2015. He traded the flexible duplex bachelor pad in Greenwich Village for $1.05 million.
The flat was cozy and beautiful. However, it could not keep the actor contented.
Perhaps, the apartment was not beautiful enough for Chris to keep his potential future wife, Kerry Bishe, a well-known actress known for movies like 'Argo,' 'Grand Piano,' and 'Sex and City Life.'
Therefore, Chris brought a new bachelor pad which he now shares with his partner, Kerry, in Soho. The couple spent $2.25 million on a 1,292-square-foot two-bedroom.
Chris and partner Kerry's new apartment. (Photo: LLNYC's Twitter)
Read Also: Jessy Hodges Is Dating! Live-In Relationship With Actor Boyfriend​​​​​​​
 With the couple now in a live-in relationship, it wouldn't be much of a surprise if they drop their big news anytime soon.
Chris Lowell's Bio
Born on October 17, 1984, Chris (Christopher Lowell) is a television actor.
He was born in Atlanta, Georgia. He has played critically acclaimed roles, including Stosh "Piz" Piznarski in the CW noir drama 'Veronica Mars' and the character William "Dell" Parker in the ABC 'Grey's Anatomy' spin-off 'Private Practice.'
He has also featured in movies like 'Life As We Know,' 'Up In the Air,' 'The Help,' 'Love and Honor.'
The actor currently also portrays a recurring character of Sebastian "Bash" Howard in the American Comedy web series 'Glow.'