Entertainment
Who Is Chris Simms Wife? How Much Is His Net Worth? | Details
Former NFL quarterback, Chris Simms began his professional career in 2003 after he was drafted by the Tampa Bay Buccaneers.
Since then, he has managed to amuse football fanatics around the globe; first with his football skills in the field and now as a broadcaster for NBC after his retirement.
Let's read further to know more about this American football sensation and his life details.
Bio: Family, College Info
Chris was born as Christopher David Simms on the 29th of August 1980 in Ridgewood, New Jersey, USA.
His father, Phil Simms is also a former quarterback - who spent his entire football career playing for New York Giants. Chris' mother is Diana Simms and he also has two siblings named Matthew and Deirdre. His brother Matthew is also a football quarterback - who plays for the Atlanta Falcons.
You May Also Like:- Phil Simms And His Wife Share Children Who Walk On His Footsteps But With Some Complications Of Course
Despite a successful career in football, Chris didn't avoid his education. The former NFL player went to the Ramapo High School in New Jersey and for college studies, he chose the University of Texas in Austin.
Married Life With Wife, Children
Chris Simms shares his married life with a woman named Danielle Marie Puleo.
The couple was high school sweethearts as they began dating back in 1996 in high school. Chris eventually married his then-girlfriend Danielle in August 2004 and went on a honeymoon a year later in March 2005.
However, Chris had to cut his honeymoon two days short after Jon Gruden - then-Buccaneers coach - constantly asked him to cut short his honeymoon.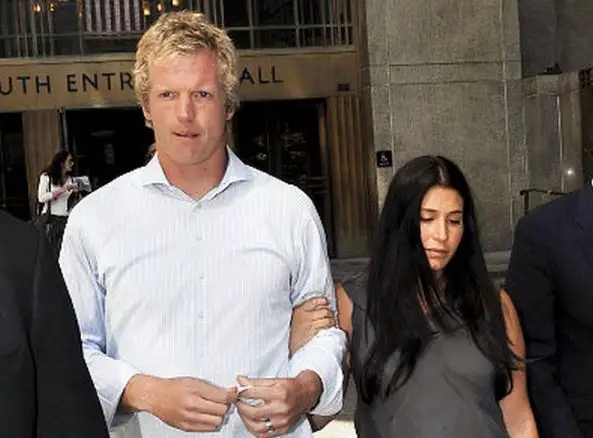 Chris Simms poses with his wife Danielle in July 2010. (Photo:- nydailynews.com)
In addition to a successful marriage, Chris and his wife are also parents to two children: a daughter named Sienna Rose (born on 18 June 2006) and a son named Phillip (born in 2010).
Chris Simms' Net Worth & Salary
Post-retirement, the former American quarterback now works as a broadcaster. On average, the salary of a US broadcaster is around $47,500. But, due to his experience, Chris could be making more than the prescribed average.
He also runs his own podcast called Chris Simms Unbuttoned - which also adds to his total net worth.
Another NFL Player:- Vikings' Stefon Diggs Injury Details, Stats, Contract, Net Worth
Nevertheless, Chris sold his Greenwich house which is estimated to be around $2.67 million in May 2019.
Moreover, his famous father, Phil Simms, also has a net worth of $16 million - which Chris could inherit someday.
Interesting Facts About Chris
Chris Simms has a tattoo of San Francisco 49ers coach Kyle Shanahan on his leg.
He had to remove his spleen after an injury in a game against Carolina in September 2006.
The former athlete made his own list of Top 40 Quarterbacks in July 2019.
In 2010, Chris Simms was caught smoking pot while driving.
His height extends 6 feet and 4 inches (1.93 m).