Reality TV star Chrissy Lampkin first graced the television screens on Love & Hip Hop: New York.
After her debut in 2011 and her subsequent relationship with Pop Champagne rapper Jim Jones, fans couldn't get enough of the starlet and her romance. Also, a fashion designer by profession, Chrissy's exciting life grabbed more attention in the limelight.
Chrissy's Bio: Insight Into Her Life!
A New York native- Chrissy was born on 27th April 1971. Her family wasn't stable; thus she was sent to live with her grandmother as a child.
Growing up, Chrissy got interested in designing clothes and interiors. Naturally, she grew up to become a designer. While the starlet was expanding her business and doing a job here and there, she met rapper, Jim Jones.
In no time, she and Jim connected and became an item. Also, Chrissy of age 47 started designing her boyfriend's recording studio and clothes. We Fly High rapper's profile eventually helped his girlfriend expand her fashion designing career.
Things started falling into place for Chrissy of American nationality when she appeared in Love & Hip Hop: New York reality show for two seasons. Fans just loved her real personality on screen.
And, she awed them even more in 2011 by pulling a role reversal in terms of an engagement proposal; she proposed her beau herself. And of course, Jim accepted.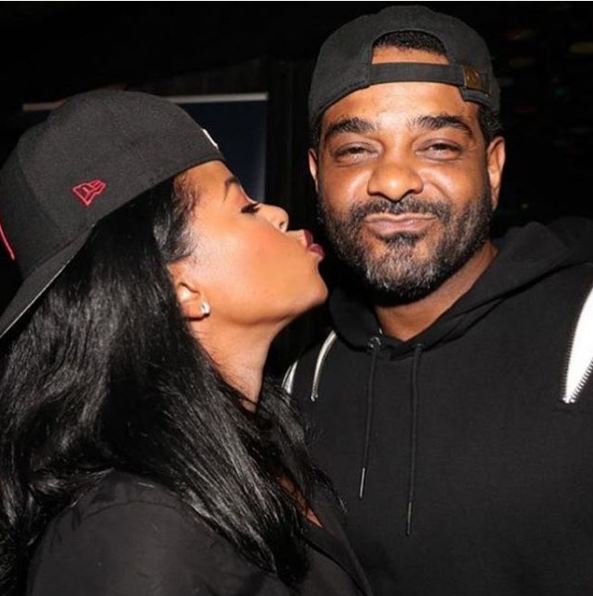 Chrissy Lampkin with her fiance Jim Jones on 17th December 2017 (Photo: Chrissy's Instagram)
Interestingly, Jim also had something up his sleeves; he proposed his girl with a surprise engagement party on the Love & Hip Hop: New York reality show. The romantic gesture also included a trip to Miami.
Another Love And Hip Hop: New York Star:- Rashidah Ali Married, Husband, Engaged, Net Worth
In 2012, Chrissy and Jim went on to star in a spin-off reality show titled Chrissy & Mr. Jones that ran for two seasons. But soon after that, in 29th December 2013, Chrissy was arrested on the investigation of aggravated assault and disorderly conduct. Well, her victim was bloodied and rushed to the hospital.
Despite seeing such behaviors of Chrissy, Jim went to rescue his fiancee and posted her bail.
Is Chrissy Married?
The huge question that in on everyone's mind about Chrissy's life is whether she is married or not. Chrissy and her fiance have been in a relationship for so long; but did they tie the wedding knots?
In the quest to answer the world, the duo starred in the reality show titled Jim & Chrissy: Vow or Never in 2016. The show highlighted the problems that the duo faced while planning their wedding.
But, even after starring in a show about their plans to marry, they couldn't vow to be each other's husband and wife. Were the problems so inevitable? Or was that just the way to blind the public?
Because in 2017, social media was rife with rumors that Chrissy and Jim tied the wedding knots at South Beach on Chrissy's birthday. But, sadly, none of their representatives confirmed the rumor.
Don't Miss:- Rebekah Vardy & Husband Keeping To Wedding Vows As Family With Children Ever Flourishes
Well, married or not one thing is right!
Chrissy and Jim are still together. Their marriage may not be in the card right now probably due to their professional front. Chrissy is on the prominent height of her career; she has already accumulated a net worth of $700 thousand with courtesy of reality TV career.