Entertainment
Christian Petroni Married, Wife, Restaurant, Net Worth
Food Network Star is one of the most popular TV series out there. A food fight series featuring chefs who are competing for the possibility to host their series on the Food Network.
With subsequent winners throughout its previous season, all the victors have gained popularity through the platform. In its 14th season, chef and restaurateur Christian Petroni was announced the joint winner of the show.
For a person who has focussed his life to food, the talented chef wants to create dishes people want to eat. His cooking skills are prominently known for great pizzas, and with his hospitable and warming nature, he is glad to serve wonderful dishes to the world.
Married Life With Wife
The 34-year-old chef is already married to a beautiful lady, and her name is Sheri Sicurella. Christian and Sheri got married on 17 June 2016 in Stamford, Connecticut.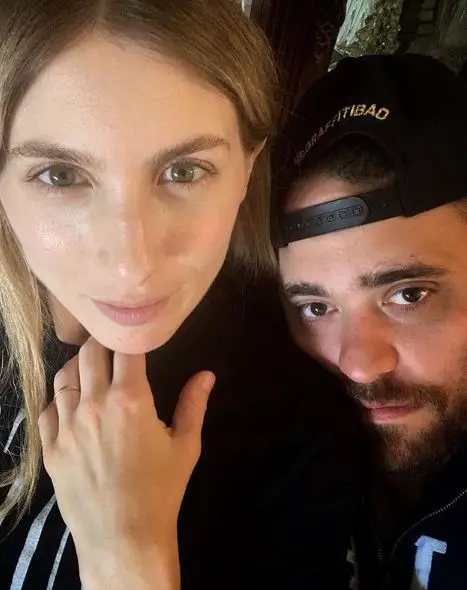 Christian Petroni with wife Sheri Sicurella in June 2017 (Christian Petroni's Instagram)
A union of more than three years, the duo are proud parents to a little one named Beau. Interestingly it is not only their son who they are proud parents to. On his Instagram feed, Christian could not control his feelings and unveiled that he was soon going to be a father to a baby girl as well.
He revealed the good news that the family of 3 would soon be turning into four. The baby girl is yet to be the name, but the married couple is expecting their bundle of joy in November 2019.
As of 2019, Christian is enjoying a beautiful life in both the professional and personal aspects of his life. With a career-making win on one side, he is now preparing for the welcome of his first daughter.
Christian's Love For Food
Born on 9 September 1984 in an Italian household, Christian is the son of father Lorenzo Petroni and mother, Fiorella Aprea Petroni. 
He started at quite a young age in the industry. As a child, he spent his entire time learning to make Italian feasts and food. He quickly gained affection for the world of food and slowly began to work in restaurants as well.
Same Industry :-  Marc Murphy Net Worth, Restaurants, Wife, Family
Christian fell in love with the culinary world gradually, working, watching. His career choice was majorly affected by the show Great Chefs on the discovery channel.
As a grown-up, he credits many for his career, but his love for the cooking world is unreal and the real reason for his success.
Restaurant & TV Shows
It's no surprise that the winner of the Food Network Star is also the owner of some prestigious restaurant.
Being the owner of Restaurant Fortina, it was his dream, and life work all put together. The restaurant was built for a 15-year lease obtaining 4.612 square feet ground at the 1.8 million-sq ft Downtown of Brooklyn New York.
You May Like :- Emeril Lagasse Biography, Wife, Net Worth
He is also the owner of restaurants in parts of Brooklyn, Connecticut, and Westchester. Aside from his accomplishments as a successful owner of restaurants and winner of Food Network Star the 14th season, Christian is also the winner of season 4 of Chopped.
For a brilliant resume, Christian has a shining one, and with his newfound stardom, it is sure to increase. In terms of monetary assets, Christian's success is yet to be determined in number; however, he is sure to have established a reasonable net worth through his endeavors.