From almost quitting baseball to getting inspired by his mother to move further ahead in the sport, Christian Yelich finally found his density.
Making a name for himself in the MLB, Christian grabbed the headlines in 2018 winning the NL MVP in his very first year with the Milwaukee Brewers.
After passionately devoting eight years of his early playing days for the Miami Marlins, the outfielder was traded to the Brewers in 2018.
Dating, Girlfriend Or Wife?
Mostly famous for his MLB performances, Christian Yelich's personal life has been under the curtains for an extended period.
He is an out and out family man, but when it comes to his dating life, the MLB star hasn't revealed a girlfriend to date. Further, he has not given many thoughts on getting married, so the existence of a wife is out of the picture.
High School Hero:- Dwayne Haskins Girlfriend, Family, Net Worth
In 2016, the former Miami boy was accused of treating a lady harshly in a video which got leaked on Twitter.
Immediately after the release of the video, Claimed claimed that he was not the person featured in the footage. He also informed his attorney to address the matter. The tweet was since deleted, and Christian was adjudged innocent.
Family, Nationality, Age
The American baseball sensation was born on 5 December 1991 in Thousand Oaks, California. His family consisted of five members, which included his parents and two brothers: Cameron and Collin Yelich.
Carrying a little family history in baseball from his marital great grandfather, Christian and his younger brother Collin played baseball as youngsters. At the age of seven, he nearly quit baseball, but he recalled his mother bribing him to continue playing the sport.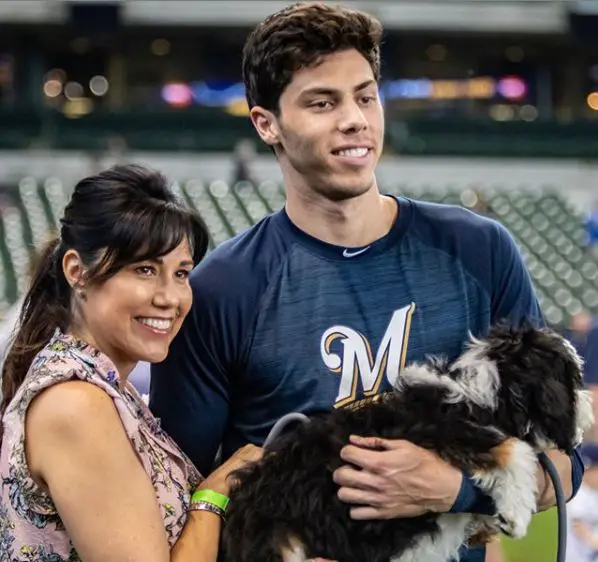 Christian Yelich with mother Alecia after a match in July 2019 (Photo: Christian Yelich's Instagram)
The 27-year-old then stepped on the pedal as he blasted his way into baseball in high school. Captivated by his high school performance, he was drafted by the Miami Marlins in 2010.
Though he debuted for them only in 2013, the aggressive outfielder batted with an average of .326 with 36 home runs and 22 stolen bases in 147 games.
Net Worth Details
Christain's struggle to find his rhythm on hitting the ball once raised considerable doubt in his minds regarding his future in baseball.
He would often get hit by balls but could not do anything about it. Christian trained hard and focused more on his batting. Playing for his high school, he got drafted in the MLB in 2010 and has not looked back.
Another Outfielder:- Josh Hamilton Wife, Children, Net Worth
During that time, the outfielder signed on of the most significant contract in the MLB history with the Miami Marlins. According to the agreement, Christian was guaranteed a total salary of $9,7500,000 at the end of his seven-year contract. Ultimately, he secured a net worth of nearly $10 million from brands and sponsors.
But, in 2018 the smashing outfielder was traded to the Milwaukee Brewers in exchange for four other players. He immediately showed his ability winning the Nation Leagues MVP.