Entertainment
Christine Lampard Is Pregnant! First Baby With Husband Frank Lampard
Christine Lampard Is Pregnant! First Baby With Husband Frank Lampard. Christine has already experienced motherhood before. She confessed she would treasure to have a baby with her husband, Frank. She also revealed on her show Loose Women that she'd beneficially use the idea of In Vitro Fertilization (IVF)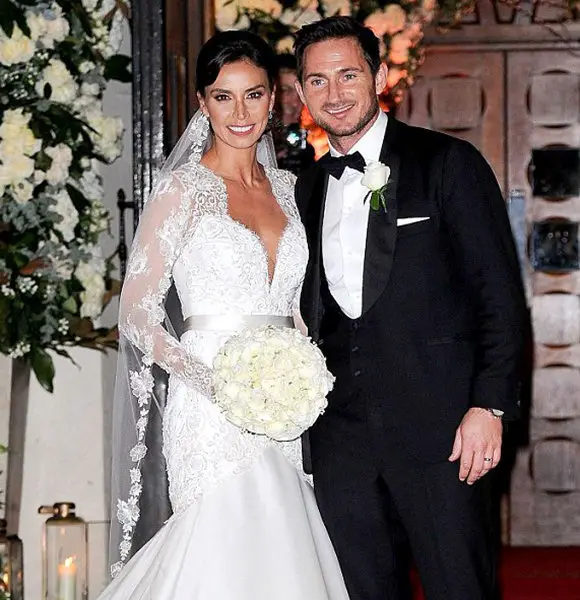 The Irish TV Presenter Christine Lampard, who is known for her hosting skills in the show such as The One Show, Daybreak and Dancing on Ice, is on her cloud nine. 
She is expecting her first child with her husband but has already experienced motherhood before.
Pregnant With First Child
Christine Lampard and Frank Lampard met at the Mirror's Pride of Britain Awards in 2009. Two years later the dating relationship shipped to the engagement in 2011.
After six years of togetherness, they got married in a lavish London ceremony back in 2015. On the wedding day, she looked stunning in her bridal-gown whereas Frank wore a classic tuxedo with a bow tie.
And here after three years of their marital relationship, Christine Lampard carries the part of their love inside her. She is pregnant with her first baby.
The 39-years sportsman revealed the happiest news via Instagram on 16 May 2018, as he proudly shared a family snap, along with his daughters Luna, 12, Isla 10 and a family dog as well.
The former Chelsea midfielder, who holds a net worth of $90 million, captioned the Instagram photo by quoting:
"We have some exciting news we wanted to share with you. The Lampard family is growing!? My gorgeous wife @christinelampard is pregnant and we all couldn't be happier!!!"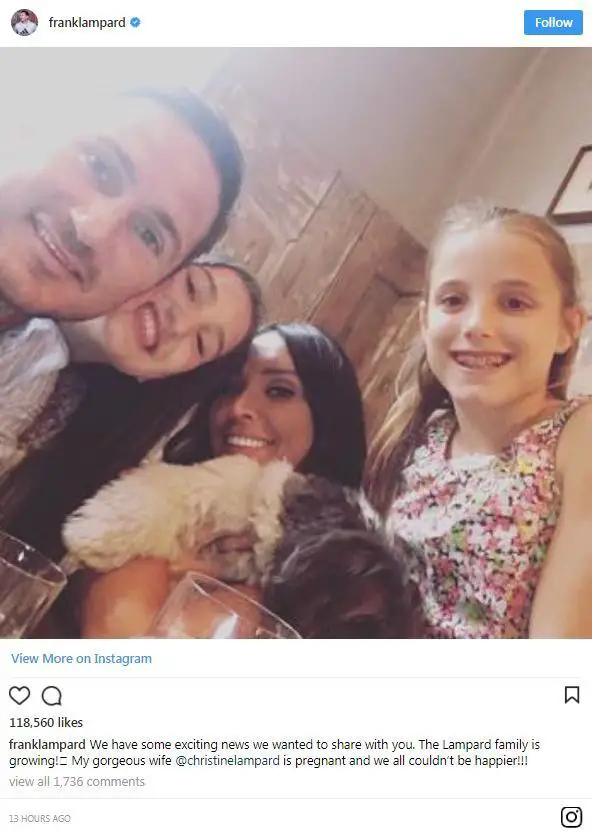 Frank Lampard announcing the new addition to the Lambard family (Photo: Frank Lampard's Instagram)
After Frank shared the happiest news, Christine too reposted the image on her Instagram and added the words:
"The Lampard family are expanding!! I feel SO excited, nervous and grateful! The list of emotions is endless."
A source reported to the Daily Mail that the expectant couple informed Luna and Isla about their soon arrival of their little member on 14 May 2018 without disclosing the sex of the baby. And the girls seem anxiously waiting for their new siblings as they enjoyed guessing names of their sibling.
The pregnancy news dropped after three months, Christine confessed she would treasure to have a baby with her husband, Frank while talking to the Mirror in February 2018:
"If it happens, of course, it will be wonderful. If not we have the two girls – and one is about to embark on her teenage years, so that is a whole other chapter about to happen,"
The Northern Irish star, Christine also revealed on her show Loose Women that she'd beneficially use the idea of In Vitro Fertilization (IVF) but in July 2017 she escaped the treatment confessing it could put her relationship on peek. She told Daily Mail:
"I know friends who have torn themselves apart and jeopardised their relationship because going through IVF was so traumatic and I don't know if I could do that to myself or Frank."
Notably, before giving birth, she is already a mother to the daughters of her husband, Frank Lampard.
Proud Step-Mom
Well, the former sportsman shared two daughters being in a relationship with the Spanish model, Elen Rivas. They had two beautiful daughters when they were in a relationship between 2006 - 2008.
As of now, the children share a peaceful relationship with their stepmother, Christine.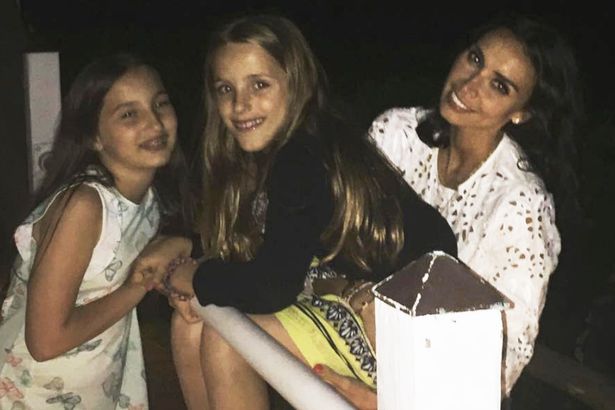 Christine Lampard with step-daughters; Luna, 12 and Isla 10 (Photo:mirror.co.uk)
For instance, she shared one of the happy moment with the Mirror saying; she had the best memorable 39th birthday on 2 February 2018. Christine said that the girls played the major part to make her birthday memorable.
"I had the girls in waking us up at 6 am to wish me a happy birthday.."
She further disclosed the surprise as:
"They both wrote the most beautiful cards which made me cry. I couldn't believe how much they loved me. The wee one wrote 'I usually start cards with "dear" but this is an extraordinary card for an extraordinary person.' She is 10!"
Not just that, the surprise made her emotional and exclaimed: 
"She went on to say 'I love you being my stepmum' and so I started to cry. I'm proud I have that kind of relationship with them."
Christine is already cherishing the motherhood with her two little girls and waiting for next one to blossom the family.