Entertainment
Christine Bleakley: Married to Frank Lampard in Winter Wedding, Daughters Want Her to be Pregnant?
With Ed Sheeran on the background singing Thinking Out Loud for the first dance, wearing a Suzanne Neville dress, Christine Bleakley walked down the aisle to marry the love of her life, footballer Frank Lampard on December 20, 2015.
It was a beautiful ceremony, just like the bride and the groom wished for. The tables, the food, and the people, everything, was perfect. Christine married Frank in a beautiful winter, pre-Christmas wedding ceremony at St Paul's Church in Knightsbridge, West London.
The couple first met at the Daily Mirror's Pride of Britain Awards in 2009 and started dating in no time and got engaged in 2011. Their wedding was attended by big names such as John Terry, Ant McPartlin, Holly Willoughby, Phillip Schofield, and wife Stephanie Lowe, etc.
Wedding, Married Life, and Husband:
Their reception took place at the Arts Club, where a special performance by Ed Sheeran stole the show.
You May Also Like: Cherry Seaborn, 25, Engaged Out Loud! The Perfect Shape For Ed Sheeran
Christine took to her Twitter account to sing her praises for Ed for a wonderful performance at her wedding.
"So chuffed for our boy @edsheeran #GRAMMYs #ThinkingOutLoud He deserves every bit of his success xx."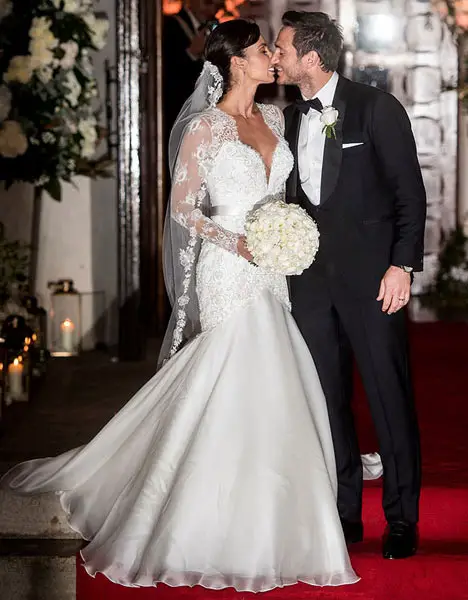 Christine and Frank sharing a smooch at their wedding (Photo: hellomagazine.com)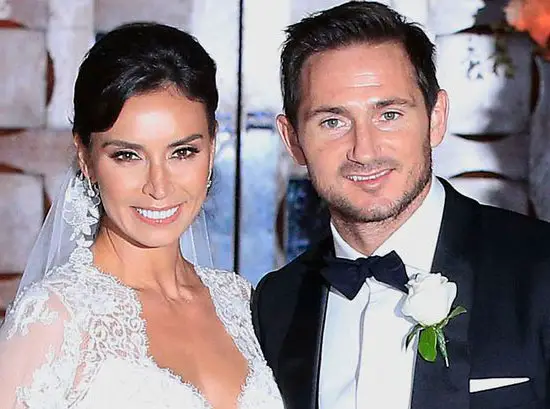 Bride and Groom looking happy for the wedding picture (Photo: mirror.co.uk)
For the honeymoon, the couple went on a wonderful trip to Dubai, along with Frank's two daughters.
Baby Girl After Getting Pregnant
The forty-year-old former footballer Lampard, already a father of two daughters Luna and Isla with his former fiancée Elen Rivas, a Spanish model, gave her children an extra-sister, post the birth of daughter Patricia Charlotte Lampard.
Related: Christine Lampard Is Pregnant! First Baby With Husband Frank Lampard
With his wife already a great stepmom to his two daughters, the addition to the family has been a breath of fresh air in the Lampard family. Christine, who believes she is more of a mate to the two girls rather than a stepmom has a new daughter to take care of as well.
"So we very much eased our way in, but the girls are fantastic. They're just brilliant. They're my little mates, and they're just great."
Back in 2015, before Christine and Frank were married, she shared that she would love to have more children with Frank after they get married, and the girls are more excited, and they want it to happen sooner rather than later.
"They wanted a puppy for long enough, and now they want a baby."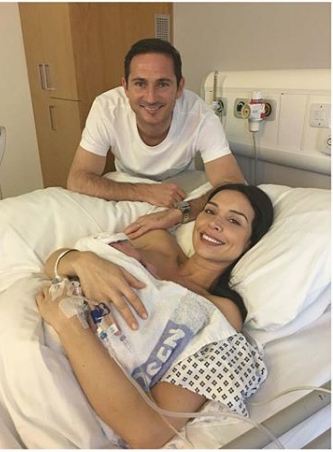 Christine Lampard along with husband Frank and their new-born baby girl. (Photo: Christine Lampard's Instagram)
The girls got their wish fulfilled on 21 September 2018 after Christine and Frank announced the birth of their newborn baby girl. Christine took to her Instagram account to share the good news to her 300k followers.
"Let us introduce you to our little girl. Patricia Charlotte Lampard! We're so in love."
However, The name Patricia Charlotte comes after a lot of discussions amongst the couple regarding the name of their daughter.
Back in May 2018, when Frank and Cristine announced their pregnancy news, Christine made it evidently clear with a warning to Frank that the daughter will not be named after any football theme.
Although, Frank seemed to have the final say while naming his daughter as the name is believed to be in remembrance of Frank's mother, who passed away in 2008.
Christine and Franks Short Bio:
Christine was born on 2nd February 1979 in Newtownards, County Down, Northern Ireland. Frank, on the other hand, was born on 20 June 1978 in Romford, London.
Christine is a television broadcaster who worked for BBC and is currently with ITV. She also works as a radio presenter on Magic Radio. She has also contributed her voice to films like Divorcing Jack and A Turtle's Tale: Sammy's Adventures. She was named the brand ambassador for Soft and Gentle Antiperspirant in August 2015.
Read Also: While Praising Frank Lampard John Terry Revealed Coach's Tactics For Players With Injury
Frank Lampard was a professional football player who started his career playing with West Ham United. He joined Chelsea Football Club in 2001 and played there for 13 long years, becoming the all-time leading goal scorer for the club. He then joined Manchester City in 2014 and ended his career playing as a midfielder for the New York City FC.
He is considered as one of the greatest midfielders of his generation.
With the sun setting down in his playing career, Lampard has moved from the pitch to the bench as he begins his professional managerial career. Currently a manager at Derby, Frank would be enormously happy if his managerial career is half as successful as his playing career was.
The couple now resides in New York long with Franks daughters.