Entertainment
Cindy Kimberly Gets Fame, A Perfect Boyfriend And An Alleged Plastic Surgery At A Young Age!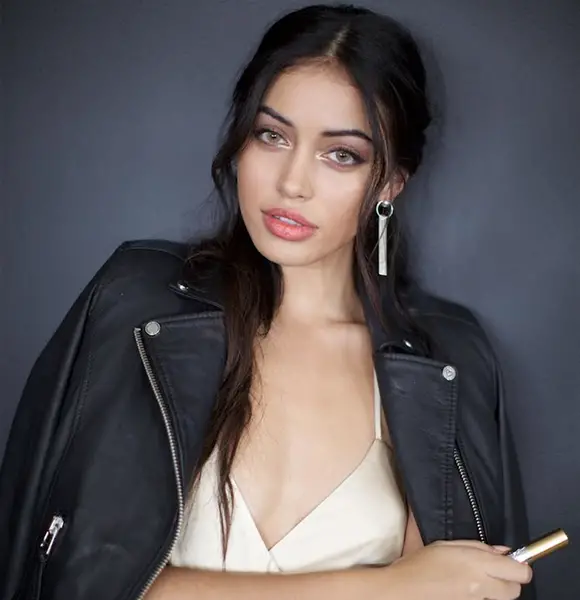 Cindy Kimberly Gets Fame, A Perfect Boyfriend And An Alleged Plastic Surgery At A Young Age!
Entertainment
The race for fame is relentless; no generation can stay away from the essence of prominence. However, the race varies from person to person, and time and situation act as significant factors as well.
The story to fame of Cindy Kimberly is one, which didn't take any considerable time and struggle. Cindy became a celebrity overnight at her tender age of 18, while she was employed just as a babysitter.
Well, the story of this Instagram star and model indeed feels like an anecdote as we penetrate deeper into her personal life. So, let us set the stone rolling and know this talented teenager more closely.
The Life Of Young Cindy Kimberly Who Has Almost Got Everything To Call It A Perfect One:
Born in Amsterdam, Netherlands, Cindy originally hails from Costa Blanca, Spain, and belongs to a mixed cultural background, resulting to her intricate ethnicity. Well, she has got parents who belong to two different nations: a Spanish father and an Indonesian mother.
Stepping into the personal life of this 18-year-old Dutch star, she was not a part of any limelight until the day the famous Canadian pop singer, Justin Bieber posted her picture on his Instagram account with a caption "Omg who is this!!!" in October 2015.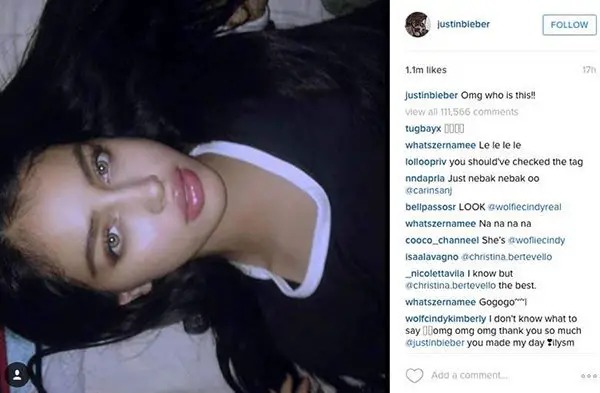 Caption: Cindy's picture shared by Justin on his Instagram.
Photo Credit: heavy.com
Cindy then took it quite carefully from that day to gain a huge 3.6 million followers on her Instagram account; "wolfiecindy." Through the account, she often shares the portraits of herself drawn by her fans, and her understanding of photography has helped her sustain her fame as well.
Moreover, she once tried to grab the attention of the mass, fooling everyone with her photoshopped picture of pregnancy last year.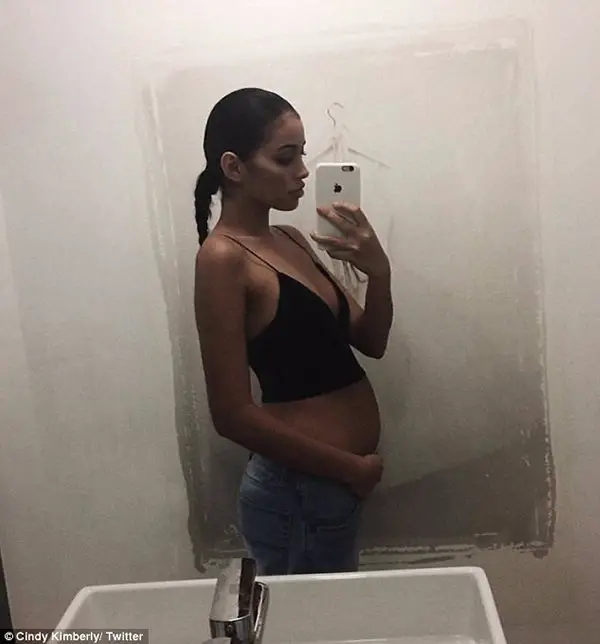 Caption: Cindy, posing as if she is pregnant rubbing a baby bump.
Photo Credit: Daily Mail
However, she later came up with a tweet to clarify that she was never pregnant.

Caption: Screenshot of Cindy's tweet confessing that she wasn't pregnant.
Photo Credit: DailyMail
While the fake pregnancy news hyped amid her followers, her decision to go under knives and scissors to add up her beauty also became the talk of the town last year.
Yes, she did have plastic surgery to beautify her eyes and lips which look quite vivid in the picture below.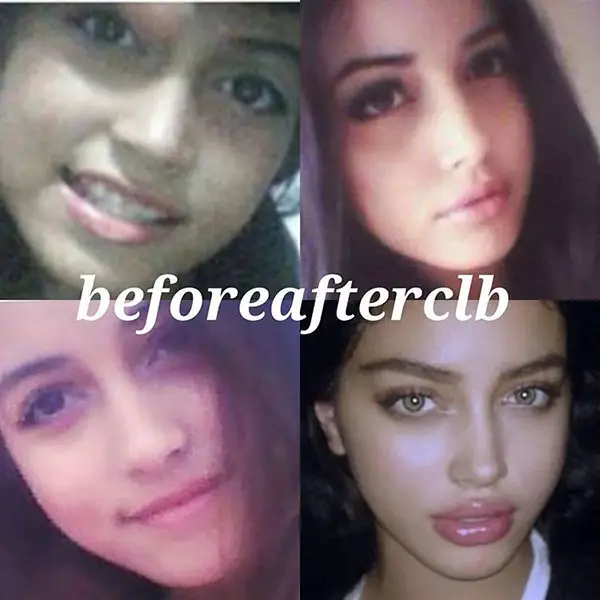 Caption: Before and after look of Cindy.
Photo Credit: pictame.com
Cindy's Current Relationship Status:
Cindy is currently in a relationship with her model boyfriend DJ Neels Visser, who is also a Youtube star. As per some sources, the two began dating this year and have since been regularly flaunting pictures on Instagram.
At the end of this year's September, Cindy expressed her love for Neels with their adorable picture on the occasion of his birthday.
Well, earlier on April 20, Neels shared a romantic picture of him with Cindy, where they were about to share a kiss.
Neels even gushed about being in a relationship with her bae from last six months in the post, which elucidates that this pair has been together since last year.
Think we're missing something? Do let us know in the comment section below!