Entertainment
Neels Visser Is Lucky To Have Found A Girlfriend At Such Young Age! Is Dating A Super Hot Senorita
Neels Visser Is Lucky To Have Found A Girlfriend At Such Young Age! Is Dating A Super Hot Senorita. Love doesn't come to you at a specific age. If you are bound to be in love, you will find your special someone, someday sooner than later. Similarly, Youtube star, model and aspiring DJ Neels Visser has found a perfect girlfriend, and he is just 18 years old. Young girls who have a huge crush on Neels are now envious of his super gorgeous and hot Spanish lady.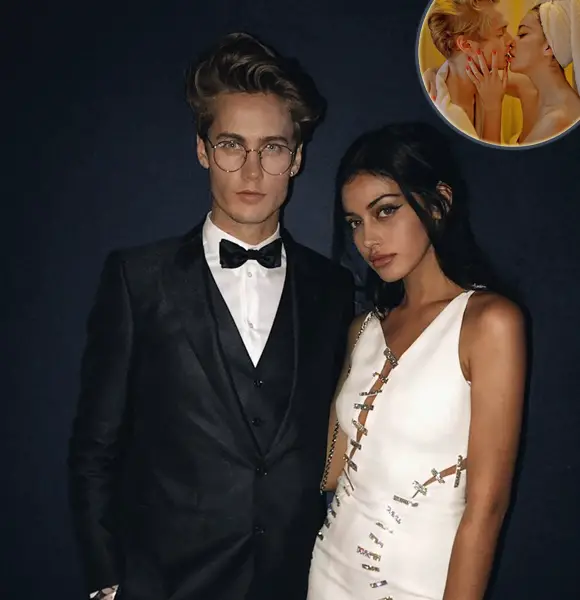 Love doesn't come to you at a particular age. If you are bound to be in love, you will sooner or later find your special someone, someday.
Relating to the statement is Youtube star, model, and aspiring DJ Neels Visser, who has found a perfect girlfriend who is just 18 years old. Young girls, who have a huge crush on Neel,s are now envious of his super gorgeous and hot Spanish lady.
Confused about the insights about their relationship? Keep on reading for the answer! 
Romantic Relationship of Neels Visser and Cindy Kimberly 
The young and attractive model, Neels Visser started dating his Spanish girlfriend, Cindy Kimberly around October 2016 according to his Instagram.
Although there are not many details regarding how they fell in love, sources claim that Visser first met Cindy at Barcelona Airport and was quickly impressed by her.
Primarily, their affair was not official, but they were seen sharing kisses and holding hands quite often at parties and events.
However, reports say that their relationship was confirmed when they took a trip together to Spain, where they were spotted getting cozy with each other. 
On April 20, Neels posted a romantic picture on Instagram with Cindy, stating their relationship marked six months. Certainly says something, right?
 On August 14, Neels posted a photo with Cindy with a caption saying he is going to take his girlfriend to Santa Monica. Despite their busy schedule, the couple makes time for each other! 
Meanwhile, people still want to dig out more details about the gorgeous Spanish beauty, Cindy Kimberly. She might seem a bit familiar, doesn't she?
Surprisingly, she is the same girl, whose picture was posted by Justin Bieber on his Instagram in late 2015 with a caption that read: "OMG who is this!!" The post quickly got more than 150,000 comments.
Since then, Bieber's post has changed Cindy's life forever. At the time, she was just a 17-year-old Dutch-born student. She responded to the incident with Dailymail,
''When I saw Justin was asking about me I got very emotional because I've been a fan of his for more than six years."
Cindy gained popularity overnight from being a babysitter to one of the top models.
She revealed to Dailymail in February 2016 that she worked as a babysitter for pocket money, which was $3.73 an hour. But after the massive attention and with her facial features that resemble Russian model Irina Shayk, a lot of modeling agencies approached her.
Soon in early 2016, she signed a contract with Uno Models based in Barcelona and Spain.
She expressed her excitement
''It seems like a fairytale. A friend of mine often used to joke that one day I'd be one of the girls he talked about and I didn't believe her. My life's changed positively since Justin appeared in my life. At the beginning, I felt completely overwhelmed and didn't know how to deal with it but now I'm getting used to it.''
But the Spanish beauty planned on keeping her foot grounded and continuing her studies, despite the attention she got,
''I've had a lot of job offers since all this happened. I'm constantly receiving calls offering me things, but I'm focused on my studies and fashion commitments I'd already made.''
As of now, she is together with Neels, and they create Youtube videos together. Occasionally, Alissa Violet, the ex-girlfriend of Jake Paul, makes an appearance in their videos too.
In one of their latest video, Neels is seen doing Kylie Jenner style makeup on Cindy, which has already received more than 800,000 views and its super fun to watch!
[video_deleted]
Caption: Neels Visser, doing Kylie Jenner makeup on his girlfriend, Cindy Kimberly. (Published on August 14, 2017)
However, before dating Cindy, there were speculations about him being a gay, but now that he is sharing a romantic relationship with Cindy; the rumors have been shut down for good.
More about Neels Visser.
The heartthrob of many young girls, Neels Visser, was born on September 27, 1998, in Phoenix, Arizona. Although he is known as Neels, he posted on twitter on March 2015, disclosing that his current name isn't his real name, 
Hey wana know a fun fact? MY NAME ISNT ACTUALLY NEELS;) — Neels Visser (@neelsvisser) March 30, 2015
Visser kept the speculations going for a while, but soon a fan commented mentioning his real name to be 'Anton Cornelius, ' and he was correct.
The young model, who is also an aspiring DJ, hopes he will join professional training for DJ pretty soon. Neels also has his own clothing line called 'Living Regal.' 
Till now, he has worked with high-end brands like American Eagle, Dolce & Gabbana and Maybelline to name a few.
Here is a short video of his collaboration with Maybelline for 'Maybelline Diaries' Campaign.
[video_deleted]
Caption: Neels Visser's collaboration with Maybelline for 'Maybelline Diaries' campaign. (Published on April 10, 2017) 
Visser's well-sculpted physical features with a height of 6'1" has made him one of the most popular teenage models.
Neels began his modeling career at a very young age. He started to work with his sister, Kendall Visser, who had her own modeling agency. Although his parent's name and identity are kept private, a report states his family played a vital role in motivating him for his career.
He is currently working with IMG models, a worldwide renowned modeling agency and his smooth career at a very young age have awarded him with a decent net-worth of $500,000.
We wish him more success in the days to come!
Stay with us for more updates on Neels Visser!