Claire Thomas is widely known for hosting the ABCs culinary program titled Food For Thought. Before working in ABC, she started as a food stylist and personal chef. She is also the author of two cookbooks and has directed adverts for McDonald's and Taco Bell.
She currently runs a food and lifestyle blog called thekitchykitchen, where she shares her recipes and several lifestyle tips.
Claire Thomas Age, Family & Height
Claire was born on 18th June 1986 in California, Los Angeles. Along with her parents; Ane and Brenton Thomas, she has two siblings named Amanda and Henry. 
She completed her formal education from Claremont McKenna College in Southern California.
See Also:- Food Vlogger Mark Wiens Wiki, Age, Net Worth, Wife
Though her exact height and weight is unknown, she has maintained her attractive and beautiful physique despite being pregnant twice.
Husband & Wedding
The story of how Claire and her husband Craig DePriester finally married one another is a very interesting one. The pair first met in a seminar in college but, they started dating one another after a long span of six years. They eventually shared their first kiss on their first date.
Interestingly, on their fifth date, Craig DePriester proposed Claire to marry him. But, she made things harder by rejecting him. Only after a long dating period of sixteen months, she agreed.
Then, they married one another in April 2015.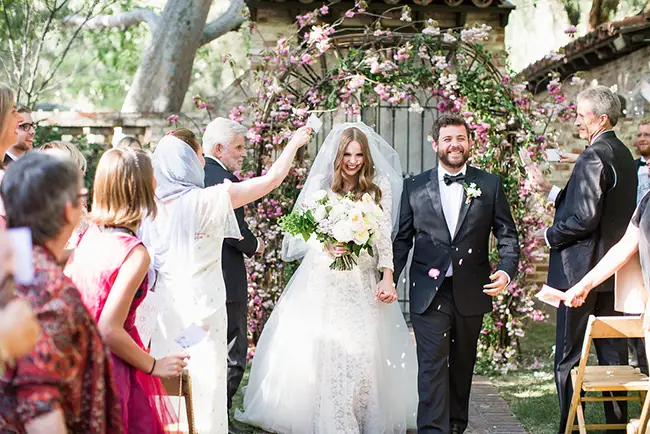 Bride Claire Davis leaving the wedding reception with husband Craig Depriester (Photo: thekitchykitchen.com)
Their wedding was beautiful and meticulously planned with a historic Los Angeles vibe.
It was held on a very photogenic location at Hummingbird Nest ranch since Claire hired the best photographers and catering service to give the reception a very intimate feel.
You May Also Like:- Sylvia Jeffreys Wedding, Pregnant, Husband
She even designed various elements of the wedding herself, including the invitation, bouquets, and cocktail kits. All of her work and dedication in creating a beautiful wedding reception paid off since her wedding was featured in a popular blog titled Style Me Pretty.
Claire Davis Children, Net Worth
Claire and her husband share two children, both sons, named James and Noah.
Her net worth is still not known but, she has garnered adequate income from her time as a host in ABC. She has provided her blog and YouTube channel as a platform to advertise and recommend products through affiliate partnerships. Her YouTube channel has about 80 thousand subscribers, with more than 5 million views.
As of now, Claire is in a happy relationship with her children and another half at her new home in Los Angeles.