Sylvia Jeffreys is an Australia's television sweetheart...she has spent almost a decade on Australian's TV screen...married to Peter Stefanovic...They married on...Bio: Age, Height & Weight...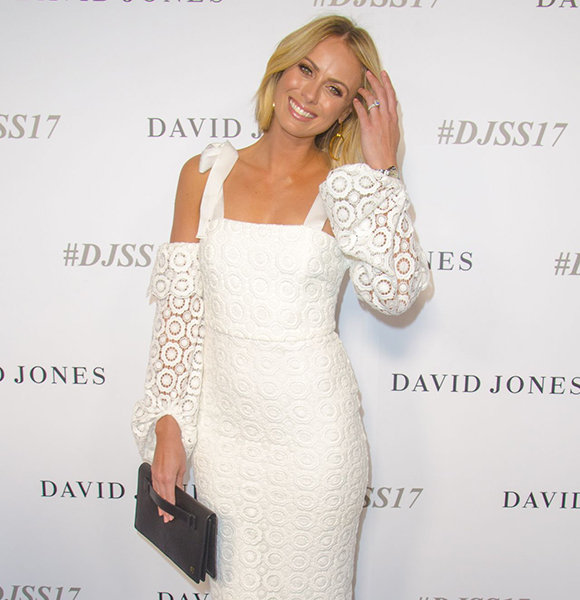 Nine News' Today host, Sylvia Jeffreys is an Australia's television sweetheart. Although she has spent almost a decade on Australian's TV screen, her first gig that got her foot through the door of the industry was behind the scenes. She started her journey working as a script assistant at the Nine Network in Brisbane in August 2005.
Ever since then, she has had a very successful career, always moving forward and reaching new heights.
Bio: Age, Height & Weight
Sylvia was born on 23 April 1986. She was born in the loving arms of her parents: Richard and Janine. She is the third child in her family, following an older brother and sister; Aaron and Claire. 
Although she was raised in Brisbane, she resides in Sydney with her partner.
Being a TV personality that has to be on screen in front of millions, Sylvia keeps herself as fit as she can. She weights 141 pounds (64 kgs). As for her height, she has an average height of 5 feet 10 inches (1.78 m). Her birth sign is Taurus.
Family & Husband 
Opposites attract. It seems that this holds only in science. Sylvia fell in love with someone just like her, someone with the same passion and drive. She is married to Peter Stefanovic, an Australian journalist, who worked for the Nine Network. 
More On Another Journalist:- Who Is Alysha Del Valle Married To & Her Salary?
She met Peter at the set of Today's Weekend Summer Series, and they started dating in December 2013.
Peter proposed Sylvia after three years, in July 2016. They married on 1 April 2017, in the Kangaroo Valley. On her wedding day, Sylvia wore a Rebecca Vallance gown.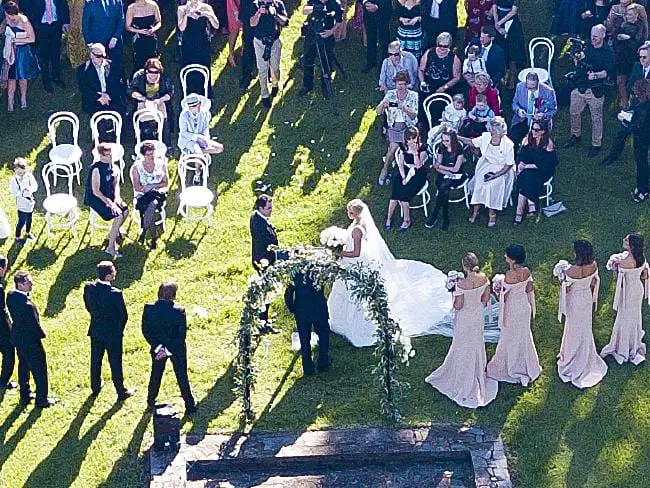 An aerial view of Sylvia and Peter's wedding in April 2017 (Photo: news.com.au)
The wedding guest list was filled with media personalities, who traveled from all across Australia and some even as far as London. The list included 60 Minutes' producer Grace Tobin, and presenters Belinda Russell and Amelia Adams, Weekend Today host, Peter Fitzsimons, along with his wife Lisa Wilkinson, and many more.
Education & Work
Sylvia attended school at her home town in Brisbane State High School and graduated from the University of Queensland obtaining degrees in Bachelor of Journalism and Bachelor of Arts.
In June 2013, she moved to Sydney to join Today as an NSW reporter. Then, she joined as fill-in presenter on Nine Morning News, Nine Afternoon News, Weekend Today and Today for Nine News. 
Successful Journalist :-Elaine Welteroth Bio, Net Worth, Married
Peter left Channel Nine after 15 years with the network. New information came to light after the rumors settled down; the reason for Peter parting ways with the network was because he wanted to spend more time with his family. Following the news, Sylvia also left the Today show a few days after. However, she came back to the network and shared her excitement to be at her place of work. In an interview with The Sydney Morning Herald, She said,
"I'm thrilled to sink my teeth into a brand new project. Opportunity often knocks when you least expect it and I'm ready to dive right in to what's ahead of me.''
Although Sylvia and her husband have not revealed their salary or net worth, both of them have worked for long in the industry. So, they have accumulated enough to live a healthy lifestyle.
By example, the couple bought a $3 million house in Sydney in late 2016. If this is any indication, Sylvia and her husband have done incredibly well for themselves.
Is Sylvia Pregnant? Pregnancy Rumors
Are you even famous if there are no rumors on the internet about you?
Sylvia faced pregnancy rumors when she was photographed covering her stomach while exiting a Coles supermarket. Thats all it took to get things started. Speaking to Herald Sun, Sylvia had previously mentioned that she would,
"Be blessed to have a child."
However, the rumors turned out to just that, baseless speculations.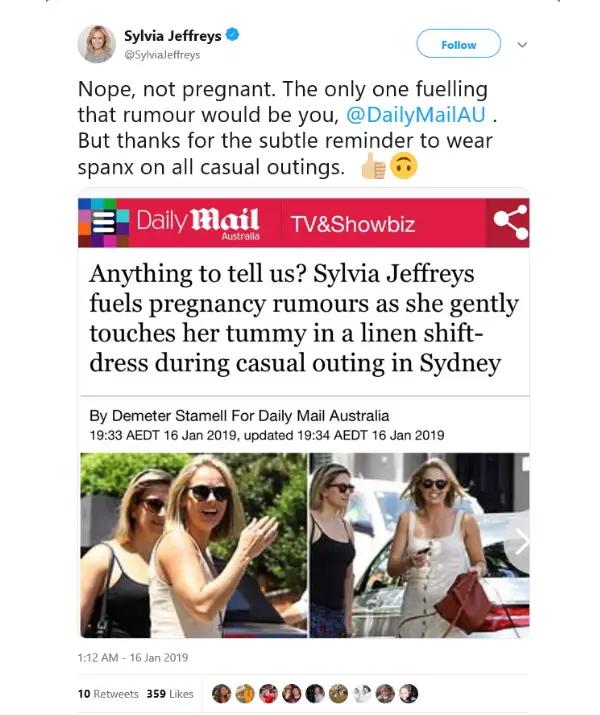 Sylvia Jeffrey dismisses her pregnancy rumors in January 2019 (Photo: DailyMail.co.uk)
Sylvia took to her twitter to deny the rumors and especially going after DailyMail for fueling the rumors.