Entertainment
Clare Bowen Isn't Only Rainbows With Happy Engaged Relationship With Boyfriend As She Reveals Struggle With Cancer
Australian actress and singer Clare Bowen has done all the hard yards in her professional life, and that has helped her have a journey to remember with regards to her career. 
Also, those who adore her performances and whatever she has done professionally must know that she has gotten engaged to her boyfriend and is enjoying the relationship full-fledged. But is the singer ready to tie the knots? Or has she already?
Furthermore, all the happiness Clare witnesses in her present time seem to be restoring balance to what was an extremely difficult childhood for the actress Australian native.
Her career journey and her childhood struggle definitely make up for an interesting read!
Clare Engaged to her Boyfriend! 
The ever so beautiful musician has given her fans something to celebrate when she revealed that she was engaged to her long-time boyfriend, Brandon Robert Young who happens to be her fellow musician too.
Reports suggested that Young proposed her during the show at the Grand Ole Opry on December 5, 2015. Also, posts on her social media account highlighted just how happy she is with her engagement.
You May Also Like: Kylie Minogue and her Fiance Joshua Sasse Reveal The Reason of their Delayed Wedding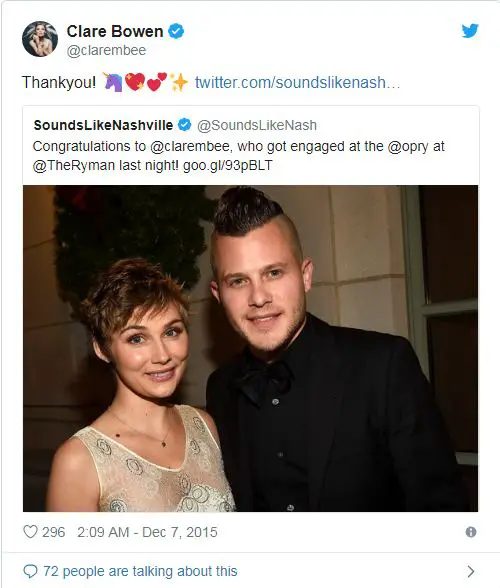 Clare Bowen thanking her well-wishers who wished her on the engagement. (Photo: Clare Bowen's Twitter)
Also, those who have been to her shows must know the fact that Young has joined her on several occasions. But during one of her shows in May 2016, something special happened.
The engaged pair took the stage for the first time as engaged partners.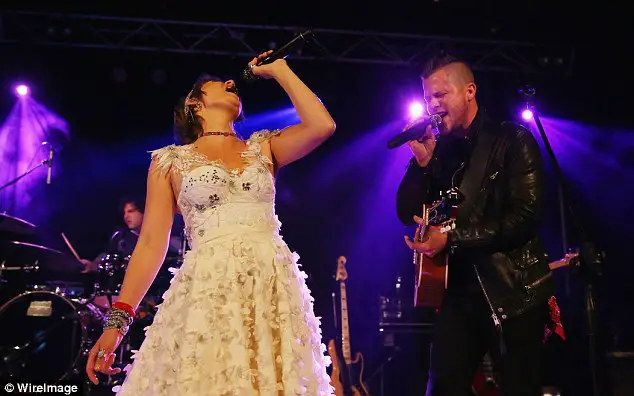 Clare Bowen and her fiance rock out Sydney, May 2016. (Photo: Wireimage.com)
Not only was Clare the one to feel blessed and happy, Young too took to his Instagram to show how lucky and happy he felt to be engaged to Clare. The caption described his joy and emotions. 
See Also: Delta Goodrem On Her Way To Dating English Singer Seal Amid Rumors Of Having An Actor Boyfriend!
Brandon Young expressing his gratitude towards Glare through an Instagram post. (Photo: Brandon Young's Instagram)
The two who have also been part of the cast of "Nashville" which recently aired its last episode on 26 July 2018, are now an inseparable part of each other's lives. 
Boyfriend Turned Husband
Clare, after getting engaged to her boyfriend on 2015, finally decided to tie the knot with Brandon two years after on 21 October 2017.
The two-year gap between the date of engagement and the date of marriage was mostly because of Clare's unavailability, as she was present to support her brother Tim, who was diagnosed with cancer meanwhile.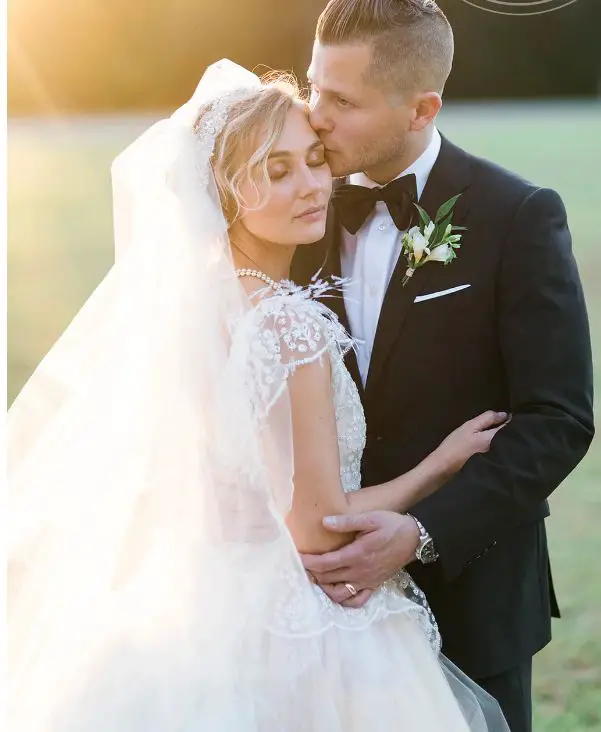 Clare Bowen and husband Brandon on their wedding day. (Photo: People.com)
However, though a little late, the wedding between the duo was perfect. Pre-planned from months before the actual date, Clare shared her excitement for the wedding in an interview with Entertainment Tonight on January 2017. 
"I had never wanted to get married before Brandon, which I kind of love. We're picking flowers and I'm designing dresses. … It's so beautiful. It's so much fun. I had no idea because I didn't have any dreams about it before him."
The duo, who finally got married at the Cedar Hill Refuge in Nashville, Tennessee by their good friend John Carter Cash, had a great wedding function, as highlighted by Cate herself through her Twitter account. The singer, posting pictures of her shoes, mentioned just how much fun the wedding party was.
"Sign of a really good party. Danced so much, my slipper blew a sparkly."
The duo who have been together ever since have recently marked off their first wedding anniversary. Ever-so-active on their social media account, Clare has never shied away from expressing her love towards her husband in the meantime.
Clare took to Instagram to express her feelings towards her husband with a heart touching caption.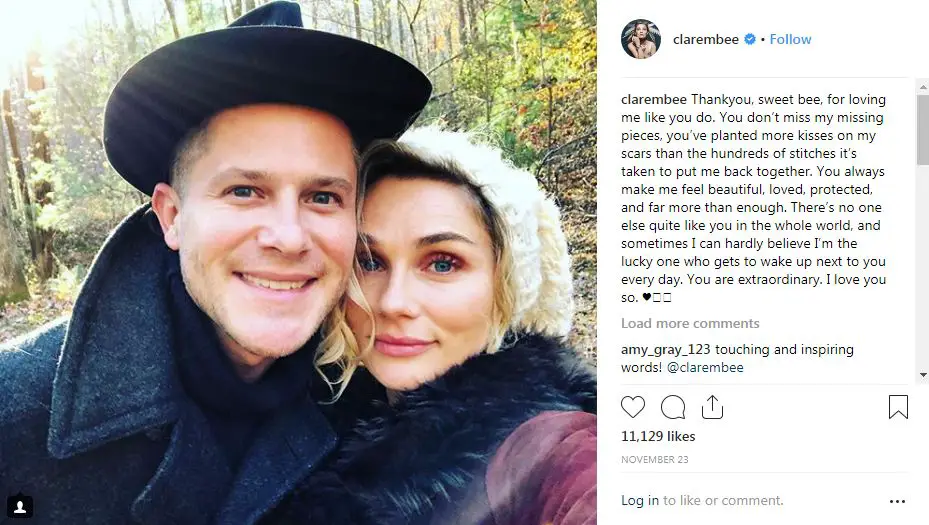 Clare Bowen with a heart-touching caption for husband Brandon. (Photo: Clare Bowen's Instagram)
The singer couple, have thus enjoyed marriage journey so far and looks all set for happily ever after.
Clare's Struggle with Childhood Cancer:
From long hair to short pixie hair, she has gone through a transformation for a cause. To show her support for those suffering from cancer as she too has been at the receiving end of this deadly ailment at a young age. 
Don't Miss: Eddie Olczyk Survival, Wife & Family Pulled Him Through Cancer, How?​​​​​​​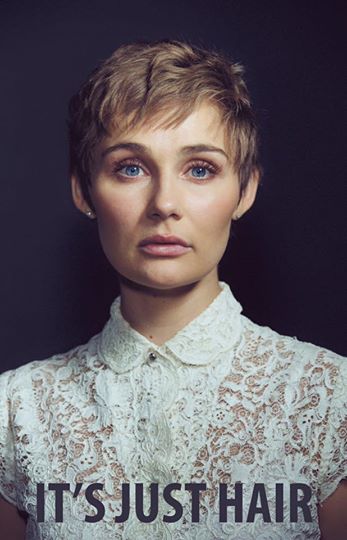 Clare chops off her hair for a special cause. (Photo: facebook.com)
Clare has diagnosed with end-stage nephroblastoma when she was four years old, and during that nightmare, her family was told;
"the only hope of saving me, was an experimental treatment that might kill me anyway. But without it, I had maybe two weeks left." 
She said that she had lost her hair in the process of her diagnosis. She further added,
"I got to grow up surrounded by children just like me."
she further added;
"We were mostly bald, all tubed, taped, bandaged up and stitched back together. We were all missing parts, some obvious like eyes or legs, others more hidden, like lungs and kidneys.  
Also, more of this could be found on her Facebook post where she took the time to discuss her new looks and her childhood ailment. Having known the struggle of battling such major illness in her life, she has been an Australian Cancer Council Youth Ambassador since 2008. 
She cut off her hair after being inspired by the story of a young child who had terminal cancer. Hats off to this champion lady!
Also, for fans wondering whether or not she has gone through some weight loss, the answer to that might be a "YES" as she is seen to have gone through the weight loss process.
She is someone who always has had a fit and lovely body, but back in 2013, she shared about her body measurements with her fans which shows how much weight she has lost.