Entertainment
Claudia Haro [Garrett Warren's Ex-Wife] Wiki: Arrest & Jail Details
Claudia Haro is a former actress. Her movies include Jimmy Hollywood (1994), With Honors (1994) Wes Craven's New Nightmare (1994), Casino (1994), and Gone Fishin' (1997).
Wiki
Claudia Haro was born as Claudia Martha Haro. Her nickname is Marty.
Past Married Life With Garrett Warren
Claudia was married to Garrett Warren- Hollywood stunt man- from 25th March 1998 to 2000. The ex-pair, who shares a daughter, had a messy divorce. Despite Claudia's wishes, Garrett was granted the shared custody of their daughter.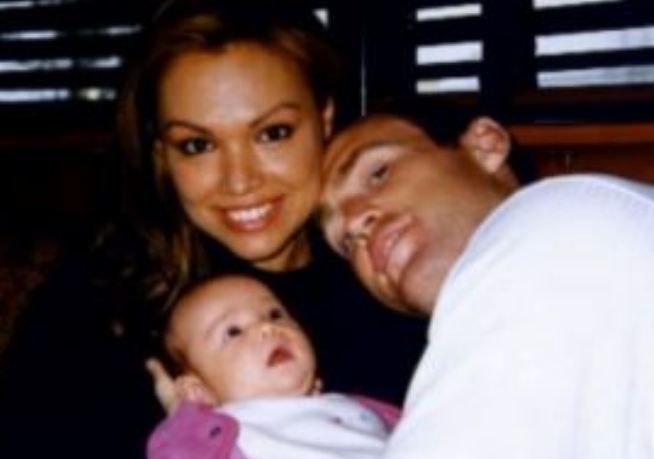 Claudia Haro with Garrett Warren and their daughter (Photo: marriedbiography.com)
Just one month after the custody decision, in May 2000, Garrett was shot four times in his house. Later, it got discovered that Claudia was behind the attempted murder.
Details On Claudia's Crime, Arrest
Initially, police didn't suspect Claudia for the attempted murder on Garrett Warren. She conveniently provided the alibi of the night of the attempted murder. And police looked for potential criminals but to no avail. The case remained unsolved for a long time.
Two years after the attempted attack on Garrett, in 2002, police unintentionally uncovered the case. It so happened they bust a random drug case where they found an envelope which contained direction to Garrett's house, where he was shot, and his picture.
Celeb In Legal Trouble:- YNW Melly [Rapper] Charged, Friends, Age, Killing
Further investigation led the police to Claudia. It got discovered that she had hired hitman twice to finish off her ex-husband.
During the court hearing, she pled no contest on attempting to murder her ex-husband, Warren. Claudia was sentenced to 12 years in jail. She completed her sentence in August 2019.
Garrett Warren's Bio
Garrett is a high-profile Hollywood stuntman. His resume includes movies, namely X-Men: Apocalypse (2016), Logan (2017), and Alita: Battle Angel (2019). He has over 110 stunts credits. He won the Streamy Awards in the Best Choreography category for the movie, Mortal Kombat (2011).
First Failed Marriage
Claudia's first husband was Joe Pesci, a Hollywood actor. The pair were married from 7th September 1988 to 1992. They share a daughter named Tiffany Pesci.
After the end of their marriage, the ex-couple remained close. The duo starred in movies Gone Fishin' (1997) and Casino (1994) together.
Moreover, Claudia lived on-off in Joe's guest house, and he was by her side during the attempted murder trial of Garrett Warren.
Who Is Joe Pesci?
Joe Pesci is an Oscar-winning Hollywood actor; he won the Best Actor in a Supporting Role for Goodfellas (1990). His filmography includes movies like Lethal Weapon 4 (1998), 8 Heads in a Duffel Bag (1997), and A Bronx Tale (1993).
More On Joe Pesci:- How Much Is Joe's Net Worth?
In 1999, he announced his retirement from acting. He only appeared in minor parts in movies: Good Shepherd(2006) and Love Ranch (2010).
Finally, in 2019, he returned to acting with a full-fledged role in The Irishman. He was nominated in the Oscar's Best Performance by an Actor in a Supporting Role category.