Entertainment
Sports Journalist Clay Travis Wife, Married Life & Net Worth Info
Clay Travis is a sports journalist and writer. He is the man behind the popular blog, Outkick The Coverage. He also hosts a radio show with the same name as the blog, Outkick the Coverage with Clay Travis, on FOX Sports Radio. 
Married Life With Wife 
Clay Travis has been married to Lara Travis since 10th August 2004. The two share three sons. The youngest son's name is Nash.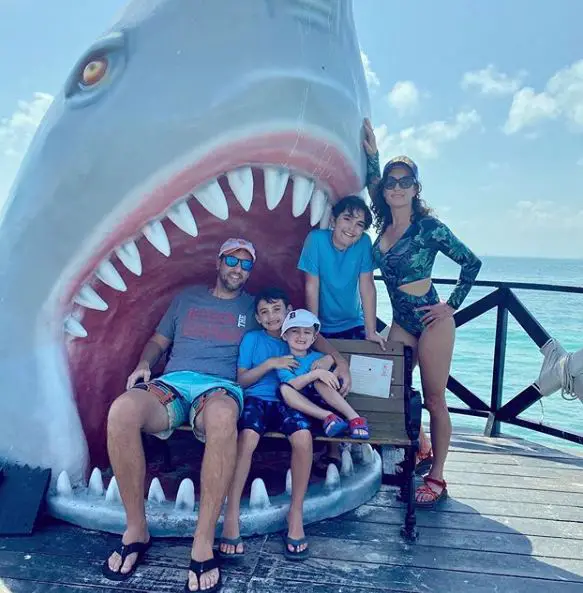 Clay Travis with wife Lara Travis and kids in February 2020 (Photo: Lara Travis' Instagram)
The whole family lives in Nashville. 
How Clay And His Wife Met 
Clay and Lara met as classmates at Vanderbilt University Law School. However, the pair studied together only for a year as Lara decided to change her major. 
Despite Lara's major change, the ex-classmates kept dating. The duo got engaged in 2003 and married a year later. 
Who Is Lara Travis? 
Lara Travis is a former Tennessee Titans cheerleader. Originally from Michigan, she has a Master's Degree in Guidance Counseling.
Net Worth 
According to Forbes, Clay Travis's Outkick The Coverage brand was worth multi-million dollars in 2014. 
Clay Travis' Career
Clay started his career as a lawyer with legal practice. On the side, he was also working as a sports journalist with CBS Sports.
However, in 2006, Clay gave up the law career and started writing full time. He remained with the CBS Sports until December 2010. The next year, he started working as an assistant manager at ESPN. 
And in 2012, he took up another job with ESPN as a radio host. 
Fox News' First Female CEO:- Suzanne Scott Bio, Family Life, Net Worth
Along with ESPN, he extensively worked with FOX News. He was part of the TV show, LOCK IT IN. He also contributed to FOX SPORTS LIVE and FOX COLLEGE SATURDAY.
Clay Travis Bio
Clay was born on 6th April 1979, in Tennessee. He went to George Washington University to pursue a History degree; he graduated in 2001. During Clay's time at the university, he worked as a student basketball manager. 
Post his undergrad, he joined Vanderbilt University Law School and graduated in 2005. 
CNN Controversy 
Clay Travis was involved in a controversy with CNN in September 2017. He was there to discuss Jemele Hill, a SportsCenter anchor, who called President Donald Trump a "white supremacist" on Twitter. 
During the discussion with Brooke Baldwin, he reportedly made inappropriate comments. He said he believed in "only two things completely: the first amendment and boobs."
Controversy In News World:- Bill O'Reilly Lands A New Contract with the Fox News Despite Alleged Sexual Harassment!
After he repeated the word "boobs" multiple times for three minutes, Brooke stopped the discussion. 
After the controversy, Clay talked to Periscope about his plans to make the same comments on Fox News and his website for a year. 
 Facts On Clay Travis 
Clay's Zodiac sign is Aries.

He lost a $3,000 Jack Daniel's endorsement deal for his criticism of Vanderbilt University's removal of the word "Confederate" from a residence hall in 2016.