Entertainment
Coby and Penny as Partners, Ken Rosato, isn't Married Yet: Reason of Solitary Life. Girlfriend?
It's completely one's choice to stay single or to get married. If a person is single, he must have a reason behind his solitary life. Not every person needs a companion to spend rest of his life. If you are a person who believes being single is better than being in a fake relationship, you will obviously love your solitary life, won't you? What if you are in search of the love of your life, and you can't find you Mr. Right? Won't you wait for his arrival?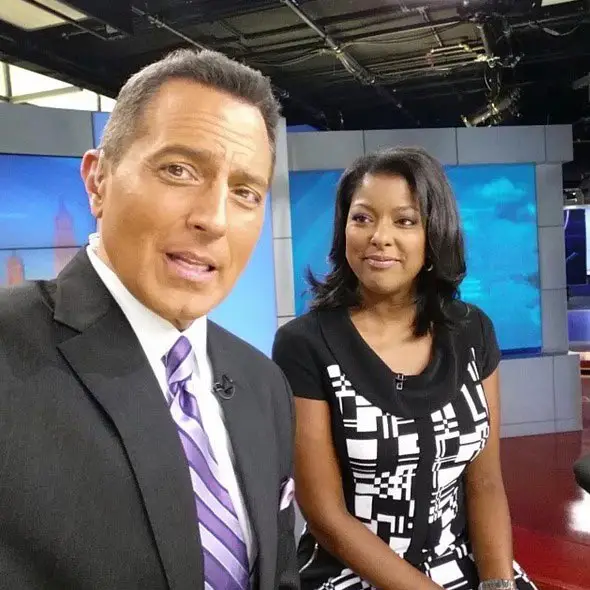 Having a partner or spending time alone in life is a personal choice. It isn't a compulsion to have a life partner; that is something only society talks about. Because for some having collegues and family is enough.
Ken Rosato, is one person who is remembered when such a topic is talked about. The Channel 7's anchor has kept it all low profile when it comes to disclosing about his real partner. But, with multiple posts about his work buddy left behind in the social media, his followers can't seem to speculate further about such matters.
Ken Rosato Still Not Married: No Wife In Sight?
Ken Rosato, who is in his late forties, is still reported to be single. Being single for a long period with no girlfriend or wife in sight, Rosato at one point had been questioned about his sexuality. Confused as gay, Rosato has given the answer of his straight sexual orientation, but still chooses to keep his partner under the wraps.
Don't Miss: Meet Amy Freeze's Husband of 22 Years Gary Arbuckle, Four Children. Divorce Rumors?
But his constant social media posts of work partner Lori Stokes with sweet captions has recently got public's attention. The public can't help asking whether the two news anchor really are in love or are they just messing around?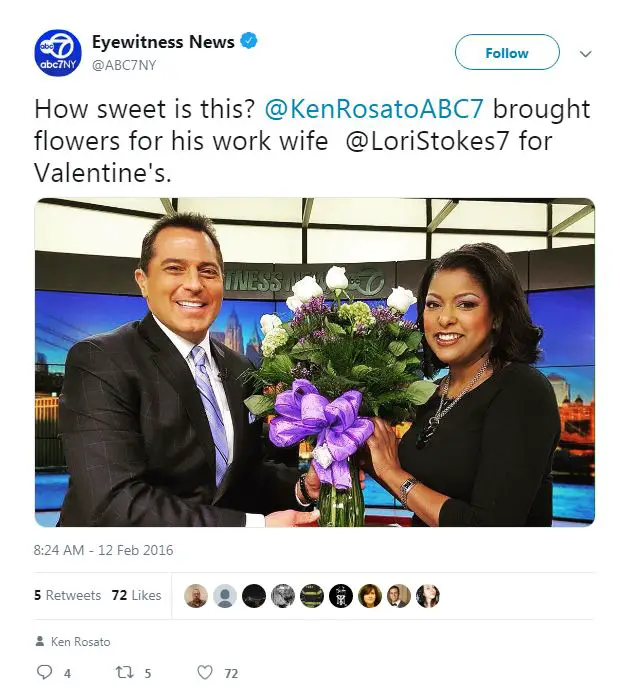 Rosata gifts Stokes with flowers on Valentine's Day (Photo: Eyewitness News' Twitter)
The 4th February 2015 post done by Stokes of the duo smiling towards the camera with the caption:
"On set today with my TV husband"
The post did give the audience a space to boil the rumors of the two having something big cooking within themselves. It was not until 14th of February in 2015, the valentine post Instagrammed by Rosato had added more excitement to his fans.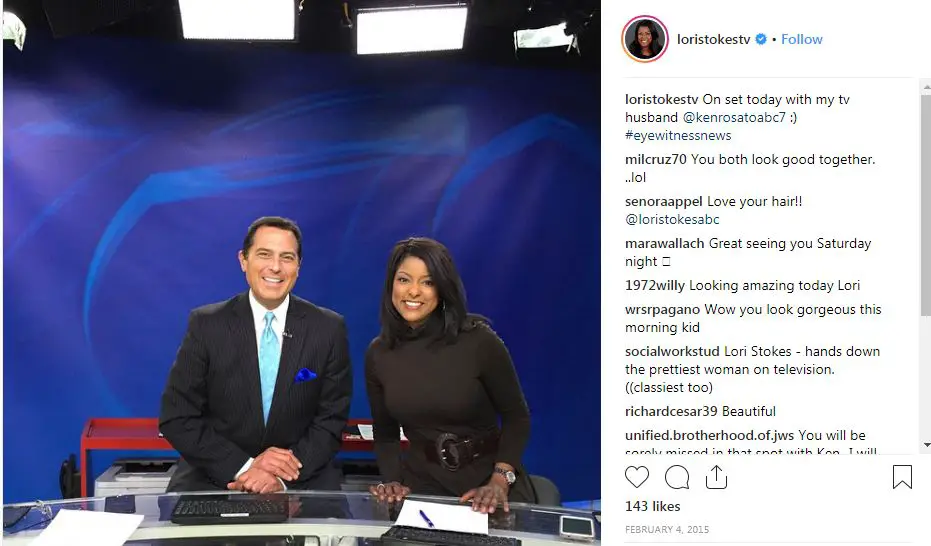 Stokes posts picture of her TV husband (Photo: Lori Stokes's Instagram)
The duo has expressed their bond in different social networking sites.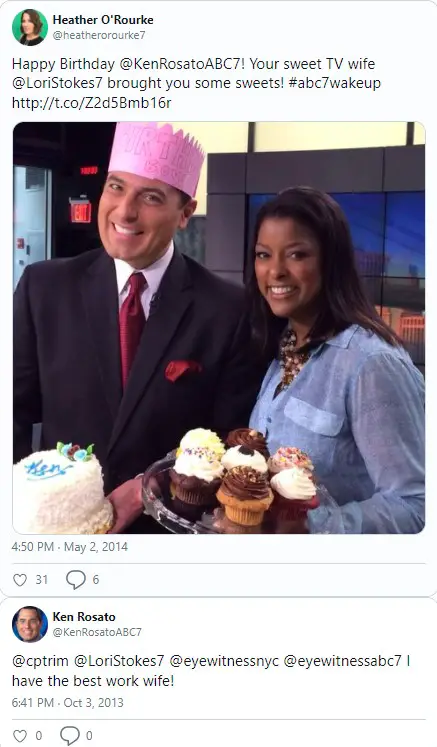 Ken Rosato A Priest?
Ken Rosato is a popular American journalist who has been working for WABC-TV since 2007. He has also worked at WFOR-TV, ABC7, and WNYW-TV. Popular for amazing presenting skills, Rosato is counted in the list of Top 40 experienced radio host. He was able to win an Emmy Award for the coverage of Steam Pipe Explosion in New York City. This is a brief introduction about Rosato that everybody knows about.
Know More About: Lauren Southern Talks On Why She Isn't Married & Has Husband, Staying Single!
What people didn't know about Ken Rosato is that he is a priest in the Catholic Church.
In an interview by sun-sentinel.com, Rosato was asked-
"Why did you want to become ordained?"
He replied-
I've always felt drawn to the church and ministry. And this was the closest I could find to being a Catholic priest, while functioning in a career. I was raised Catholic, and I have some issues with the church, but not enough to keep me away from this. It satisfies my desire to help people in the community as a priest.
Why not make the priesthood a full-time vocation? He replied-
"Covering the messes in South Florida gives me more insight into what people are going through. When I go to a scene where people were burned out of their house, or someone was murdered, people can sense sensitivity, compassion. I don't shove microphones in faces. I wait till there's a good time to talk."
Ken Rosato and Lori Stokes, his work wife are loved by many of their audiences: