Entertainment
Colin Jackson Gay Revelation Came From Partner, Will He Trust Another?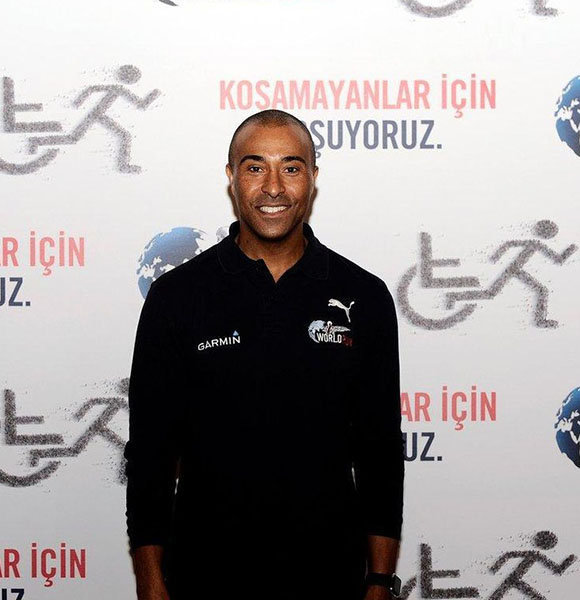 Former professional hurdler, Colin Jackson was considered a legend in the 90s with multiple gold medals in the World Championship along with another gold in the 1999 World Indoor Championships. 
Colin's personal life was always in the radar due to suspicions of the athlete being a gay man as he had rarely been spotted with a woman. Although gay, Colin had tough times coming out of the closet for several years. Further, he was also ratted out by his former partner which made the coming out journey harder for him. 
Colin finally had the courage to accept his sexuality but will he ever be able to trust another partner?
Denial To Acceptance Of Gay Sexuality; Any Partners?
The brother of Suzanne Packer, Colin had been surrounded by gay rumors for quite a long time but to keep up with his reputation, he initially chose to deny it. In his 2004 autobiography, Colin rejected the gay claims.
Later, in 2006, News of the World covered a story about Colin's sexuality and reported that a gay air steward had claimed to have a relationship with him.
You May Also Like:- Blac Youngsta Arrested For Allegedly Involving In Gun Shooting; Denies Gay Rumors While Saying He Has Kids
Colin, who was shocked by his former partner's betrayal, chose to remain silent on the matter publicly for nearly two years. However, when his parents became aware of their son's gay rumors, Colin decided to come out to them. 
"I was waiting for them in the kitchen. They walked in and they sat down. My mother could see my face and I was quite distraught. It didn't faze them at all."
Colin's mother asked him whether the rumors surrounding him were true to which he accepted. After hearing her son's confession, Colin's mother was initially angry as she thought Colin should not have hidden his gay sexuality from his parents. The former hurdler said in an interview,
"My mum went: 'First of all, is the story true?' And I said so it's true, so it's not like I can deny it. And then she went: 'Well, why are people so disgraceful?' I just realized I've got the best parents."
Colin Jackson poses for the cover of a magazine (Photo: Jon-doloresdelargo.blogspot.com)
Despite coming out to his parents, Colin took a few more years to announce his gay sexuality publicly. In 2008, when asked if he was gay, the Olympic Silver-medalist denied the rumors again claiming that he was just single at the moment as he hadn't found someone to call a wife. He said during an interview,
"I don't mind having people say what they say. I know I am not gay. It's just rubbish. I don't particularly want to be with any woman."
Colin further added that he wanted an independent woman as his wife if he ever got married, but hadn't met anyone he found suitable for himself. Colin also talked about gay athletes and mentioned that sexuality was not an issue in sports. 
"It's the 21st century. I don't think anybody thinks about that anymore. There might have been a stigma in years gone by."
Colin finally decided to come out publicly as gay at the age of 50 in 2017. The revelation came during an interview for a Swedish documentary titled Rainbow Heroes in which he accepted his gay sexuality and mentioned that he hadn't come out earlier to avoid being "sensationalized" by the media.
He also gave the interviewer the reason of him finally accepting his identity.
"The way you asked me, it was a whole storytelling kind of thing and you were just interested in the way it affected me sports-wise, emotionally wise and my preparation."
Colin is currently assumed to be single and has revealed no plans of getting married in the future. Looking at how he got betrayed by his former partner, who sold his lover's secret for a few bucks, Colin might have some hard times trusting his future partner.
Family, Ethnicity, And Sister
Colin was born and raised in Wales as the son of a Jamaican immigrants couple who had settled in the UK in the 60s. Colin's father, Ossie had first moved to his mother Angela's house as a tenant in 1962, and the pair eventually got married.
See Also:- Openly Gay Johnny Mathis Married? Bio Reveals Addiction, Ethnicity & Facts
Colin, age 51, possesses a mixed ethnicity which was uncovered by a DNA test and a series of researches by the former athlete. Through his research, Colin found out that he possessed a genetic composition consisting of 55% Sub-Saharan African heritage, 38% European, and 7% Native American heritage.
Colin's sister Suzanne is a professional actress known for the long-running TV show, Casualty. Colin's sister Suzanne is married to actor Jesse Newman, and the pair also has a child from their marriage.