Entertainment
Openly Gay Johnny Mathis Married? Bio Reveals Addiction, Ethnicity & Facts
There are very few living musicians who can rival Johnny Mathis' behemoth of a discography. The legendary crooner first burst into the music scene with the release of his very first single Wonderful Wonderful. Since his debut, Johnny has sold over 180 million records worldwide.
For the A Certain Smile singer - who actively campaigned for Civil as well as Gay Rights in the 60's - musicianship and activism go hand in hand. Recognizing Johnny's contributions, The Recording Academy in 2003 honored the 82-year-old with the revered Lifetime Achievement Grammy in 2003.
In the biography Johnny's ethnicity and nationality are revealed while dissecting the It's Not For Me To Say singer's thoughts on married life by referencing his earlier interviews.
Well, the singer certainly shares an inside scoop into his romance with a former partner, who died a decade ago!
Johnny Mathis' Bio Including Ethnicity, Nationality & Coming Out (As Gay) Story
Throughout all his romantic dealings with his former partners, music has been perhaps the only constant feature in Johnny's life!
Born on 30th September 1935 in Gilmer, Texas, Johnny - who was the fourth of seven Mathis children - inherited the love for music from his father, Clem Smith, who was a smalltime musician back in Texas.
Read Also:- Ashley Parker Angel Nearly Married & Had Wife | Not So Gay Or Is He?
When he was 13-years-old, a Bay Area teacher by the name of Connie Cox, agreed to tutor him in exchange for his father doing odd jobs for her.
In many ways, Johnny is seeing his father's dreams of making it in the music industry. Speaking about his father's influence, the Texas native once said:
"I'm just grateful to my dad. He was my best pal and the reason that I sing today is because I loved him so much. He was quite a wonderful singer. I followed in his footsteps and he guided me brilliantly."
Although he had attended the San Francisco State College with the intent to pursue a degree in education, Johnny reverted to his real passion -- music. A fated meeting with the co-founder of then-popular Blackhawk, Helen Naga, meant that his passage to the music industry was few reaches away.
In 1957, after being shopped around by industry's leading record labels, the Chances Are singer released Wonderful, Wonderful under Columbia Record. The said single would eventually peak to number one in Billboard 100.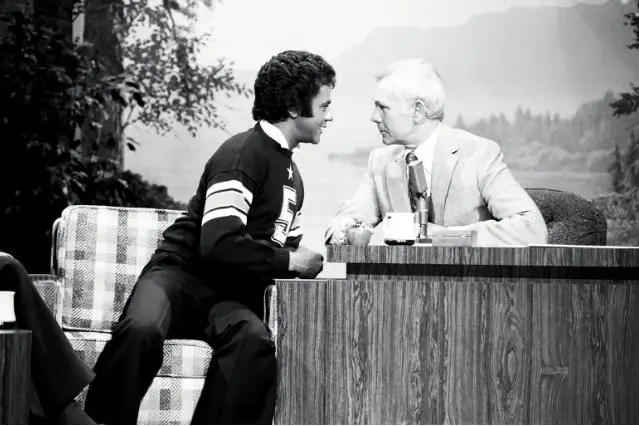 Jhonny Mathis appearing on the Jhonny Carson show (Ph[oto:- billboard.com)
By the time Johnny - who is of American nationality - had come out as gay in 1982, the George Washington High School alum had a remarkable number of hits to his name including Chances Are and It's Not For Me To Say.
You May Like:- Openly Gay Paul Sinha Reveals Partner! Age, Parents, Tour | Every Details
The same "Southerners," who had criticized his part on the 60's Civil Rights Movement, were the same ones, who sent Jhonny death threats following his coming out. In 2014, he delved further on the subject when he sat down for an interview with British tabloid Express. He said:
"A few people in the Southern states didn't like it. I was in no real danger but when you're young it's difficult to get over. It doesn't bother me at all now."
Criticisms coupled with the stresses of performing day and day out eventually resulted in Jhonny getting addicted to drugs. After straining his vocals, the legendary singer of African-American ethnicity sought counsel with the infamous Dr. Marx Jacobson.
Everything that followed would propel Johnny into the world of drugs and alcohol. He summed up his experience with Dr. Marx in the same 2014 Express interview, saying,
"I went to see him because I was doing five shows a night at the Copacabana in New York and got laryngitis. Everyone on Broadway went to him and so did the Kennedys. He gave me vitamin shots which brought my voice back beautifully but left me with a drug addiction. It was very traumatic but I just had to stop."
It was, however, the former First Lady of the United States, Nancy Reagen, who convinced him to join a rehab facility after she learned about his drinking problems at reception.
Don't Miss:- Nicole Threatt Age 48 Wiki: Kids, Ethnicity, Net Worth | Dr. Dre's Wife Details
In 2017, Express did a follow-up on the piece mentioned above.
Married Or Not: Did Johnny Mathis Marry His Partner In Flamboyant Wedding?
Whenever Jhonny takes the stage, he commands the attention of the crowd with his soul-filled vocal deliveries. Naturally, his fans would think that he's the same out-going individual outside of it.
Nothing could be further from the truth though. In reality, the 83-year-old has been a lifelong introvert. Take Johnny's reluctance to hand out random interviews for instance.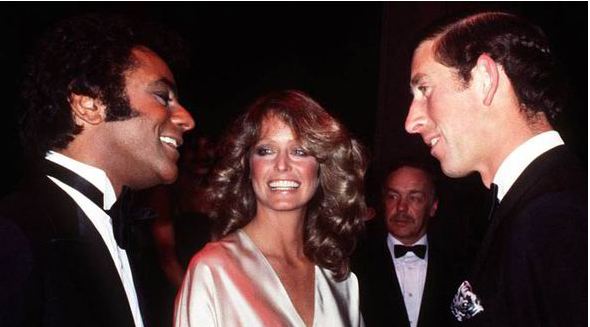 Johnny chats up with Prince Charles(left) and actress Farah Fawcett(middle) (Photo:- express.co.uk)
In the 2017 Express interview, the Gina hitmaker provided a rare insight into why he doesn't promote his romantic life by spewing:
"Fame requires you to give up a lot but I don't want to give up my privacy. I want to sing and have people enjoy that and then be left alone. I don't want to be in the gossip columns."
Records show that Johnny has all but one relationship known to the public. During the 70's, before coming out as gay, he and Ronettes singer Estelle Bennett were an on-and-off item.
Discover:- Michael Hope & Mena Suvari Gets Married, Dating To Secret Wedding | Details
Sadly, the Texas native's former partner, Estelle, passed away in 2009. As Johnny nears his end of time on Earth, surely he's haunted by the fact that he couldn't do right by his former partner(s) by marrying them in a flashy wedding, no?
On the contrary, Jhonny couldn't be more content with his singlehood. In 2014, he told the Guardian:
"I've never been married and I have no regrets about not starting my own family. I come from a large one so there are so many people around all the time. I've been very happy but I've never gotten married."
Plus, he seems happy with playing the cool uncle to his 15 nephews and nieces. In the same Guardian interview, the A Certain Smile singer claimed:
"I would have been a good father because I've been a father to my brothers' and sisters' children. I have about 15 or 16 nieces and nephews – all studious, smart, good-looking kids."
Kudos to Johnny for never confining to societal norms!