Entertainment
Beautiful Columnist Sarah Spain is Married? Well, Who is Her Boyfriend Turned Husband?
Lucky are those whose affair with a particular person ends to a marriage. Many people are not so fortunate to get married to their love of life while there are some who are married to their loved ones.
In this regard, today we will be talking about espnW.com columnist, Sarah Spain's married life. Do you know she is now married to her darling boyfriend? If not, let us help you to find it out.
Married to her Boyfriend: Husband?
Sarah married her real-estate long-time boyfriend, Brad Zibung in front of more than 300 guests on May 29, 2016, in Chicago, IL. Her husband Brad is the creator of the satirical sports site "The Heckler."
About Other Columnist:- Richard Roeper, Married Man With Wife? Personal Life Behind Career Turmoil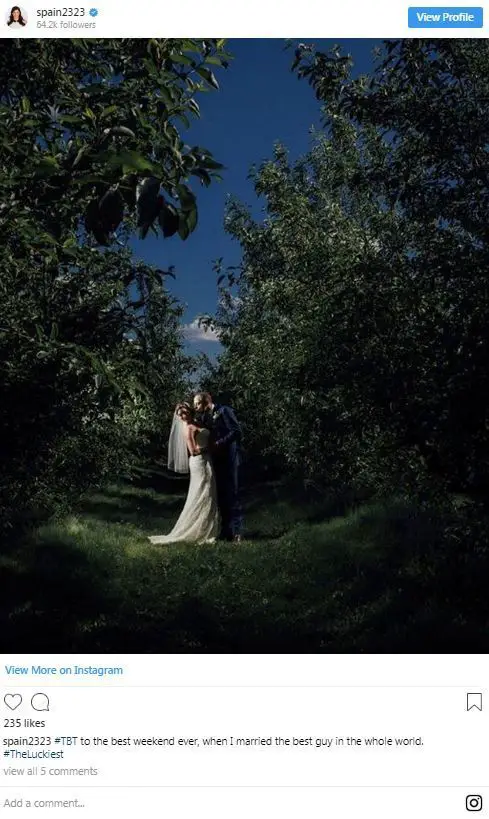 Sarah Spain married her long-time boyfriend, Brad Zibung on May 29, 2016, in Chicago (Photo: theknot.com)
The perfect match made in sports, Sarah and Brad, planned to go on a honeymoon in November 2016 during her husband Zibung's 40th birthday. After dating each other for more than six years, they bound themselves in a marital relationship.
How did they Meet? Dating History!; Still Going Strong
Well, they first met in 2008 at a charity bowling event which was hosted by Brent Seabrook, a Blackhawks defenseman. In 2009, they had their first date at a Cubs game. It wasn't a date. Spain was asked to a date by Zibung via Facebook message.
At that time, Spain was not known about Zibung as he had a different Facebook identity. For her, Zibung was just someone who worked at The Heckler. Since 2011, they started to live together as their relationship blossomed with time.
Dive In:- Alexandra Petri, 29, Engaged-To-Get-Married! Meet Precious Husband-To-Be
And from 2008 to the year 2018, the couple's romance has not lessened a bit as their romantic love-life can be witnessed on their social media. On 2018's Valentine's day, Sarah Instagrammed the beautiful pictures from their wedding day and the caption was followed by the adorable quotes by American writer Madeleine L'Engle.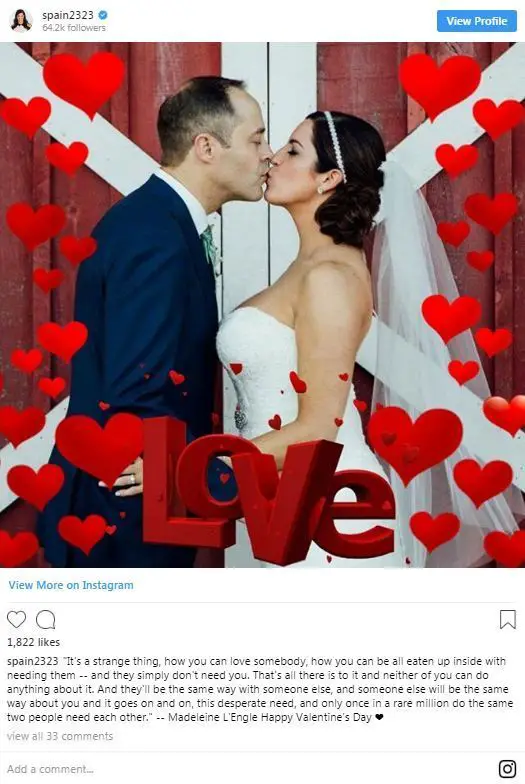 Sarah Spain wishes Happy Valentine's Day to her husband (Photo: Sarah Spain's Instagram)
Moreover, the couple, who has been in love for a decade, not only limit themselves by wishing each other on the special occasion but also they make time for each other for the romantic getaway.
And the romantic vacation might be a key factor for their strong married life. Sarah's Instagram account is filled with the adorable pictures from their romantic vacation.
Don't Miss:- Columnist Meghan McCain is now Engaged to Her Writer Boyfriend Ben Domenech!
Sarah Spain's Short Bio:
ESPN's SportsCenter Reporter and Radio host, Sarah Spain was born in Cleveland, Ohio. She attended Cornell University from where she majored in English. During her high school, she was very active in hockey and basketball.
For the Cornell Big Red track and field team, she was previously a Heptathlete. In her professional career, she has worked for MouthpieceSports.com, Fox Sports Net and ChicagoNow.com. In the year 2010, she joined ESPN 1000.
Spain is popular for the shows like "Spain & Prim," "The Trifecta," "His & Hers," and "Around the Horn."