Entertainment
Alexandra Petri, 29, Engaged-To-Get-Married! Meet Precious Husband-To-Be
Balancing career and relationship hand in hand is something only few can master. Alexandra Petri, the newspaper columnist, has undoubtedly become one them as she is all set to walk down the aisle. 
While Alexandra decides upon a wedding dress, let us take a walk along her life's lane. 
Alexandra Petri's Relationship With Boyfriend: From Dating To Getting Married
Alexandra Petri, an American humorist, has managed to balance her career along with her personal life. Known as the youngest person to write a column in The Washington Post, Alexandra is engaged with her boyfriend, Stephen Winder Stromberg, who an editorial writer at The Post, where he covers national policy and politics.
Don't Miss: Vogue Williams, Age 34, Intimate Wedding Just A Start! New Mom Explicit Details
Alexandra and Stephen met back in 2009 when Alexandra joined the editorial page at The Post as an intern. They struck a good friendship since they met but began dating only in 2012 after their jobs made them colleagues. 
Alexandra announced the news of her engagement through her Instagram. She posted a selfie with her boyfriend-turned-husband, Stephen, back on 12 April 2017, where she expressed that she said "Yup" to the marriage proposal.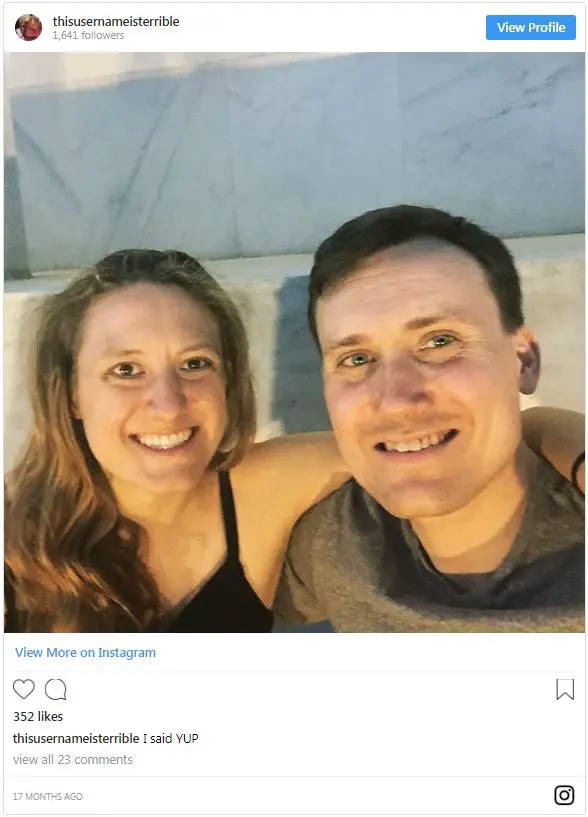 Alexandra Petri with boyfriend-turned-husband Stephen. (Photo: Alexandra Petri's Instagram)
Moreover, the couple celebrated the joy of their engagement with their near and dear ones as the duo had an engagement party which seems to be a step towards getting married.
You May Also Like: Lisa Riley & Musician Partner Soon To Get Married! Spills Future Husband Details
Alexandra shared her picture in a magenta dress with her fiance, who was in checked shorts and a navy blue t-shirt, while they celebrated their engagement, via Instagram.
The Harvard University graduate on her post on July 10, 2017, even thanked the party organizer who goes by the Instagram name "crreabes."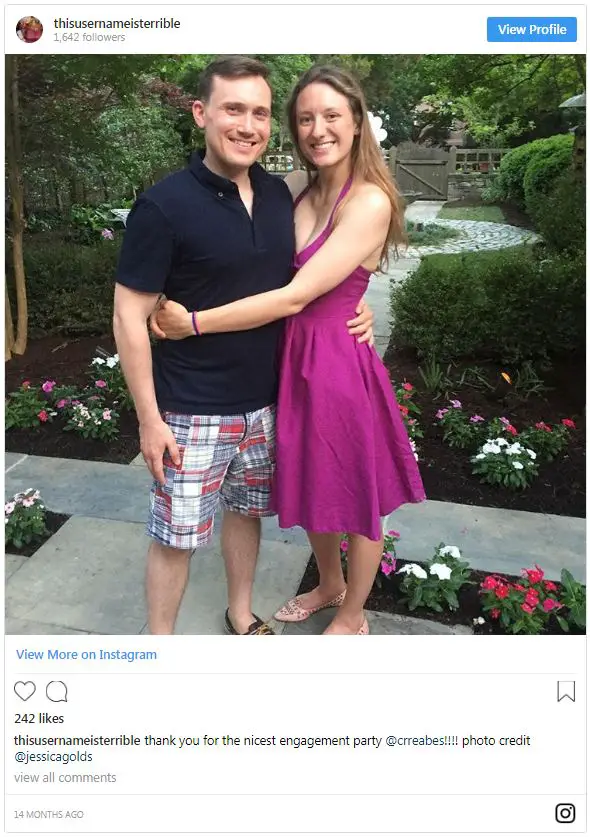 Alexandra Petri with fiance during the engagement party. (Photo: Alexandra Petri's Instagram)
Alexandra, who has an average estimated salary of $70,000, also mentioned about her then-boyfriend now husband while she opened up with Cosmopolitan regarding her journey of becoming a columnist on "The Washington Post." 
 "My boyfriend is used to not seeing me for long periods of time. He just knows I'm writing in a hole somewhere" 
Alexandra seems to share a precious bond with her partner. She has been able to keep the humor alive in her real life too. Alexandra shared a text from her boyfriend via Twitter while she asked help from her partner, which read,
Alexandra has not only been able to climb the stairs in her career but also took the next step in her romantic relationship. Turns out Alexandra and Stephen recently exchanged their wedding vows.
They were married on 23 June 2018. The duo tied their wedding vows at Chirst Episcopal Church in Georgetown, Washington, where the ceremony was performed by The Rev. Timothy A.R. Cole. 
Alexandra Petri's Career
Alexandra, who 29 of age, grew up under the wings non-profit executive mother, Anne D. Neal and congressman father, Tom Petri. She went to Harvard to study English and found her path while writing a column for student paper "The Crimson" and performing stand up comedy side by side. 
After graduation, she earned her place in "The Washington Post" while being the youngest columnist. Petri also writes ComPost blog, as well as a weekly print column.
Stand up comedy is the wired hobby of Alexandra. While studying in Harvard, she joined the Harvard Stand Up Comedy Society. She also wrote for "On Harvard Time," a student TV show and a humor column for "The Crimson" which was called "Petri dishes."
While in her senior year, she interned for "The Washington Post" in the opinion section and even started as a full-time writer in the opinion section, contributing to the PostPartisan blog.
However, she does not do stand up comedy but does the playwriting, now. She has had a couple of her plays produced in the Capital Fringe Festival, the Breadbox theater in San Francisco, Pandora's Box in Santa Ana, and Rorschach Theatre in D.C. 
See Also: Kandee Johnson And Her Tumbling Life With Irresponsible Husband; Finally Happy After Being Engaged To Boyfriend?​​​​​​​
Well, Alexandra is listed in Forbes 2018 30 under 30: Media List which gives an idea that she should be earning a decent salary but it is yet to be revealed in numbers.