Entertainment
Tom Cruise's Adopted Son Connor Cruise Fiance, Wedding, Net Worth
Connor Cruise comes from a family of Hollywood stars. He is the adopted son of former actor couple Tom Cruise and Nicole Kidman.
The young Cruise has followed his parents' footsteps into acting and has appeared in a few movies.
Further, he frequently appears in tabloids for his lavish lifestyle and his relationship with his famous parents.
Connor Cruise' Relationship With Parents
Connor was adopted by Tom Cruise and Nicole Kidman in 1995, reportedly, to save their marriage - which was on the verge of ending because of their differences. Before Connor, Tom and Nicole also had an adopted daughter named Isabella Jane.
Interestingly, Connor had no knowledge of his adoption for a very long time. In fact, when he had asked about his appearance, he was told that he had inherited genes from Nicole's ancestors in Australia.
But, in 2012, the truth came in front of him, when he was asked about his biological parents in an interview. Well, it was for sure a big news to Connor. However, he later stated that the big revelation did not affect his relationship with his parents.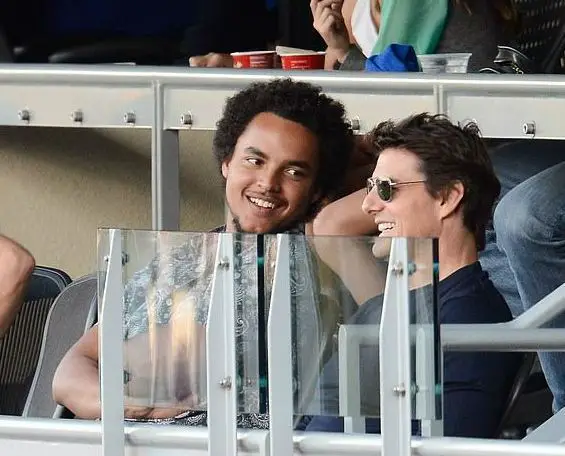 Connor Cruise with his father Tom Cruise in 2013 (Photo: Dailymail.co.uk)
Connor's life changed drastically after his famous parent's divorce in 2001. After the divorce, the kid's custody remained with Tom, and Connor grew up very close to his famous father.
Connor's Half-Sister From Father Tom Cruise:- Where Is Suri Cruise Age 12 Now? Wiki Facts On Daughter Of Tom Cruise
Further, he also ended up being a follower of Scientology, just like his movie-star father.
As for Connor's relationship with Nicole, they don't seem to be very close. Connor's decision to follow his father's faith reportedly brought a rift between him and Nicole. However, Nicole has denied all such allegations and stated that she loves her children despite their choices.
Tom Cruise's Adopted Son Connor Cruise' Fiancee/ Wedding
Connor Cruise is engaged to a fellow Scientologist named Silvia.
Connor's fiancée, who has been dubbed a 'Scientology Princess,' comes from a family of Scientologists. Her family moved to Florida, where Scientology's headquarters are located - from Italy. That is where the two crossed paths and eventually fell in love.
Further, the Top Gun actor reportedly adores his to-be daughter in law and is very happy that his son is going to marry a fellow Scientologist.
Well, Connor's wedding date has not been disclosed yet. But, the news of Tom Cruise banning his ex-wife from attending their son's wedding has surfaced in the tabloids.
Career/ Net Worth
As the son of one of Hollywood's biggest stars, Connor was exposed to the glamorous showbiz since a very young age.
However, he wanted to be a pilot when he was young. In fact, his father had even started taking him to various flying clubs. But, as he grew up, his focus shifted towards acting. Connor appeared in minor roles in movies like Seven Pounds (2008) and Red Dawn (2012).
Another Star Kid:- Lily Rose-Depp Age 19 Dating Timothée, Shares A Kiss & Confirms Romance!
Later, he developed a passion for music and started DJing. Throughout his music career, he has collaborated with famous artists like Andy Caldwell, The Black Eyed Peas, and The Veronicas.
Well, his ventures in acting and music have garnered him an estimated net worth of $5 million. Further, his net worth maybe even more since he is the son of one of the richest actors in Hollywood, Tom Cruise - who enjoys a whooping net worth of $570 million.
Some Other Facts
Connor Cruise was born in Florida, USA, on 17th January 1995.
The identity of his birth parents remains a total mystery. So, nothing has surfaced about his real father and biological mother.
He has five siblings, an elder sister Isabella and younger half-sisters Suri Cruise, Sunday Rose Kidman Urban, and Faith Margaret Kidman Urban.