Entertainment
What's Cortney Hendrix Married Status After Divorce? Dating Now?
Cortney Hendrix is a reality star prominently known through the hit show Married at First Sight. She has also made plenty of other appearances ever since, on shows like Entertainment Tonight, Thomas Sanders, Married Life and Vixens Who Rule.
Further, Courtney, a makeup artist by profession, has worked her talent in many movies like Tower of Silence, TV series and documentary to date.
So what is up with the life of the reality star/ makeup artist now? Know all the details of her marriage, husband, family, wiki details down below.
What Is Courtney's Dating Status Now?
Courtney was previously married to Jason Carrion but the pair decided to call it quits in February 2019, after five years of marriage. The news came to the surface following a six-month seperation between the two couples.
Explore :- Sophie Turner Wedding, Joe Jonas, Engaged
Via an Instagram post no less, the make-up artist announced her split with her firefighter husband. 
According to reports, the leading cause of the divorce was that she found someone else in her life. Her husband didn't want to end their marriage, but Courtney had other plans.
The authenticity of the reports remained obscure but Courtney sure moved on fast. Well, in June 2019, she was seen with another handsome hunk. Since then, she has been seen with the man a couple of times; the only available info of the man is his name, Sherm.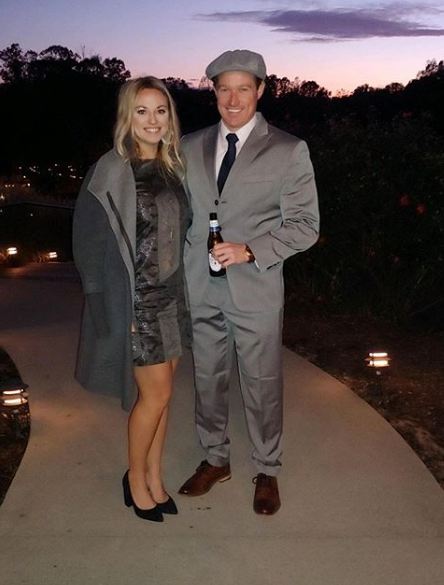 Cortney Hendrix with boyfriend Sherm in November 2019 (Photo: Cortney Hendrix's Instagram)
Courtney and Sherm have made plenty of Instagram appearance, and from a glance, the pair look quite into each other.
Her ex-husband has also moved on. According to reports, Jason is already engaged to another reality star Roxanne Pallett.
About Her Marriage With Him
Cortney's marriage to Jason Carrion was quite a spectacle. The couple first met each other at the wedding altar on the show Married At First Sight. Then, the couple started living together immediately-a norm on the show.
As per the show, they had to share a married life for six weeks and then decide if they wanted to separate or get married.
Opting to remain married at the time, the pair's reality TV marriage was officiated. Cortney and Jason even went on to star on the Married at First Sight spin-off, Married at First Sight: The First Year, a series that revolved around the first year of the duo's marriage.
Courtney's Family Detail
The Charlotte, New York City native makeup artist's birthday falls on 25 August 1987. She is the daughter of mother Karen Hendrix. Her parents are the proud owner of the Hendrix business company.
More From Liverampup :- Chris Taylor Married, Family, Net Worth
Along with Courtney, her parents boast two more children, a son, and a daughter named Jeanine Hendrix, respectively.