Kiwi actor, Craig Parker has been everywhere! While he has been fortunate enough to work with great directors like Peter Jackson, Craig also faced an actor's worst fear: being out of work.
Nevertheless, the Fiji native made a crucial decision in his 40s to move to LA to find acting jobs. And for best, it turned out to be fruitful for him as he got a chance to star in the historical drama series, Reign.
He even acquired a fan base in America after appearing in the show, and his followers are now keen to get inside his life rather than just clinging to his screen performances. Craig often keeps a low-profile when it comes to revealing his married status, but not all secrets can be hidden forever with one being his sexuality.
Admits Being Gay; Married Or Single?
Craig Parker was long-suspected to be a gay man by his fans and even the media. His lack of an active dating life and the non-existence of a girlfriend had further fueled the fire. 
Gay Wedding:- Openly Gay Lance Bass & Husband | Wedding, Net Worth & More
While he remained silent for years regarding his sexuality, Craig finally chose to speak publicly about his gay identity and the rumors surrounding him. During an interview with New Zealand's magazine Sunday Herald in 2008, Craig reluctantly opened up about his gayness and added that he didn't care about people's judgment on his sexuality.
Craig further mentioned that individuals including celebrities were entitled to have a private life without the interference of media and the paparazzi. He went to speak that the only people he would discuss his sexual identity were his family and friends.
"I just don't get why an actor would want to reveal their secrets, hopes and fears to a magazine or newspaper. I know what the magazine gets out of it, but not the person. It's important to keep some privacy. Your friends and family are the people you reveal yourself to. They are the ones who should have real access to you."
Judging by the statement, many deduced that the actor may have come out of the closet a long while back to his family including his siblings. Even though Craig was confident enough to discuss his gay identity publicly, no history of him having a boyfriend has ever been recorded.
It may not come as a surprise if Craig is secretly dating or married to someone as the actor doesn't believe in flaunting his relationship. 
Regular Appearance In Reign; Age, Height & Net Worth
Craig, age 48, was best known as the elf Haldir of Peter Jackson's The Lord of the Rings until he moved to LA to excel his acting career. 
He was later cast as Stéphane Narcisse in The CW's historical drama, Reign. He only made his appearance from the second season of Reign but soon became one of the most adored characters in the series.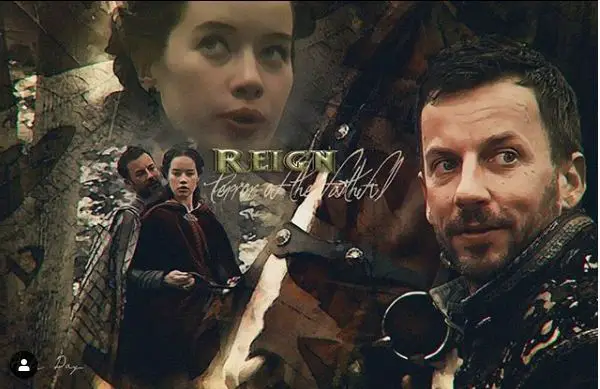 Craig Parker shares the cover picture of Reign on 18 January 2019 (Photo: Craig Parker's Instagram)
With a medium height of 5 feet and 10 inches (1.78 m), Craig's charming looks were also appreciated by the fans. His character, although initially designed as a guest appearance, was extended due to the demand of viewers: Craig went to star in the show until its finale in June 2017.
Net Worth Revealed:- Marie Osmond Husband, Salary, Net Worth
From his acting jobs, Craig secures a salary of $50,529 per year; however, his net worth is yet to be revealed.