Contrary to widespread beliefs, Cydney Bernard's association with show-biz doesn't limit to her romantic affiliation with the legendary actress, Jodie Foster.
A star in her self rights, she boasts high-profile credits as a production supervisor, production manager, and eventually a producer on several blockbuster Hollywood flicks.
With Jodie Foster & Their Children
Still, Cydney's most significant source of popularity is her longterm relationship with Jodie.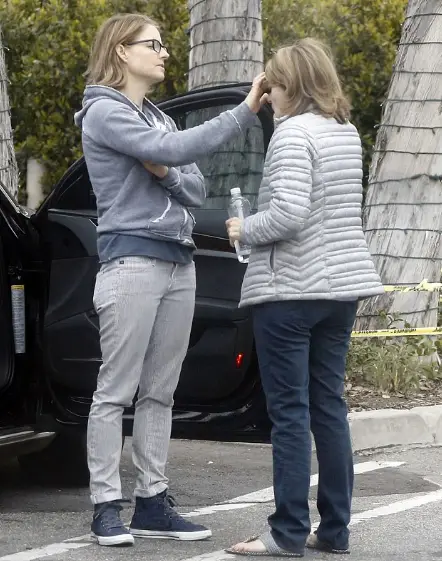 Jodie Foster smoothing Cydney Bernard's hair circa 2013 (Photo:- dailymail.co.uk)
The duo met in 1993 while shooting Sommersby, a dramedy starring Richard Gere and Jodie. Cydney was the movie's production coordinator. As fans can only imagine, the connection between them must've been instantaneous.
Same-Sex Love:- Lucy Spraggan & Wife A Lesbian Power Couple; A Teary Story To Bliss
For 15 years, Cydney and his once-girlfriend Jodie enjoyed a secretive, yet fulfilling romance. From the time they began dating to the moment of their breakup, the former lovebirds were heads over heels for each other, prompting them to have two children: Charles (21) and Kit (18).
Although public, the pair never acknowledged their romance. It wasn't until 2013 - nearly five years after their split - that Jodie finally conceded. Thanking Cydney during her Golden Globes acceptance speech, she labeled her co-parent "my ex-partner in love, but righteous soul sister in life."
Dating & Girlfriend
Cydney's love affair with once-girlfriend Jodie came to an abrupt end in 2008. Reports claimed that the Taxi Driver actress broke things off to pursue a romance with producer/writer Cindy Mort.
After a year of dating, Jodie and Cindy called it quits. Fast forward to 2013, and the Panic Room actress ignited a romance with Alexandra Hedison. The two finally got married in a secret wedding ceremony in 2014.
Cyndey, on the other hand, has maintained a low-key love life. Nevermind her dating excursions; she completely went off the grid. Her name would occasionally make headlines because of Jodie. Maybe, she prefers the things as they are.
Bio - Age, Height & Family
Beyond her family with Jodie, Cyndey is sisters with Dustin Bernard, her only known biological sibling. Like her, Dustin is also a recognized face in Hollywood with over 20 credits in TV shows as a production manager.
With Famous Siblings:- Mila J & Siblings Bond, How Is It? Explicit Details On Net Worth & Ethnicity
A mother of two, Cydney was born in March 1953 with the middle name Ellen. In terms of height, she is no more than five feet and three inches (1.6 m) tall.
Cydney's Net Worth Now
Cydney's career in the film industry began in the early 90s. Working as a production supervisor, she boasts a credit the 1994 film The Client. Beans and Loch Ness are some of her notable works as a production manager.
Her producer credits are also equally impressive. Ratz, A Girl Thing, and Spinning Boris all are blockbuster movies that she overlooked.
Now, it's true that Jodie, who garners a $100 million net worth, is the wealthier of the two but that alone doesn't negate Cydney's accomplishments. A rough estimate of her net worth puts her on the multi-millionaire bracket.